The fol­low­ing is a les­son that Harry Pot­ter might have learned at Hog­warts. If they stud­ied bak­ing. And had bak­ing related sex ed.
When a scone and a cookie love each other, some­times they decide to have the seckts. In doing so, they cre­ate off­spring: the rock cake.
Rock cakes are not com­mon treats in the US, but are an old school tea time snack in the UK. They are made sim­i­larly to a scone, with a tinge more sweet­ness, and dropped into smaller rounds, mak­ing lit­tle, mis­shapen "rocks", per­fect for nib­bling on dur­ing after­noon tea, after a typ­i­cally ter­ri­ble Potions les­son with Snape whilst com­mis­er­at­ing with Hagrid. Unlike Hagrid's truly rock-like cakes, these moist lit­tle treats are easy and delicious.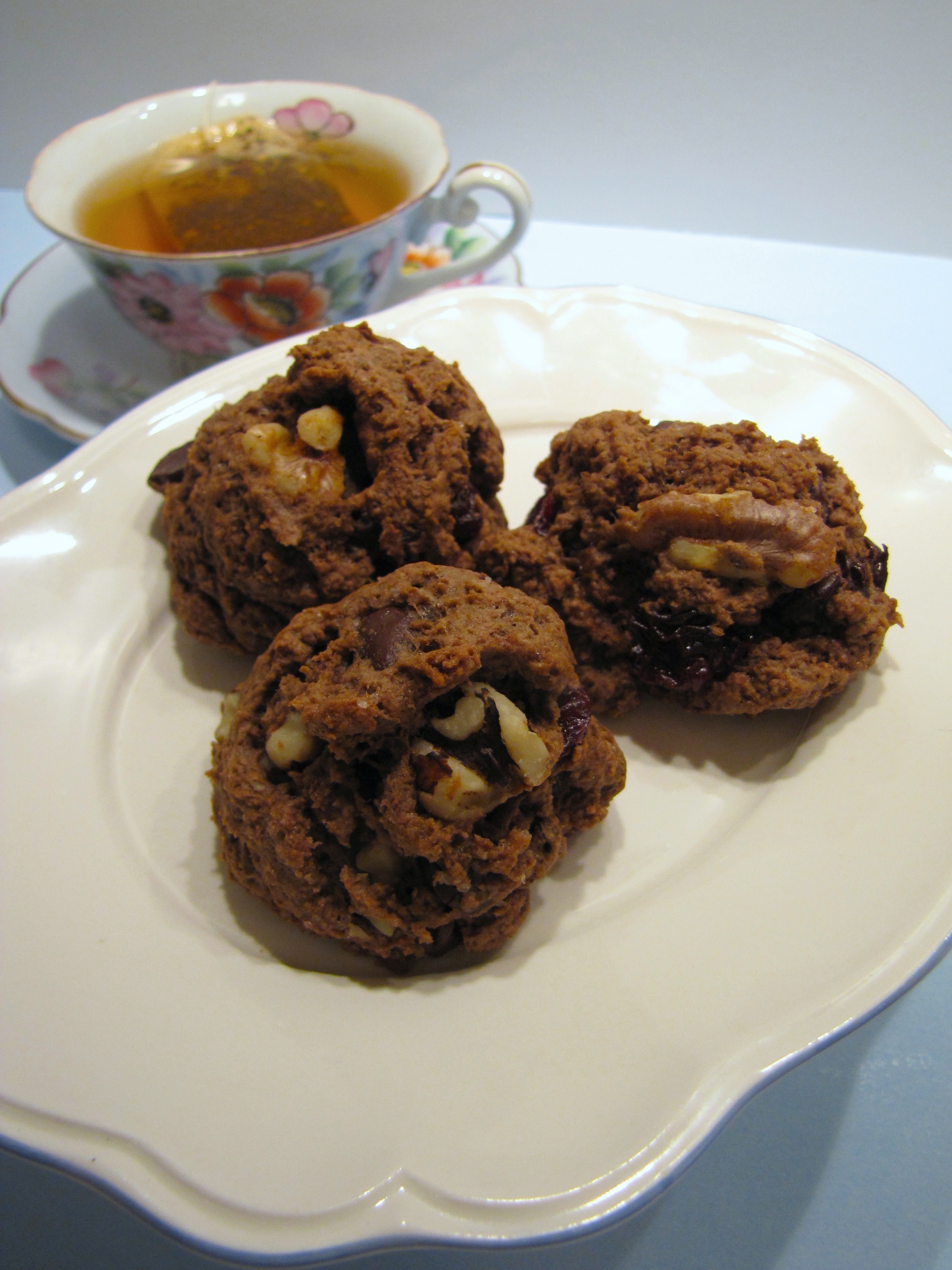 Chock full of yummy add-ins, these choco­laty rocks are worth don­ning your Invis­i­bil­ity Cape and dodg­ing Filch (or in my house, the min­ions of Mrs. Nor­ris) to sneak as a late night snack.
Hagrid's (Not Hor­ri­ble) Rock Cakes
1 1/2 cups flour
2 tbsp. bak­ing cocoa, sifted
1 1/2 teas. bak­ing pow­der
1/4 teas. salt
1/3 cup cold mar­garine
1/2 cup sugar
1/3 cup plus 3 tbsp. of milk of choice
1/8 teas. vine­gar
1/4 teas. vanilla
1/3 cup choco­late chips
1/4 cup chopped wal­nuts
1/4 cup dried fruit (cher­ries, cranberries)
Pre­heat oven to 350. Line a bak­ing sheet with parch­ment paper.
In a large bowl com­bine the flour, cocoa, bak­ing pow­der and salt. Com­bine well. Add the cold mar­garine, in chunks, and blend in until the mix­ture resem­bles a coarse meal. In a small bowl com­bine the milk, vine­gar and vanilla. Add the wet ingre­di­ents to the dry and mix until just com­bined. Gen­tly add in the choco­late chips, nuts and dried fruit.
Scoop dough into table­spoon sized balls onto pre­pared cookie sheet. Bake for 12–14 min­utes, until cakes have risen and are set on the out­side. Let cool on cool­ing rack for 10 min­utes before trans­fer­ring from bak­ing sheet.
Makes 18 rock cakes