I have dis­cov­ered a new-to-me bak­ing blog, and I'm hav­ing a bit of a love affair with it. Joy the Baker is charm­ing and funny, very cre­ative and dab­bles in vegan bak­ing from time to time.
As a whole, I rarely use other people's recipes for bak­ing, but while cruis­ing on her site last week­end, I decided to make her vegan pump­kin bread. And can you believe, I didn't put wal­nuts in! Me, avoid­ing quick bread debris! It wasn't for lack of try­ing, alas I was out of wal­nuts. Plus, I decided to make muffins and add a streusel top­ping with pump­kin seeds, which trumps wal­nuts any day. The only other mod­i­fi­ca­tions I made was low­er­ing the sugar a bit (to 2 cups sweet­ener, total) and low­ered the oil to 2/3 cup, sub­sti­tut­ing hemp milk for the other 1/3. The muffins I nor­mally make are lower fat and sugar than these, and they tend to taste like it, too. 😉 Not that it's a bad thing, I love my muffins, but these were deca­dent, borderline-cupcake muffins and quite lovely in their own right.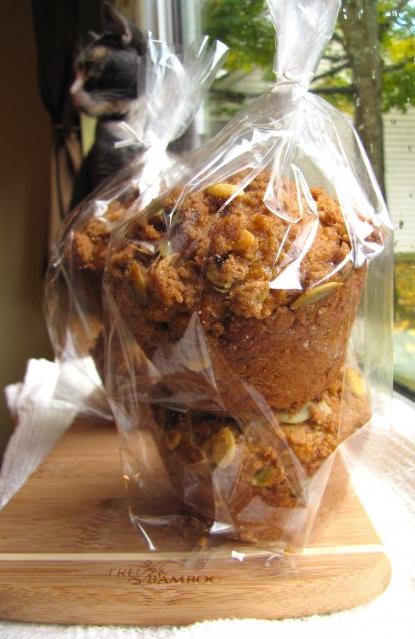 Josie acted as my muf­fin pack­ag­ing super­vi­sor. Jumbo muffins, FTW!
This time of year, my love of pump­kin runs wild. I want to bake every­thing with it, just see­ing its bril­liant orange color when I open the can (yes, I'm too lazy to make my own pump­kin puree) makes me giddy. With all of my pump­kin bak­ing lately, I had a lone bit sit­ting in the fridge, wait­ing to be used… but in what?
I hadn't planned to make Pump­kin Pasties as part of my Harry Pot­ter food adven­ture, as it's already been done, but alas, I read The Sorcerer's Stone on Sun­day and was inspired by Harry's first trip to Hogwarts.
In addi­tion, I received a frog choco­late mold for Christ­mas last year, so last night I hopped aboard the Hog­warts Express and got to it!
But wait, what's a pasty? While not entirely uncom­mon in the States, this treat is def­i­nitely not a house­hold name. Before wardrobe mal­func­tions, microwaves and Jim Gaffi­gan, there were pasties, the British/UK ances­tor to the Hot Pocket. I say that in jest, of course, because pasties are deli­cious and Hot Pock­ets are not only not vegan, but can also cause some unpleas­ant side effects. Pasties can be sweet or savory and are basi­cally hand­held meals or dessert, encased in a flaky pas­try crust. They are usu­ally a half cir­cle, but I made mine smaller and cir­cu­lar because I thought it would look cute. For Jim's sake, I added a bit of glaze, as well.
*Note the choco­late frog in the back­ground! Filled with peanut but­ter, of course!
1/2 recipe pie crust
3 tbsp. dark sugar
1/2 teas. corn­starch
1/2 teas. cin­na­mon
1/4 teas. pump­kin pie spice
3/4 cup pump­kin
1/2 recipe pie crust
Pre­heat oven to 375. Line a bak­ing sheet with parchment.
In a small bowl, com­bine the sugar and corn­starch. Add the spices and mix then add the pump­kin and com­bine until well incor­po­rated. Roll out the pie crust and cut into 12 rounds, using a bis­cuit cut­ter or the mouth of a drink­ing glass. Scoop the pump­kin fill­ing into the cen­ter of 6 of the rounds (I used a cookie scoop and it worked per­fectly). Then top with the top crust and seal edges, using water if needed. Cut a tiny hole to vent and bake for 13–15 min­utes, or until edges are golden.
Let pasties cool and eat plain or if you or a loved one has a glaze addic­tion, whip up a lit­tle with some maple extract, if you have it, and top each pasty.