Okay, HP fans! Here is another Harry Pot­ter themed treat that Pot­ter­heads and Pot­ter­haters alike will love to eat.
Before I get going, I wanted to draw some atten­tion to this awe­some vegan Harry Pot­ter blog: Dumbledore's Vegan Army. Fun stuff!
So, first, I wanted to work with that Trader Joe's peanut flour again, in a more con­ven­tional set­ting. Since post­ing those gluten-free cook­ies, I have been get­ting a lot of blog traf­fic from peo­ple who are look­ing for things to use it in. I'm guess­ing that for most of those peo­ple, vegan, gluten-free cook­ies aren't exactly what they're look­ing for.

Sec­ond… I wanted to make Hor­crux Cakes, another bril­liant title sug­gested by Alec, my lit­tlest brother. For those of you who don't know what a hor­crux is, it's a reg­u­lar object that has a frag­ment of a witch or wizard's soul in it, in effect giv­ing them immor­tal­ity, so long as the object exists. The more hor­cruxes you have, the bet­ter chance you have of exist­ing for all eter­nity. But being that Volde­mort is the last per­son we'd want liv­ing for­ever, I had to ask myself, what or who would I want to live forever?
Choco­late. Duh.
Hence, my banana/peanut butter/chocolate Hor­crux Cakes. Fluffy, moist lit­tle cakes encas­ing a creamy choco­late, black magic soul. Tom Rid­dle approved.
Hor­crux Cakes
1 1/3 cups all-purpose flour
1/3 cup peanut flour (can use all-purpose flour)
1/2 cup sugar
1/2 teas. bak­ing pow­der
1/2 teas bak­ing soda
1/8 teas. salt
1/2 cup + 3 tbsp. mashed banana
3 tbsp. peanut but­ter
1/4 cup oil
2/3 cup milk of choice
1/4 cup chopped chocolate
Pre­heat oven to 350. Lightly grease ad flour a stan­dard muf­fin tin.
In a small bowl, com­bine the flour(s), sugar, bak­ing pow­der and soda and salt. In a large bowl, com­bine 1/2 cup of the banana, peanut but­ter and oil. Whisk the wet ingre­di­ents until well mixed then add the milk and whisk to combine.
In a small bowl, com­bine the remain­ing 3 tbsp of banana and the chopped choco­late and com­bine. Set aside.
Add the dry ingre­di­ents to the banana/pb mix­ture in two batches, until just com­bined. Scoop a heap­ing table­spoon of the bat­ter into the bot­tom of each cup and put a small scoop of the banana/chocolate mix­ture in the cen­ter of each cup.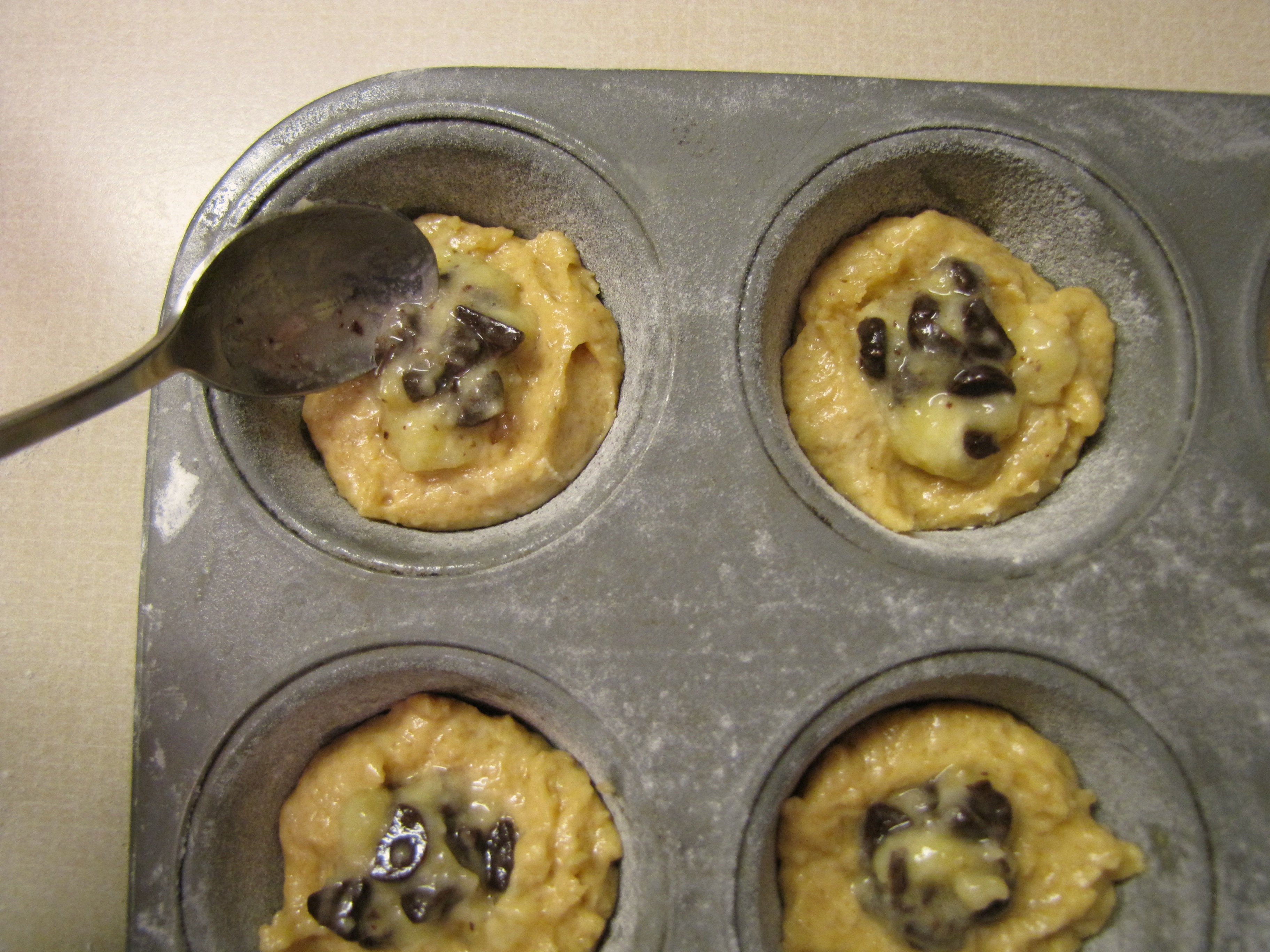 Top each cup with the remain­ing bat­ter, being mind­ful to seal in the cen­ter. Bake for 12–14 min­utes, until the tops are lightly golden (tooth­pick test won't work, obvi­ously). Let cakes cool on rack for 15 min­utes before loos­en­ing and remov­ing from the tins.
Top cooled cakes with peanut but­ter icing or melted choco­late (or both!). To make PB icing, com­bine 1 tbsp. peanut but­ter, 1 teas. milk and 1/2 cup pow­dered sugar and blend until smooth. Scoop into the cor­ner of a sand­wich bag, twist and snip of a tinny bit of the cor­ner to pipe onto cakes. Do the same with melted choco­late, if you want.
Makes 12 Hor­crux Cakes