HP friends, sorry to say there is noth­ing Harry Pot­ter related in this post. Many more to come, though!
My life, as of late, has con­sisted of work and bak­ing. LOTS of bak­ing. Not to com­plain, but woman can­not live on cake alone. (You think I lie. For realz, though, if any­one could it would be me and I can't.) Thank­fully, Jim has started doing some cook­ing, which is great, but we mostly eat ran­dom stuff like really sad bowls of black beans and rice with salsa on top or pasta with red sauce. Not that there's any­thing wrong with that, but you've got to mix it up.
Last week­end, inspired by Bianca's recent post, I bought a spaghetti squash. Now, here's what you have to under­stand. This is an annual thing, the pur­chase of the spaghetti squash. It goes a lit­tle like this:
Day 1: Pur­chase squash. "Yay, I'm so excited to make some­thing with this!"
Day 4: Move squash from counter to sub-counter. "This dumb thing is in the way all the time!"
Day 7: Make excuses to hus­band about squash. "Yes, I'm going to do some­thing with it! Geez…"
Day 14: Remem­ber squash. "Oh, you. You're still here, huh?"
Day 21: Become even more indig­nant to hus­band. "I am plan­ning to make you a spe­cial meal with it. Give me some time!"
Day 28: Smell squash. "Hmm… maybe I should have put you in the pantry or fridge…"
You get the idea.
I don't know what my prob­lem is, there are just some things that I have no point of ref­er­ence for and so I lit­er­ally get freaked out when I think about cook­ing them. Squash is def­i­nitely one of them, as I never had any squash (save pump­kin pie, which doesn't count) until mov­ing to the Pacific North­west 4 years ago, so I'm still get­ting my bearings.
So, after read­ing Bianca's post I thought, "This is the year, dan­git!" I bought the squash, came home, set it on the counter… and knew my cycle had begun again.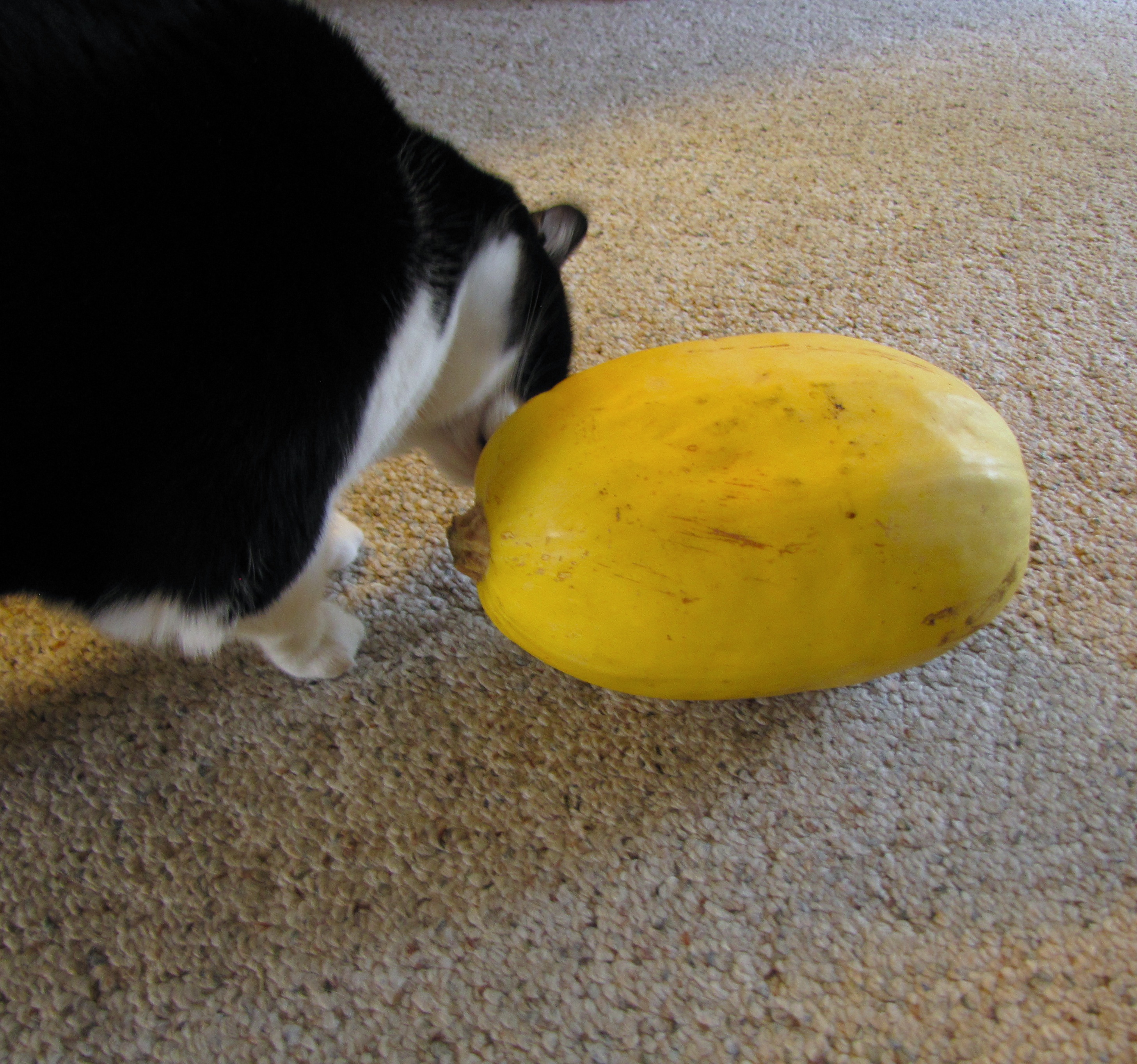 I knew I could break the cycle! So I decided to cook it right then and there. But what to have with it?
Some­thing hearty and fill­ing was in order, so I decided to make a veg­gie meat­loaf, espe­cially after read­ing some­where online about how well they hold up in the Baker's Edge pan. I look for any excuse to use that silly pan. Then, I decided to throw my spaghetti squash's friend, but­ter­nut, into the mix.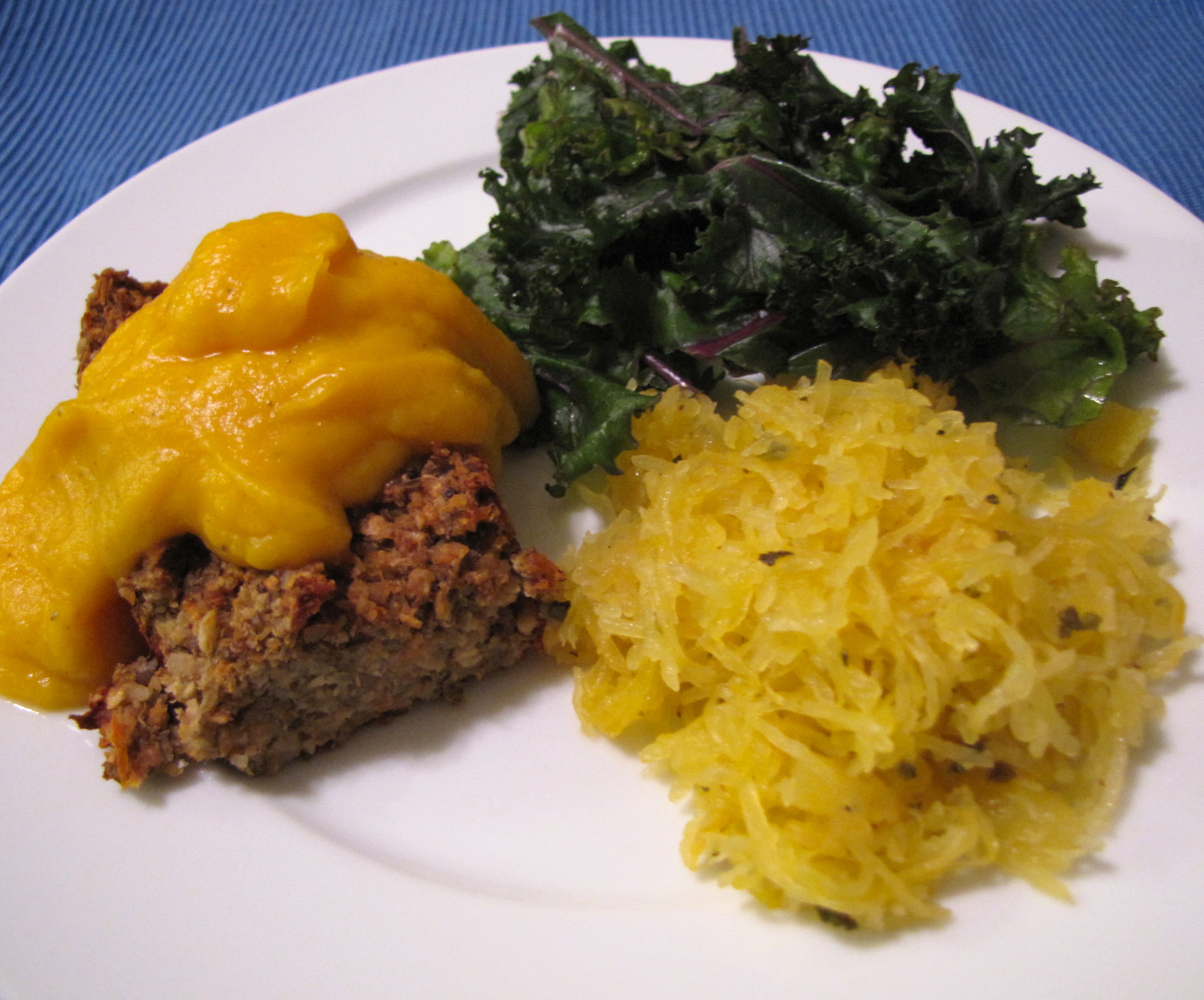 Veg­gie meat­loaf with roasted but­ter­nut squash sauce, steamed kale and, behold, herbed spaghetti squash!!! I pulled this veg­gie meat­loaf recipe out of thin air and was so happy with it. We eagerly ate through it so quickly that I plan on mak­ing it again soon, I wanted to share it.
Veg­gie Meatloaf
1 medium sized onion, shred­ded or chopped
2 medium car­rots, shred­ded
1 cup raw sun­flower seeds
1 tbsp. olive oil
1 teas. dried basil
1 teas. dried oregano
2 tbsp. soy sauce or tamari
1 tbsp. red win vine­gar
1 1/2 cup cooked lentils (I used French, any vari­ety would do)
1 1/2 cup cooked grain (I used buck­wheat, brown rice would be good, too)
Pre­heat oven to 350. Lightly grease a loaf pan or Baker's Edge pan.
In the bowl of a food proces­sor, add the onions, car­rots, sun­flower seeds and olive oil. Process for 30 sec-1 minute, until it resem­bles a chunky paste. Add the herbs, soy sauce and vine­gar and com­bine. Add lentils and grain to the proces­sor and process until ingre­di­ents just come together, scrap­ing down the bowl as needed. If there are still some dis­cernible lentils, that's fine, but over­all it should be thick and paste-like. Hmm… paste-like doesn't sound very appetizing.
Mov­ing on, spread the loaf into the pre­pared pan and bake for 30–40 min­utes (closer to 40 for the loaf pan), depend­ing on type of pan. The top of the loaf should brown and get a lit­tle crusty on the edges There should still be a lit­tle mush-factor if you gen­tly push down on the top of the loaf, as it will con­tinue to firm up as it cools.
Makes 6–7 serv­ings, depend­ing on how much you feel like sharing.
I know I can't be alone– what foods are pur­chased with good inten­tions and then lurk in your fridge only to die a slow, lonely death?