Today is Octo­ber 19th. For those of you who are "in the know", Novem­ber 19th marks the open­ing night in the US for part one of Harry Pot­ter and the Deathly Hal­lows. One month to go!
So excited!
To mark the occa­sion, I will be post­ing some HP inspired treats from the book series. I may end up cre­at­ing some of the goods eaten by our fear­less trio in the books, but many of the ideas I have are spin-offs from the saga. Like this one, the name of which was cre­ated by my HP-lovin' lit­tlest brother, Alec.
I apol­o­gize for the unprece­dented geek­i­ness herein. No, actu­ally, I don't apol­o­gize. Gryffindor, FTW!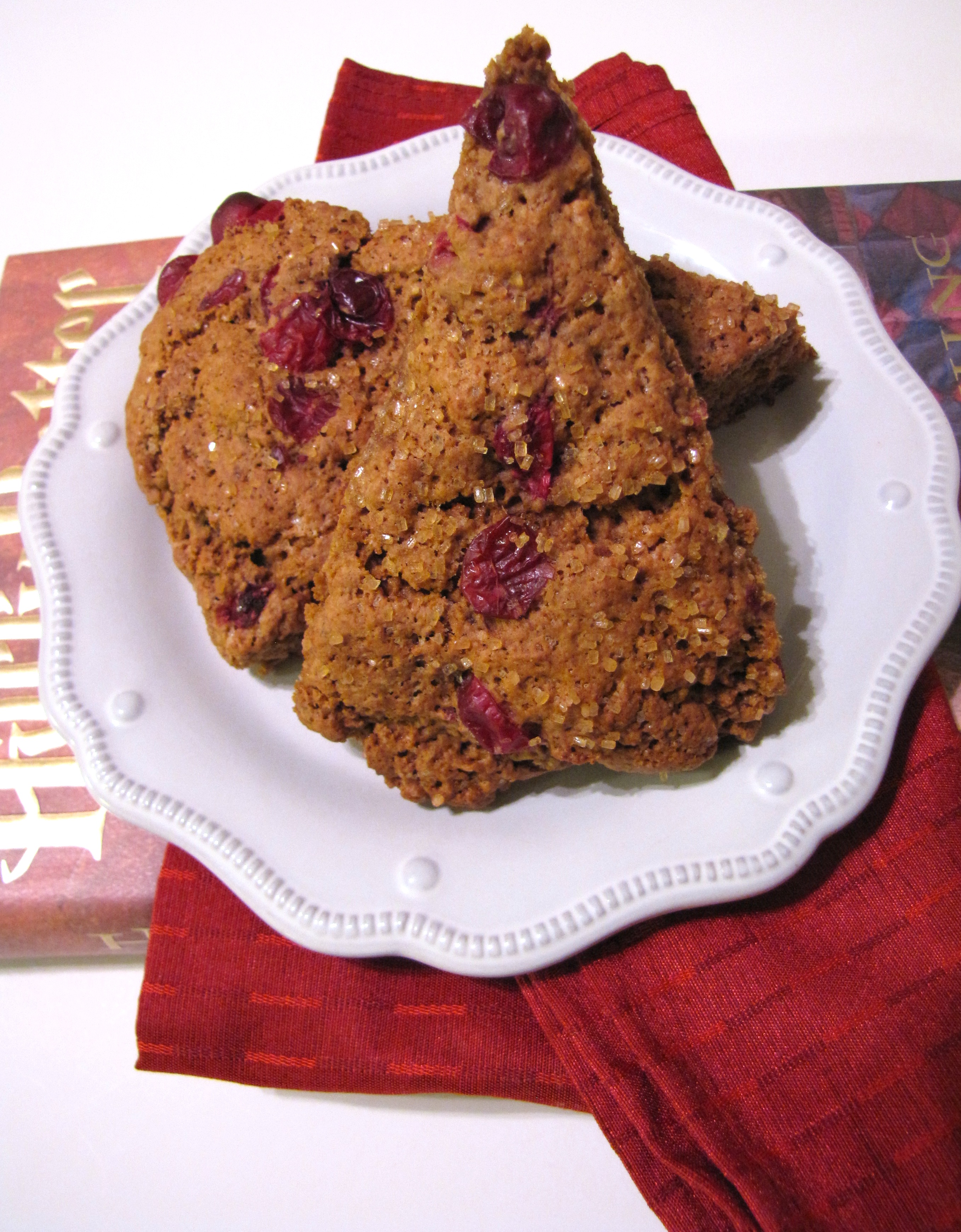 The Sorcerer's Scone
These spiced gin­ger­bread scones, speck­led with blood-red Sorcerer's Stone like cran­ber­ries, are the per­fect treat to boost your energy before a night time prowl around Hog­warts in your invis­i­bil­ity cloak. Or, you know, a nice pick-me-up with a cup of tea while you read HP and the Sorcerer's Stone for the 8th time in your sweats. The col­ors almost mir­ror the gold and scar­let col­ors of the Gryffindor house. Coincidence?
2 cups all-purpose flour
1/4 cup sugar
1 1/2 teas. pow­dered gin­ger
1 teas. cin­na­mon
1 teas. bak­ing pow­der
1/2 teas. bak­ing soda
1/4 teas. salt
1/4 cup cold mar­garine
1/3 cup + 1 teas. milk of choice
1 tbsp. + 1 teas. molasses
1/2 teas. vanilla
1/4 teas. mild vine­gar
1/2 cup chopped fresh cran­ber­ries or 1/3 cup dried cran­ber­ries
coarse sugar
Pre­heat oven to 400. Line a cookie sheet with parch­ment paper.
In a small bowl or the bowl of a food proces­sor, com­bine the flour, sugar, spices, bak­ing pow­der, bak­ing soda and salt. Add the mar­garine in chunks and blend in until the mix­ture resem­bles a coarse sand. In a sep­a­rate bowl, com­bine the milk, molasses and vine­gar and whisk to blend. Add the vine­gar and let sit for a minute before adding to the dry mix­ture. Mix the dough with a firm spat­ula or get your (clean) hands dirty and mix a uni­form dough begins to come together. Gen­tly mix in the cranberries.
Shape dough into a 9– 10 inch disc on the pre­pared cookie sheet. Top with a sprin­kle of the coarse sugar. Score the scones into 8 wedges but do not separate.
Bake for 18–21 min­utes or until lightly browned on the edges. Let cool on cool­ing rack for 10 min­utes before sep­a­rat­ing with a knife.
Any­one else HP-geeking?