*The win­ners are: Abby, Tracy, Hope, Aimee and Amanda! I dis­cov­ered I had 5 coupons, all good for 1 free Nasoya item so yay for you guys! Email me your addresses and I'll pop them in the mail!*
There is such a thing as too much of a good thing. That good thing right now is cake.
Oy.
With cooler weather on its way and the desire eat heartier foods pulling at me, I'm also feel­ing the need to take a step back and freshen up my palette. My recipe for recal­i­bra­tion = fruits and veg­gies, and lots of 'em!
Break­fasts have con­sisted of mon­ster green smooth­ies which eas­ily stick to my ribs and tide me over until lunch with a lit­tle scoop of hemp seeds. Lunch varies between sal­ads, soups, stews and veg­gie chili. Din­ner, we've been keep­ing light with yum­mies such as this:
Mex­i­can spiced beans with sauteed bell pep­per and onion and a healthy blob of guac in a crisp leaf of let­tuce. Oh, guacamole-topped-anything, how I love thee.
When I don't feel like cook­ing, one of my favorite places to eat (besides Blos­som­ing Lotus, for whom my heart burns bright), I jour­ney across the river to Prasad, which shares the Yoga in the Pearl space which BL once held. "Prasad" is a San­skrit word mean­ing "holy food" and this place pretty much nails it on the head. They have that whole natural-meets-gourmet thing well worked out and some of my favorite dishes to turn to are of the raw pasta vari­ety. If you've never had raw pasta before, behold: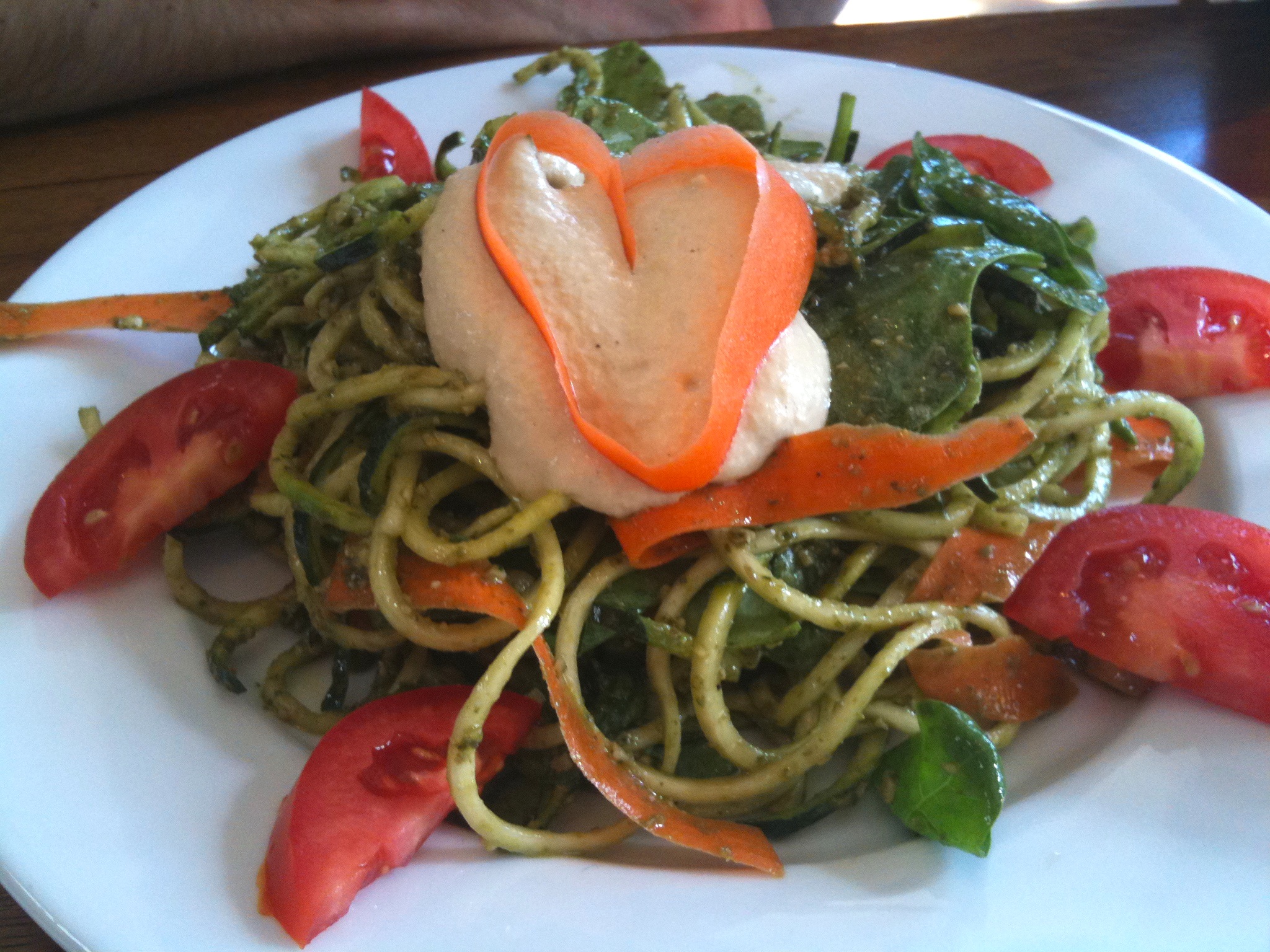 Above is my favorite, the Love Pasta. Zuc­chini noo­dles, adorned with hemp pesto, some greens, toma­toes, car­rots and a cashew cream sauce that is mouth­wa­ter­ingly fab­u­lous. They even cap it off with a dar­ling car­rot heart. Aw…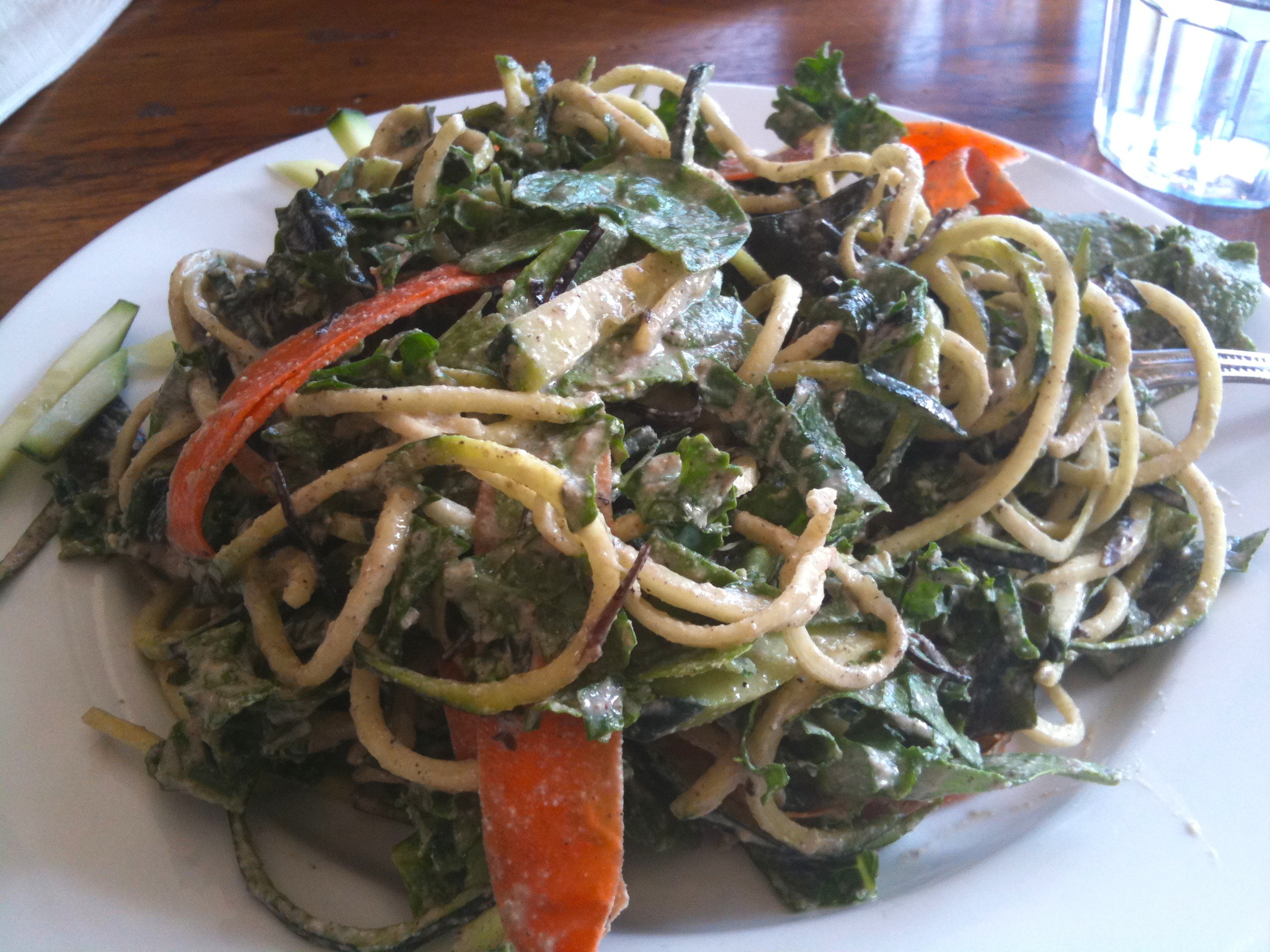 Above is the Sea Ceasar Pasta, zuc­chini noo­dles coated in a sea­weed spiked Ceasar dress­ing, with some cucum­bers, raw kale and car­rots tie it all together. Creamy and deli­cious, Prasad knows their raw pas­tas. Sorry that the pic­tures don't do more jus­tice to the food, as they were from my phone.
I HAVE to get one of those spi­ral cut­ters for zuc­chini, it's just amaz­ing the kind of noo­dles it makes! I am expe­ri­enc­ing some seri­ous raw food envy, between the amaz­ing food that I get here and my raw foodie co-worker, who is always telling me about her lat­est adven­tures with her dehy­dra­tor. Ah, vegan eat­ing… And peo­ple think we're deprived…

What kinds of things do you like to eat when you're try­ing to clean up your act? Or if you're just a raw/whole foods lover (as I sus­pect most of you are), what are your favorite treats or meals? The fine folks at Nasoya have gifted me with some coupons for 1 free item and they have some yummy prod­ucts to tickle your taste­buds. On Fri­day I'll ran­domly pick 3 lucky peo­ple to get these coupons (US only again, sorry), so leave a note with your healthy eat­ing suggestions!