Sum­mer fruit is at its peak and I am here to give you a rea­son to fire up your oven and make your house toasty– because this cake is amaz­ing. This is the first recipe I'm shar­ing from my upcom­ing cake book.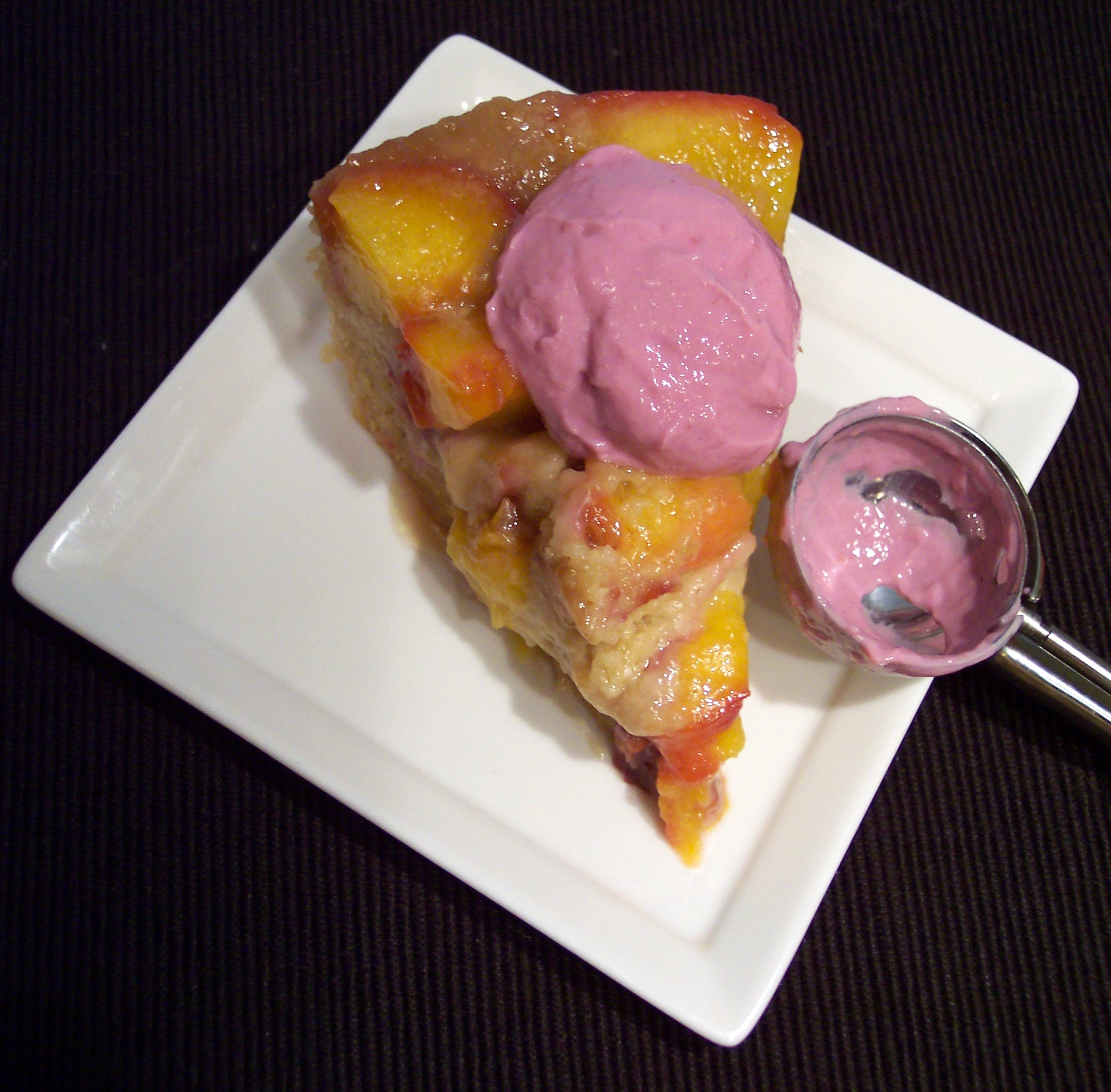 Inspired by my BFF Amy's love of sum­mer fruit and inap­pro­pri­ate taste in music, along with the fla­vors of the famous Peach Melba, this cake is incred­i­bly impres­sive for min­i­mal effort. The peach cake is ten­der and deli­cious and becomes intox­i­cat­ing when paired with the rasp­berry creme topping.
Amy's "Huh What" Peach Cake
Rasp­berry Creme:
1 12 oz. pack­age firm asep­tic tofu
1 cup fresh or thawed frozen rasp­ber­ries
1/3 cup sugar
1/2 teas. vanilla
Peach Cake:
3–4 ripe but firm peaches, pit­ted and sliced into 3/4–1 inch seg­ments
2 tbsp. sugar
2 tbsp. cold mar­garine
1 1/2 cups flour
2 teas. bak­ing pow­der
1/4 teas. salt
1/4 cup apple­sauce
3/4 cup brown sugar
1/3 cup oil
3/4 cup milk
1 teas. vanilla
Pre­heat oven to 350. Grease well and flour an 8 inch cake round and line the bot­tom with parch­ment. If you do not use parch­ment, be sure to grease the bot­tom really well or use a spring­form pan to ensure the peaches will release.
To make the Rasp­berry Creme: In a food proces­sor or blender, com­bine the tofu, rasp­ber­ries, sugar and vanilla. Puree until smooth, scrap­ing down the sides of the proces­sor, about 2 min­utes. Trans­fer to a sep­a­rate con­tainer and chill in refrig­er­a­tor for at least 1 hour.
In the bot­tom of the pre­pared bak­ing pan, sprin­kle the 2 tbsp of sugar and chop and scat­ter the 2 tbsp of mar­garine. Arrange the peach slices in a sin­gle solid cir­cle, cov­er­ing the bot­tom of the pan.
In a small bowl, com­bine the flour, bak­ing pow­der and salt. In a medium bowl, cream together the apple­sauce and brown sugar. Add the oil, milk and vanilla and mix well. Add the dry ingre­di­ents to the wet and mix until just incorporated.
Spread the bat­ter over the peach mix­ture, being care­ful not to dis­turb the peaches. Bake for 45–50 min­utes, until cake is browned and a tooth­pick comes out clean­ish (because of the peaches, it will not be com­pletely clean).
Remove cake from oven and let cool for 5 min­utes before loos­en­ing edge and invert­ing onto serv­ing plat­ter. Let sit for a few moments as peaches release and care­fully remove the cake pan. Serve cake warm with Rasp­berry Cream. Store left­over cake cov­ered in the fridge.