A few weeks ago, we Port­landers were pre­ma­turely vis­ited by sum­mer. It was warm and sunny and glo­ri­ous. Now our days are dark, we are expe­ri­enc­ing bib­li­cal rain and we have lapsed back into muddy win­ter weather.
I have tasted the fruits of sum­mer and I am not a happy camper.
Alas, given that I have no choice in the mat­ter, I guess I'll just have to adapt. And con­tinue eat­ing soup.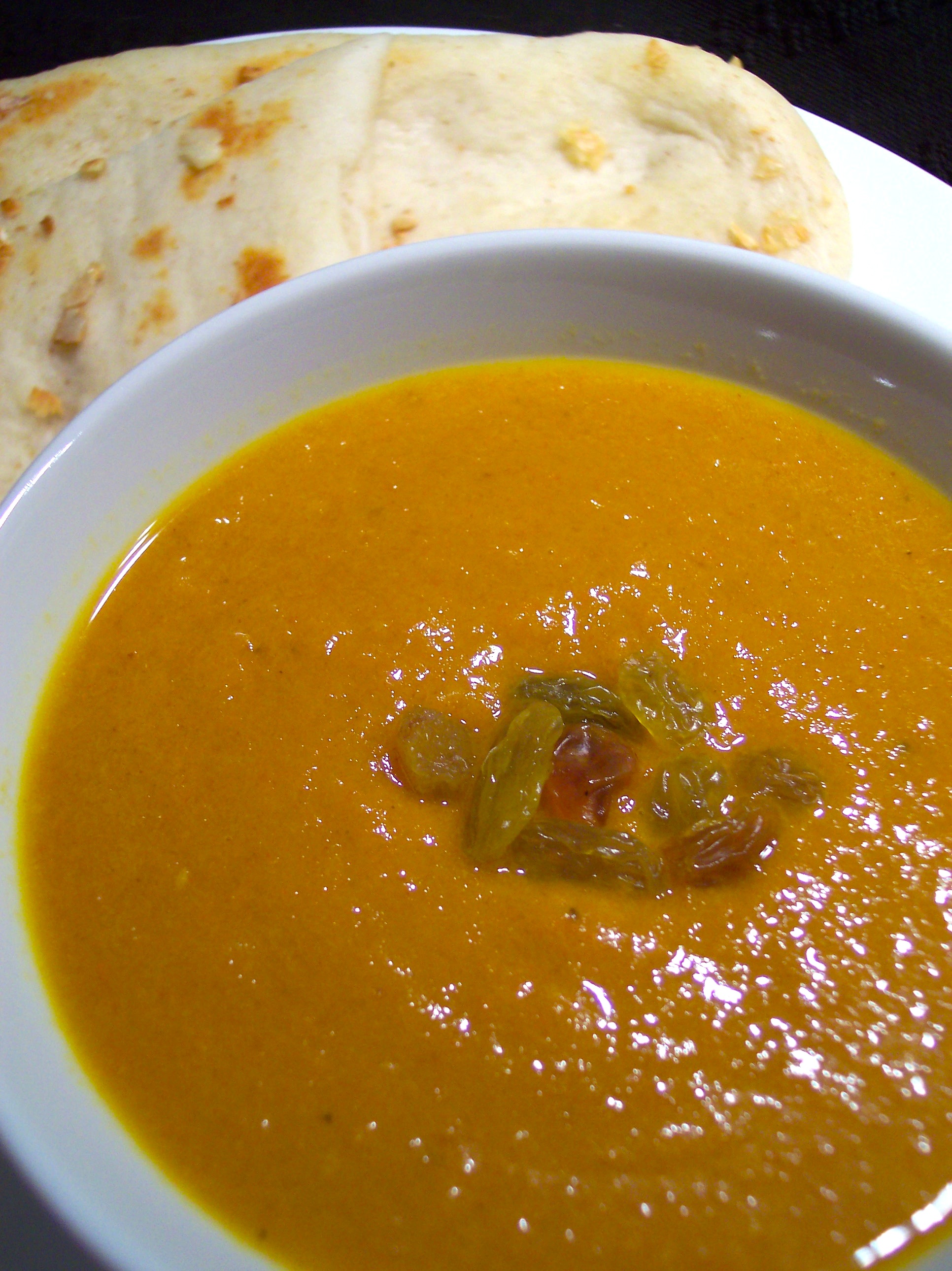 Cur­ried Car­rot Soup
This soup is invig­o­rat­ing, sat­is­fy­ing and a delight to sniff. To smell, I mean. Lovely as it is, I would not rec­om­mend ingest­ing this soup through the nose.
2 tbsp. olive oil
small onion, diced
1/2 teas. salt
1/2 inch gin­ger, minced
2 lbs. car­rots, peeled and chopped
1 tbsp. curry pow­der
5 cups water
1/8–1/4 teas. cayenne, to taste (remem­ber, the heat will increase as it sits and the fla­vor sets up, so it's best to start small and increase in tinny, lit­tle incre­ments)
1 1/2 cups coconut milk (can use low fat, if desired)
1 teas. cinnamon
raisins to garnish
In a large stock­pot, heat oil. Add onion and saute for about 2 min­utes, until it begins to soften. Add salt gin­ger and con­tinue saute­ing until onions and gin­ger are soft and fra­grant. Add curry pow­der and stir to coat onion/ginger mix­ture. Add car­rots, water and cayenne. Bring mix­ture to a low boil than lower tem­per­a­ture and sim­mer mix­ture with a lid, stir­ring often, until car­rots are ten­der and break apart eas­ily with a fork, about 25 minutes.
Using an immer­sion blender, or in batches in a stand­ing blender, puree soup mix­ture. Return to stock­pot, if using stand­ing blender, and add coconut milk and cin­na­mon. Mix to com­bine and let coconut milk heat through. Serve soup with raisins for a deli­cious fla­vor contrast.
Serves 5–6.