Things will be wind­ing down a bit soon, and I have lots of yum­mi­ness to post. Soon, I promise.
Until then, we have a chick­pea adven­ture that is slowly unfold­ing. Let me tell you a lit­tle story…
Once upon a time, two dried chick­peas were bored. They sat around in a mason jar with all of the other dried chick­peas and noth­ing hap­pened. Then, one day, a man brought the jar out onto the counter. Some­thing excit­ing was going to hap­pen! What they didn't real­ize was that this was no ordi­nary man, it was the Hum­mus Man! Then, they saw the pres­sure cooker. "Oh no!" they thought. "We have to do some­thing or we'll become dinner!"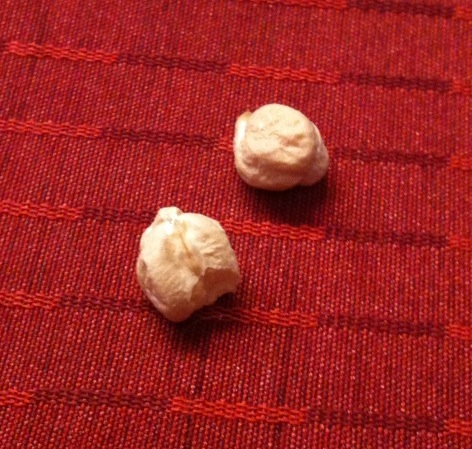 So the two chick­peas schemed their way out of the colan­der and dropped down into the bot­tom of the dish­washer, which was slightly ajar. It was dark and a lit­tle damp. They didn't know what to do, so they decided to lay low for a cou­ple of days.
And then, they sprouted.
The Hum­mus Man found them 3 days later, lit­tle white sprouts about 1 1/2 inches long, and decided to float them in some water and give them some sun. Within hours they were green. By the end of the week, the sit­u­a­tion had got­ten a bit out of hand.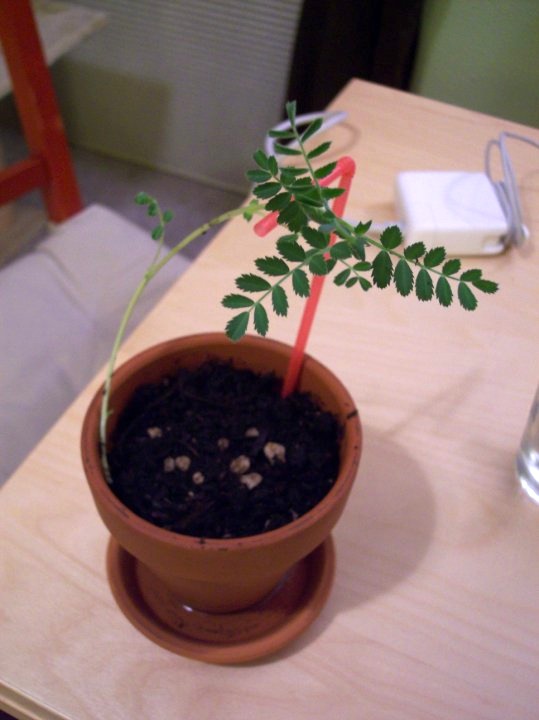 So the Hum­mus Man planted them. And it was good.
The chick­pea plants spent their days on a high win­dow sill, observ­ing the silly cats who ruled the Hum­mus Man's home, enjoy­ing the process of pho­to­syn­the­sis and spec­u­lat­ing the ori­gins of the plants out­side. But two weeks later, the chick­peas had out­grown their lit­tle pots, so the Hum­mus Man had to replant them.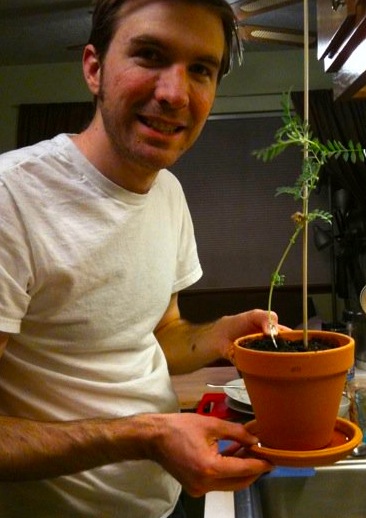 The Hum­mus Man was so kind to them, repot­ting them in pretty new terra cotta pots with three times as much room, giv­ing them water and star­ing at them ador­ingly, so they decided to give him a present.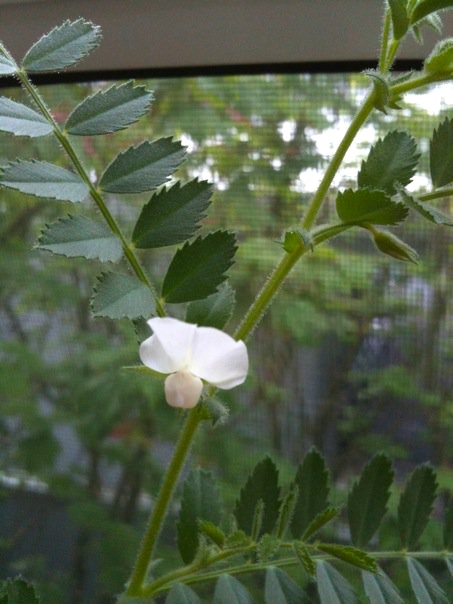 Because no one had taken the time to explain the cycle of life to the chick­peas, they didn't know what it meant to become deflow­ered. Oops.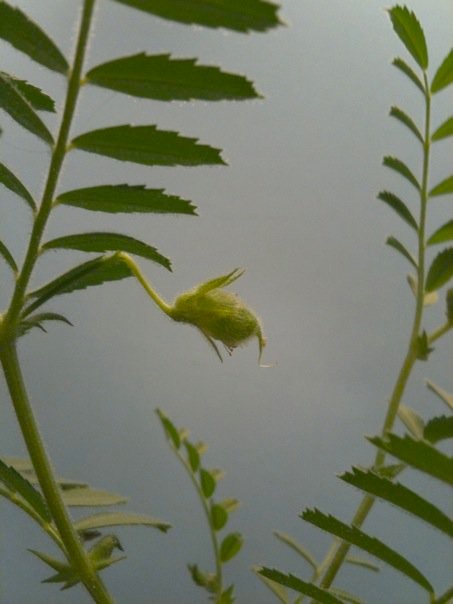 "Oh my!" said the one chick­pea plant to the other, "I'm with child!"
"Me, too!" said the other plant!
And so the story continues…
Believe it or not, we've gone from dried bean to three-foot-tall plant in 4 weeks.

Given that nei­ther Jim nor I have ever kept any­thing which you plant alive before, this is going quite well. Here is some more info on chick­peas and how they grow.
Stay tuned to the chick­pea saga! It's like a foodie soap opera!