This year one of my goals is to have less "stuff". I'm try­ing to con­sume less chem­i­cal gross­ness (just because it's vegan, doesn't mean you should eat it…like Baco's) and to purge unnec­es­sary junk from our house.
We've really been try­ing to focus on nour­ish­ing our bod­ies. And with a lit­tle prep, it's too easy not to!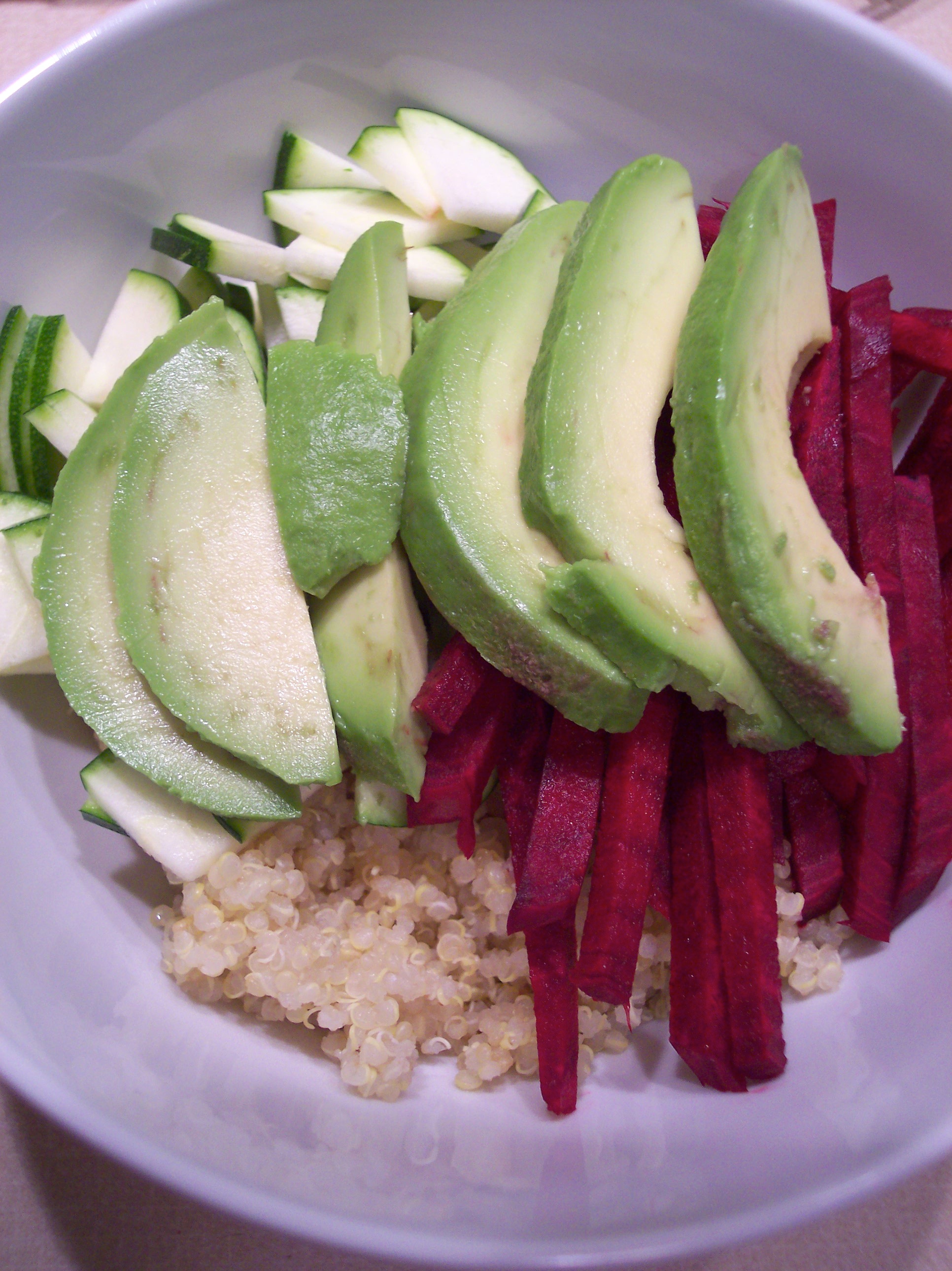 I make a rice cooker of quinoa or some other grain each Sun­day and we've been eat­ing vari­a­tions on this bowl, with some raw veg­gies, avo­cado, maybe some beans and a shoyu/toasted sesame oil sauce that makes for a seri­ously sat­is­fy­ing meal. By chopping/shredding enough veg­gies at once to last a cou­ple of days, and hav­ing the grains ready, there is no chronic Virgo inde­ci­sive­ness plagu­ing our meal times and leav­ing us eat­ing beans, chips and salsa for the eleventy bil­lionth time.
Now, if you know Jim and I, we are pro­fes­sional hob­by­ists. Between the two of us, we have enough books, doc­u­men­taries, instru­ments, tech­no­log­i­cal stuff, craft sup­plies, tools and kitchen equip­ment to keep us busy for the rest of our lives! Add to that hec­tic sched­ules and, well, the clut­ter begins.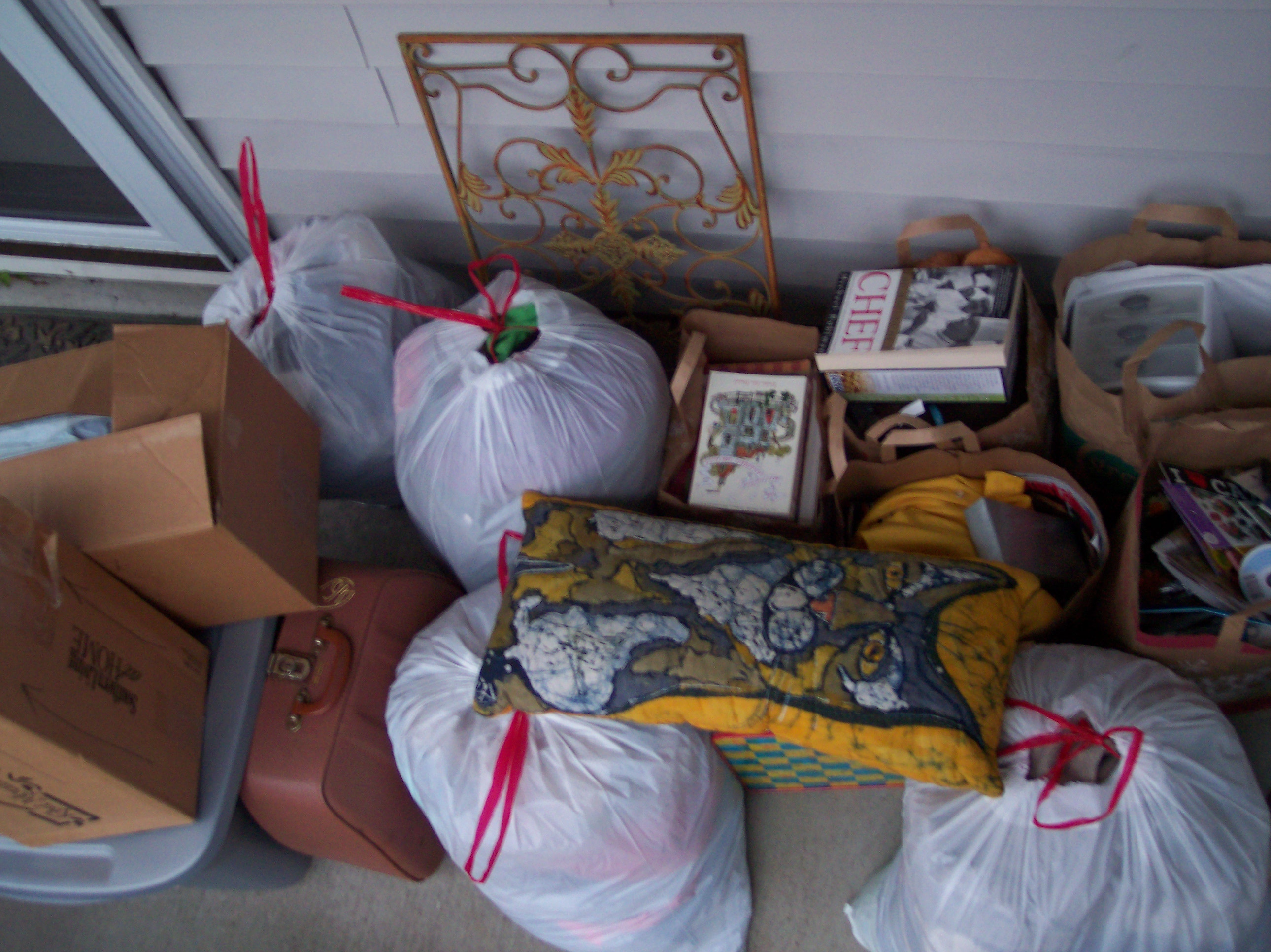 We've also been purg­ing stuff! This was round one of sev­eral to the thrift store. Even after mov­ing cross-country twice with each other, we're still bad about hold­ing onto things. While it can be hard, try­ing to emo­tion­ally detach your­self from your pos­ses­sions is prob­a­bly one of the health­i­est things you can do. It can be hard to not beat your­self up when you see things you know you don't want, but at the time you *had* to have, but there's no point. Some­one else will be delighted by it and you'll have that much more phys­i­cal (and men­tal) clar­ity. Just keep that gnaw­ing feel­ing in mind the next time you try talk­ing your­self into some­thing you don't need.

(Like the ice cream maker I just bought on sale… wait, though, I need that, right?)
What are you try­ing to remove from your house this year, lit­er­ally or fig­u­ra­tively? Stop­ping neg­a­tive think­ing, mean self-talk or the pile of junk that accu­mu­lates on your night stand? I'm ter­ri­ble about leav­ing my dirty clothes on the floor of the bath­room after I take a shower, we've all got bad habits to shed!
Leave a com­ment about what you're try­ing to elim­i­nate from your life this year and you'll be entered into a draw­ing for a copy of my cook­book, nom!nom!nom! but­tons and some spe­cial secret good­ies from Food Fight! Yes– more stuff! 😉
Com­ment before Mon­day the 15th to be entered!