Hello there!
I hope Jan­u­ary was fruit­ful for every­one. Can you believe it's Feb­ru­ary ALREADY?! 2010 is shap­ing up to fly by fast.
Other than being busy, not much has changed over here… my pis­ta­chio kick is still hold­ing strong. I just can't get enough of their com­plex aroma, fla­vor, color… nom. I have been eat­ing a lit­tle too much pis­ta­chio pud­ding and look­ing for other ways to incor­po­rate them.
Fun­nily enough, I heard about the big PR cam­paign to revamp pis­ta­chios after the samonella scare last year… and they have some ques­tion­able peo­ple at the helm of that campaign.
Hmm…
So what is this sup­posed to say about pis­ta­chio eaters? We're dumb and low-brow?
Thank­fully for the pis­ta­chios they sell them­selves, so these silly ads shouldn't slow them down. And some pis­ta­chio cake doesn't hurt any, either.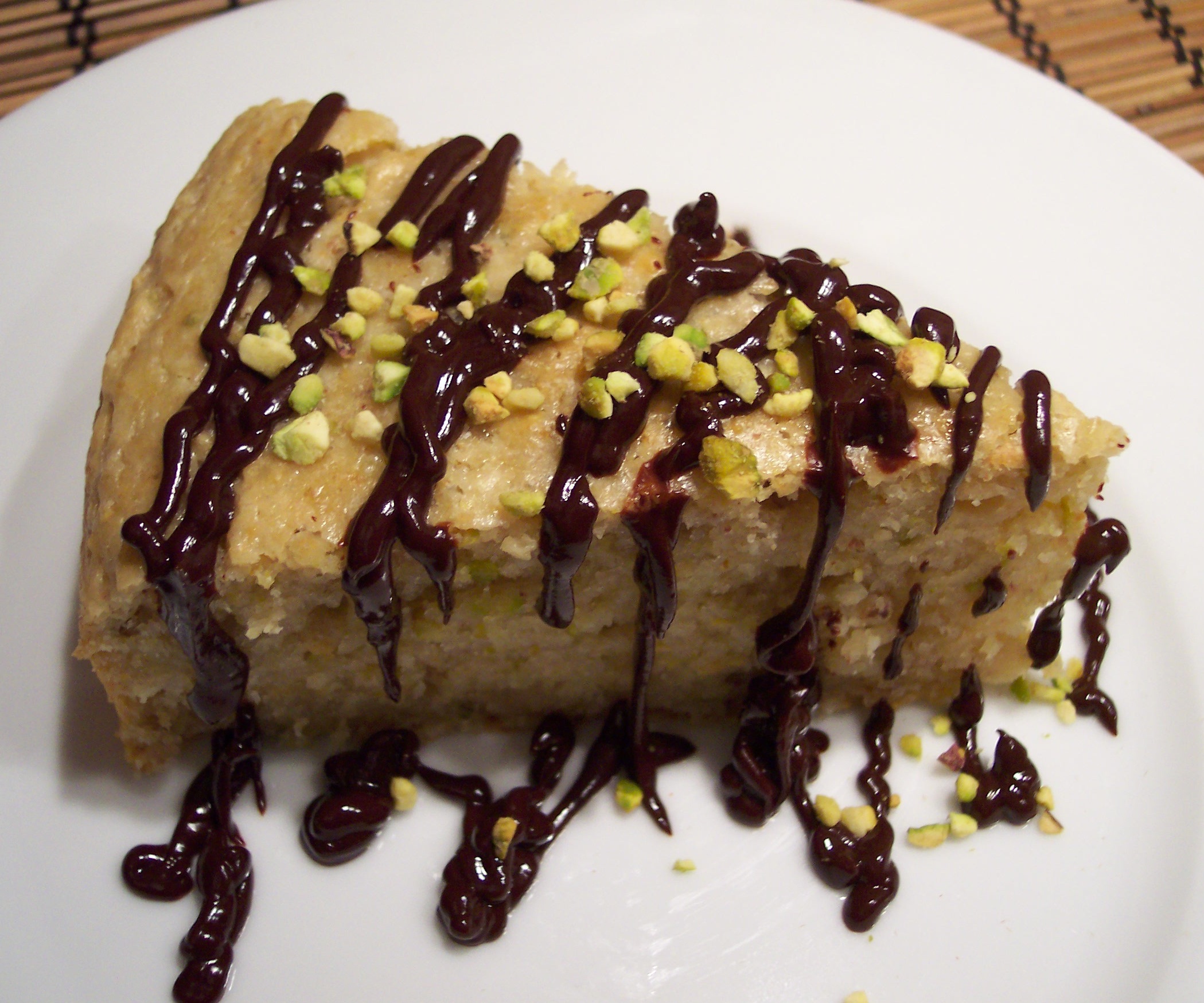 I'm on this sim­ple cake kick lately– no lay­ers or elab­o­rate top­pings, just good old cake with a fla­vor­ful accent. This cake is dense, moist and rich and the aroma… ah! I know some peo­ple think that dark choco­late is reserved for pre-holiday bak­ing, but to heck with them! While this would cer­tainly make a deli­cious hol­i­day cake, I'll eat some dark choco­late anytime!
Pis­ta­chio Cake with Choco­late Sauce
1 cup ground pis­ta­chios
1 3/4 cups flour
1 cup sugar
2 teas. bak­ing pow­der
1/4 teas. salt
1– 8 oz. con­tainer soy cream cheese, room tem­per­a­ture
1 1/3 cups milk of choice (I used almond)
1/4 cup canola oil
1 teas. vanilla
1/2 cup chopped dark choco­late
3 tbsp. milk of choice
1 tbsp. margarine
pis­ta­chios for garnish
Pre­heat oven to 350. Pre­pare a 8 or 9 inch cake pan by greas­ing and flour­ing and/or lin­ing the bot­tom with parchment.
In a small bowl com­bine ground pis­ta­chios, flour, sugar, bak­ing pow­der and salt. In a medium bowl, mix cream cheese and some of the milk using elec­tric beat­ers. Incor­po­rate the remain­ing milk in batches. Add oil and vanilla.
Com­bine dry ingre­di­ents with the wet ingre­di­ents in batches until bat­ter is just mixed. Spread into pan and bake for 40–45 min­utes, until a tooth­pick comes out with just some lit­tle crumbs cling­ing to it.
To pre­pare the sauce, com­bine dark choco­late, milk and mar­garine in a dou­ble boiler and melt until smooth. Serve cake with warm choco­late sauce driz­zled on and some pis­ta­chio garnish.