Happy New Year!
Did you cel­e­brate the New Year in any spe­cial way? Din­ner, fam­ily, friends? Jim and I were feel­ing a lit­tle under the weather (sadly a New Year's tra­di­tion with one of us, usu­ally) so we laid low and watch reruns of Sein­feld on my lap­top. So exciting.

As cliched as it is, it's res­o­lu­tion time. Even when you aren't into res­o­lu­tions it's hard not to feel inclined towards the idea of a fresh start. We all have things we'd like to try/do/improve upon and the begin­ning of a new year (and decade!) seems like a per­fect time to reassess and take stock. So here goes:
1. 2010 will be the year I truly ded­i­cate to my yoga prac­tice. Some of you may know that I have been a seri­ous bud­ding yogi for some years now, but devel­op­ing a true home prac­tice and branch­ing into the study of yoga his­tory and the­ory has been lop­sided at best. It has come in fits and spurts and always ends up falling back into asana sand­wiched in between the other ran­dom things I let get in the way. This year I'm com­mit­ting to a true, robust prac­tice, inte­grat­ing yoga into my daily life.

2. Potty-mouth begone! It may come as a sur­prise, but I am the owner of a seri­ous potty-mouth. I can even make Jim shake his head and he works at a car deal­er­ship. My goal is to tone down the cussin' to well-placed exple­tives that accen­tu­ate what I'm say­ing rather than make me look like I have a lim­ited capac­ity to express myself.
3. I'm going to start work­ing on another cook­book. A full-on, real meals and the whole she-bang cook­book, not just desserts. I do have a focus, but I'd rather not say any­thing right now. Things are still in the early stages and with this, yoga and my day job, I'm going to be busy and prob­a­bly very absent from the blog-o-sphere. I will prob­a­bly turn into one of those twice-a-month blog­gers for some time. But I will def­i­nitely keep you guys up on the progress, as well as put a shout-out when I'm look­ing for some test­ing assistance.
And now, for some food. When I was a kid, I ate a lot of Jell-o prod­ucts. While it grosses me out to think of eat­ing it now, I have very fond mem­o­ries. My grand­fa­ther would make cherry Jell-o with cans of fruit cock­tail sus­pended in them and boxes of Jell-o pud­ding and my great-grandma was the queen of fancy multi-layered Jell-o molds.
Recently I was over­taken by a crav­ing for pis­ta­chio pud­ding. I've recently become a pis­ta­chio eat­ing fool, but this mem­ory of eat­ing a creamy, pis­ta­chio fla­vored food seemed con­fus­ing to me. Did my grandpa make pis­ta­chio pud­ding? Does pis­ta­chio pud­ding even exist? It sounded weird. Sure enough, a cruise down the pud­ding aisle revealed the pis­ta­chio pud­ding does exist and the quest for a home­made ver­sion began.
A quick sur­vey of the inter­net showed that not many folks have both­ered to make such a thing at home. Most recipes were cringe-inducing dishes involv­ing pack­ages of pis­ta­chio pud­ding and buck­ets of Cool-Whip. Blorch. I was on my own.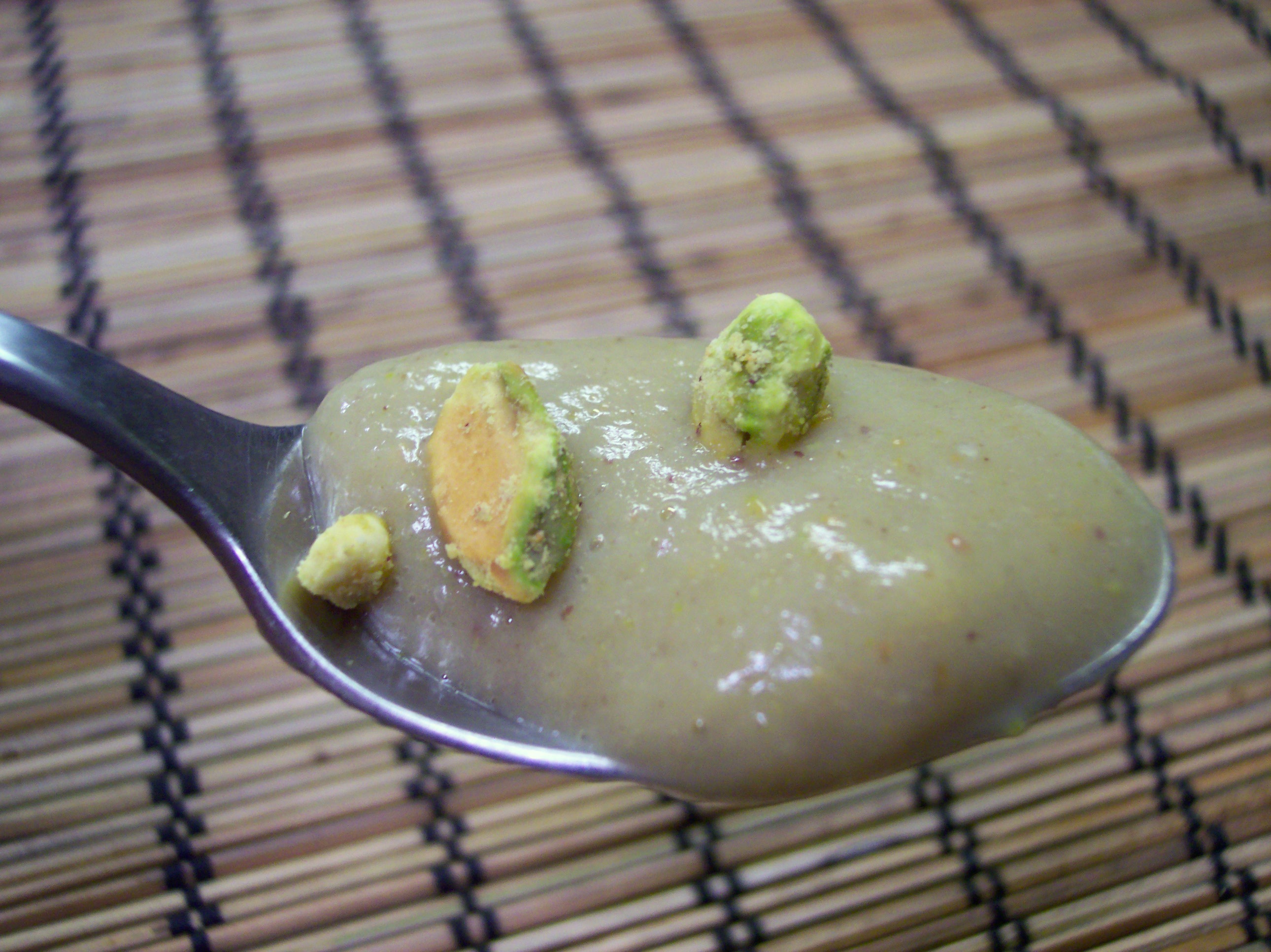 I almost cried when I tasted it, so creamy and deli­cious, it was like being punched in the face by nos­tal­gia, but even bet­ter than I remembered.
Pis­ta­chio Pudding
1/2 cup shelled pis­ta­chios, finely ground (I used a cof­fee grinder that we use exclu­sively for nuts and seeds and it worked great)
1/2 cup sugar
2 tbsp. corn starch
2 cups milk of choice (I used soy for the fat con­tent)
1/4 teas. vanilla
Grind up pis­ta­chios and best as pos­si­ble. You could also try a blender, but I did mine in batches in a cof­fee grinder. In a saucepan, whisk together the sugar and corn­starch until well blended. Add the ground pis­ta­chios and mix. Slowly whisk in milk. Cook pud­ding on medium/high heat, whisk­ing often, until it comes to a light bowl. Whisk­ing con­stantly, let lightly boil for about 2 min­utes. Lower heat and con­tinue to whisk con­stantly for 5–8 more min­utes, until mix­ture thick­ens and coats the back of a spoon. If you're hav­ing prob­lems with the pis­ta­chios clump­ing up a bit, you can always blend a lit­tle with a hand­mixer. Remove from heat and add vanilla, mix­ing well. Trans­fer to heat resis­tant bowls. Let cool com­pletely before eating.
Makes four 1/2 cup servings.