I'm in love.
I adore Port­land. I love it so much that even thought Seat­tle has supe­rior Asian cui­sine and Mighty O Donuts, I am still always happy to see the Port­land sky­line when we arrive back in town, home of my beloved Blos­som­ing Lotus, Proper Eats, Black Sheep and many, many others.
Enter Thrive, a newish (1 year old, maybe?) vegan restau­rant in Seat­tle, con­ve­niently located in our family's neigh­bor­hood. It's pri­mar­ily a raw restau­rant, with it's only cooked food being some grains included in some recipes. The decor is warm and invit­ing. You can pur­chase some of the ingre­di­ents in bulk while you're there. The ser­vice is incred­i­ble, so friendly and warm you'd think the work­ers were on something.
And they are! They are on their incred­i­ble, crave-inducing food that almost cre­ated an embar­rass­ing When Harry Met Sally scene, as I had to keep shush­ing Jim as he exclaimed and made yummy noises with con­cern­ing gusto. It's that sim­ple kind of food, healthy and whole foods based, that explodes in your mouth upon con­tact. Lots of places can make food healthy, but to make a nutri­tious meal bor­der­line (food)pornographic takes tal­ent and they've got it at Thrive.
The pic­tures aren't so hot, as I was more con­cerned with stuff­ing my face than pho­tograph­ing the food, but you'll get the drift.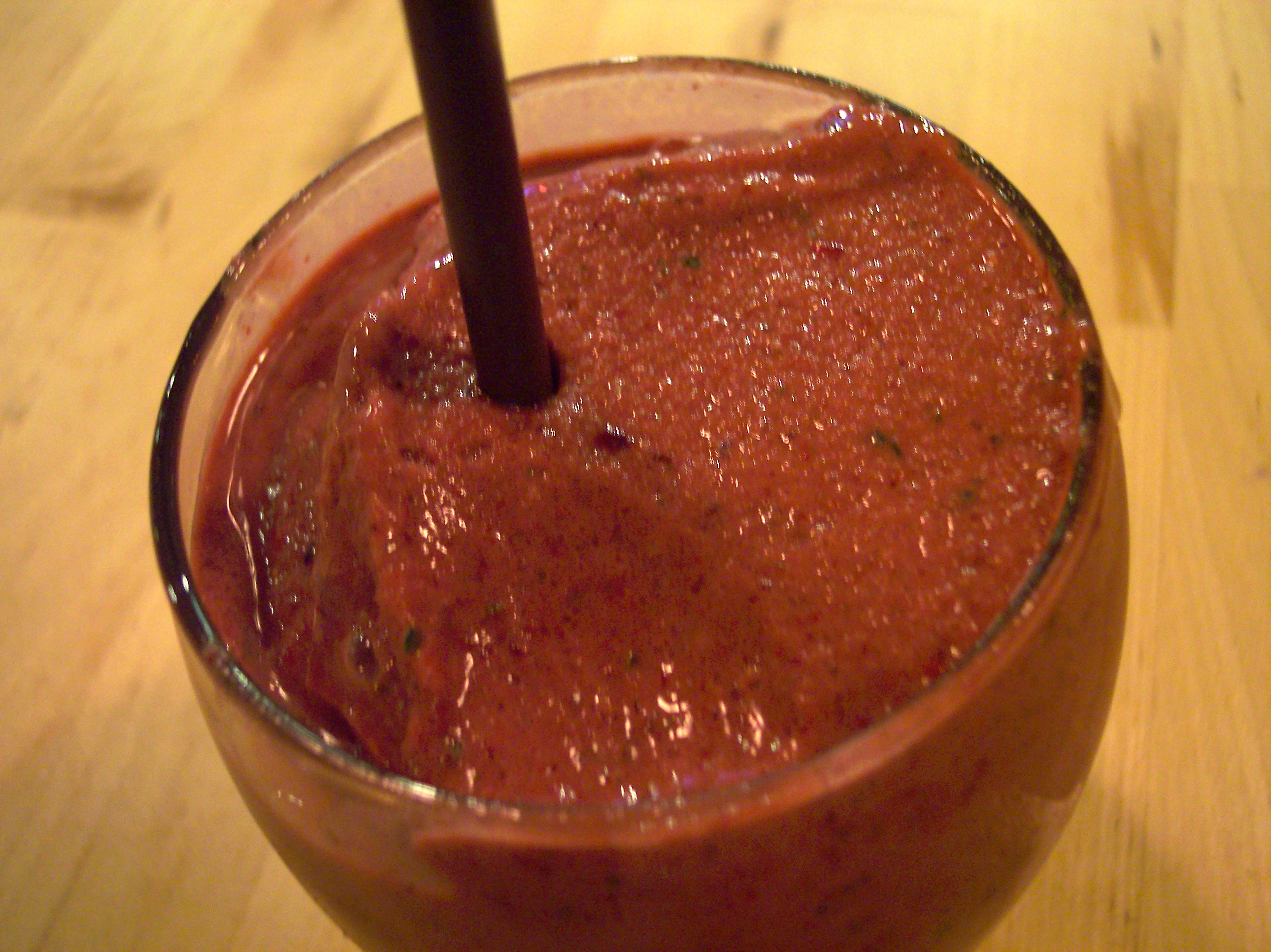 Boutenko's Best smoothie– not quite as green as it nor­mally is (I've had it twice now) as they were out of kale, but SO deli­cious and refresh­ing. Made, of course, in a Vita-Mix. Vita-Mix represent!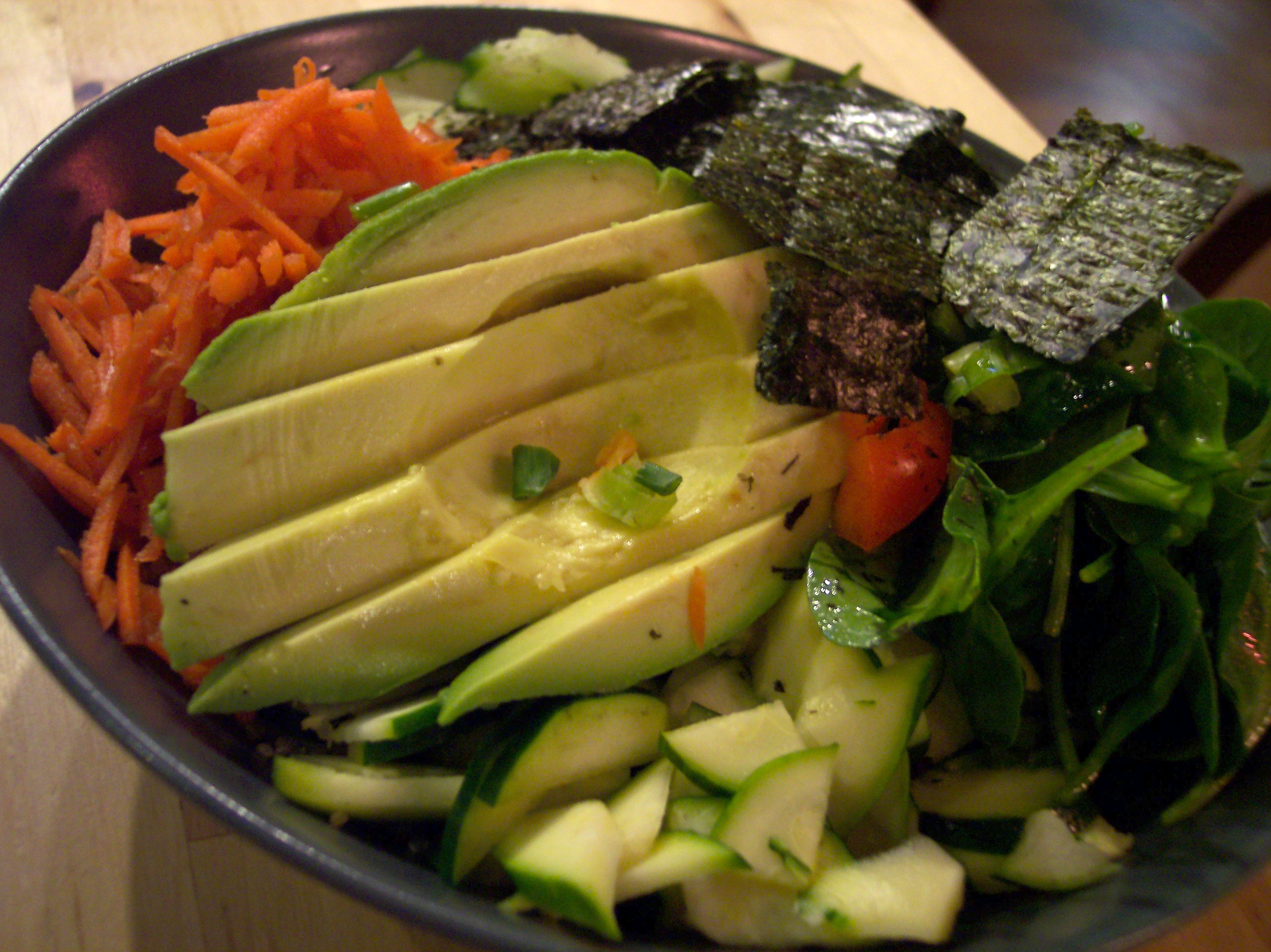 This is the Awaken Bowl, a base of Bhutanese red rice and quinoa with raw zuc­chini, car­rots, scal­lions, veg­gies, mar­i­nated spinach, avo­cado and nori with a side of sesame-ginger sauce. This meal is so amaz­ingly sat­is­fy­ing and com­plex, it blows my mind.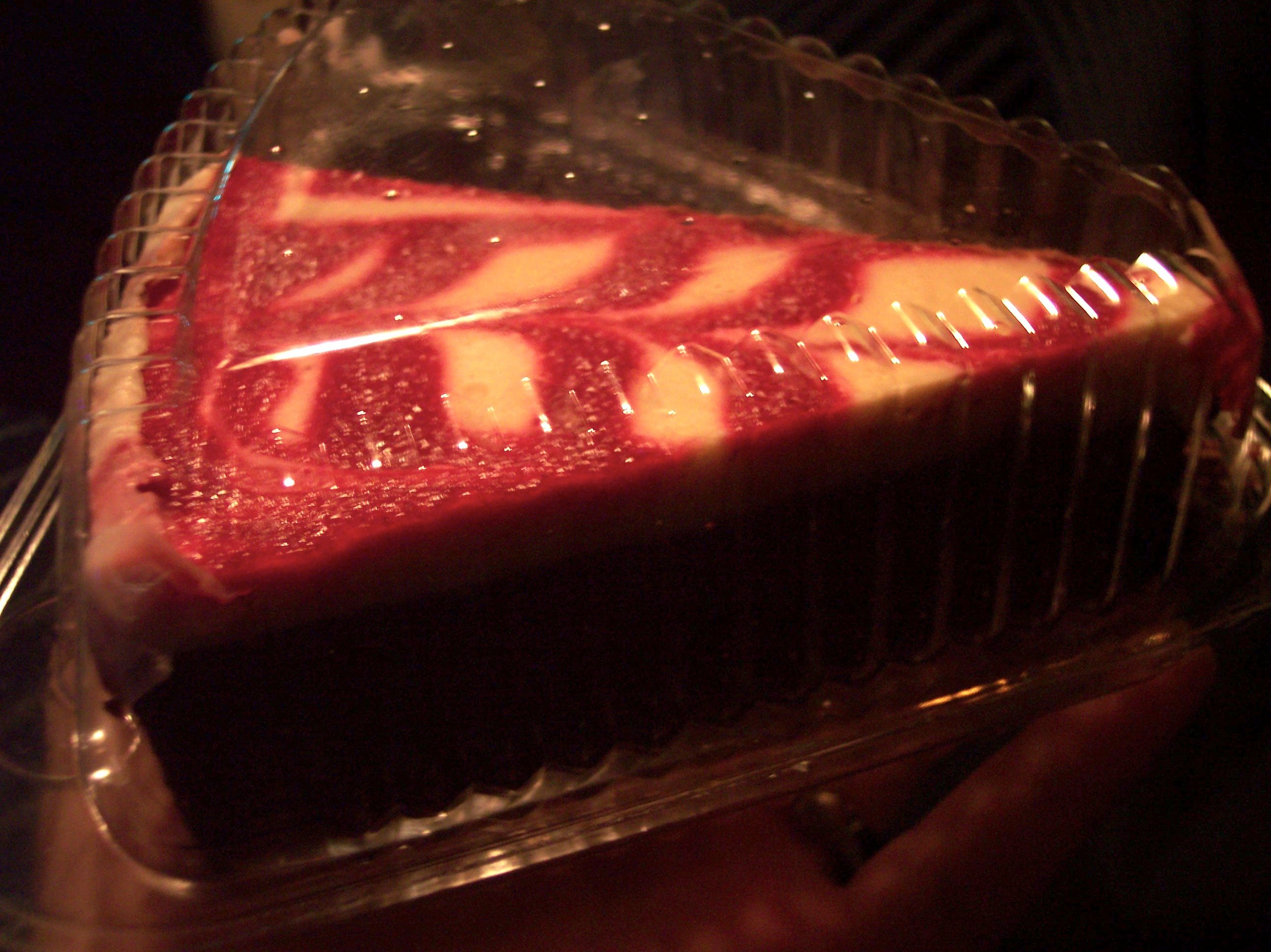 Okay, I know this pic­ture is ter­ri­ble, but we got dessert to-go and it was taken under the dome light of a 24-year-old car. So all things con­sid­ered, it's a great photo. 😉
This dessert… there are no words. Jim likes really tra­di­tional desserts, a piece of cake or a cookie. He's not much a "fancy" dessert per­son. This is a slice of choco­late straw­berry swirl mousse pie. All raw. MIND-BLOWING. I don't nor­mally like to share desserts, but the slice was gen­er­ous and very rich, so I was happy to split it with Jim, who was eagerly spoon-fed as he tried to keep it cool while con­sum­ing said mousse pie while dri­ving and keep us on the road. This was lit­er­ally one of the most deli­cious things I've ever eaten. Period.
So while Port­land is where my heart is, Thrive has lodged itself firmly in there and I'm gladly mak­ing space.
And in other news… I'm going to be on TV next week! A local morn­ing show, AM North­west on KATU news, will be fea­tur­ing lit­tle ol' me on a morn­ing seg­ment next Tues­day on vegan bak­ing as a New Year's res­o­lu­tion to a health­ier and friend­lier lifestyle. I will post the link to the show once it's up. Hor­ray for vegan baking!