You asked and so you shall receive.
Here is the rough recipe for the chick­pea tart that I made for Thanks­giv­ing. This was lit­er­ally "a lit­tle of this, a lit­tle of that", so please know there is tons of room for interpretation.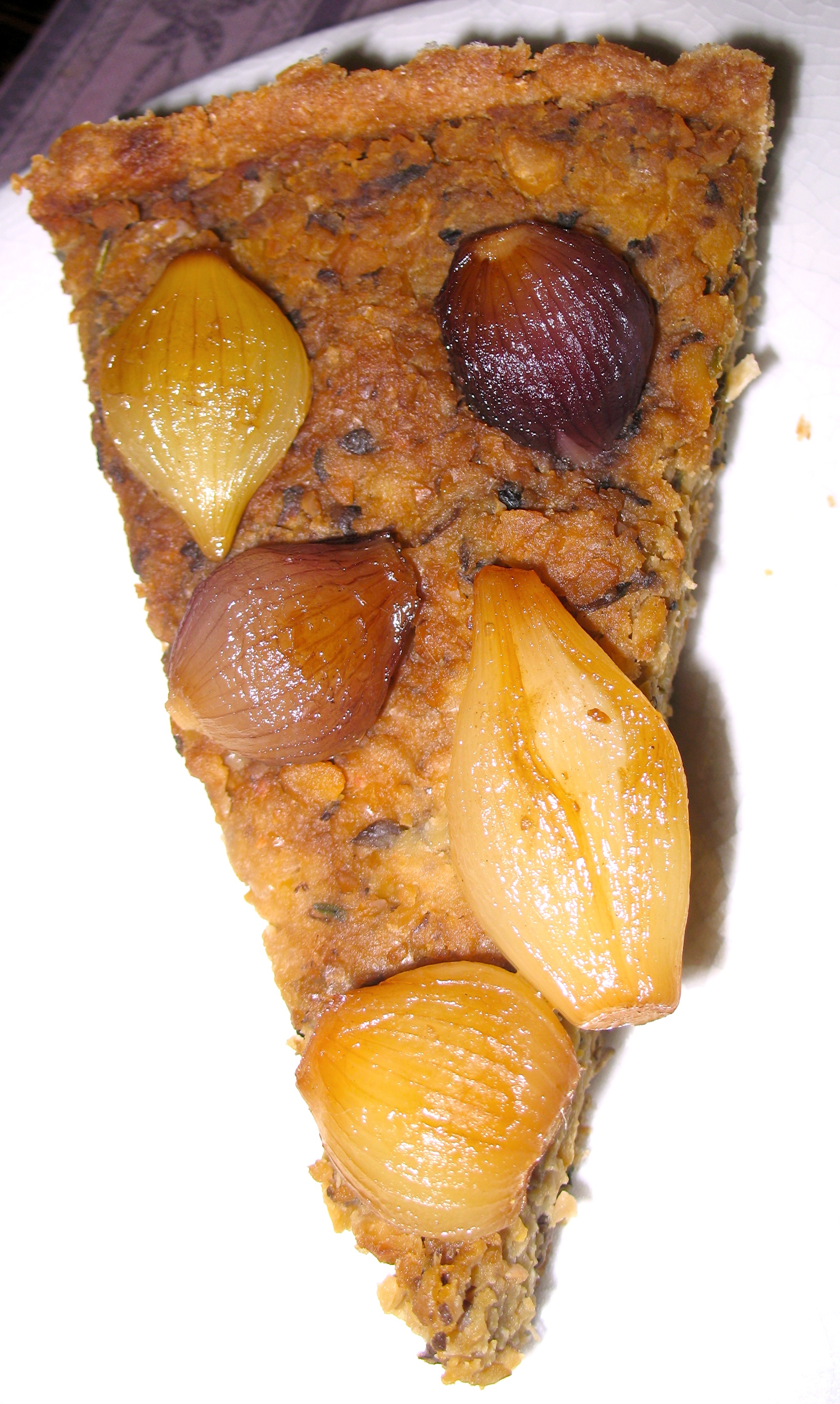 Savory Hol­i­day Tart
1 recipe pie crust, minus sugar (I used white whole wheat flour to make it more savory)
1 medium onion or 2–3 shal­lots, diced
2 cloves gar­lic, minced
2 cups crem­ini mush­rooms, rinsed and sliced
2 cans chick­peas, drained and rinsed
white wine
thyme (finely chopped)
rose­mary (finely chopped)
1/4 cup nutri­tional yeast
soy sauce
bal­samic vinegar
mar­garine
3–4 cups of pearl onions, skin peeled (You could also make reg­u­lar caramelized onions to top, if you don't want to deal with the pearl onions)
sprin­kling of sugar
Make pie crust per direc­tions. Wrap and let chill in fridge.
In a large skil­let, saute onions and gar­lic in some oil. Add mush­rooms and cook until onions are translu­cent and mush­rooms are cooked down. Drain off any liq­uid. Add chick­peas and saute for about 10 min­utes on medium stir­ring often and adding splashes of wine to deglaze the pan as needed. Add nutri­tional yeast and herbs to your lik­ing (I used about 2 tbsp. of thyme and 2 teas. of rose­mary. Add a nice splash of soy sauce, about 2 tbsp, and a small splash of bal­samic vine­gar, about 1 tbsp max. Mix to com­bine and spoon mix­ture into a food proces­sor. Process while adding more wine as needed and scrap­ing down the sides of the proces­sor, to make a mix­ture like a thick pate. Set aside.
In a pan, melt a about 1–2 tbsp. of mar­garine. Add peeled pearl onions. Sprin­kle with a lit­tle sugar and cook on a medium heat, stir­ring often, until onions are translu­cent and they begin to caramelize, about 15 min­utes. Add wine as needed to deglaze.
Remove pie crust from oven. Press crust into the bot­tom and sides of a 12– inch tart pan. You may not use all of the crust, depend­ing on how thick you make it. Spread in chick­pea mix­ture and smooth with a spat­ula. Top with onions.
Bake at 400 cov­ered with tin foil for about 45 min­utes, then remove foil and bake for an addi­tional 10–15 or until top is set. Let tart sit for 10–15 min­utes before serving.
You can eas­ily prep this recipe the night before and refrig­er­ate it, drive 5 1/2 hours in hol­i­day traf­fic and bake it upon arrival. I feel about 95% con­fi­dent that you could also bake it the night before, cool and refrig­er­ate and then reheat it in a 350 oven for about 15–20 min­utes with tin foil on it.