I love Thanks­giv­ing food. Cran­ber­ries and stuff­ing? Yes, please. Some more sweet pota­toes? Pile on some bread sticks or bis­cuits and gravy and call it a day. Who could miss turkey? Thanks­giv­ing is all about the side dishes anyway.
Except for dessert. Dessert is an equally impor­tant part of Thanks­giv­ing. Nat­u­rally, one's mind wan­ders to pump­kin pie. I'm not a huge pump­kin pie fan myself, it's just never quite been my thing. But I do love me some pump­kin. If you don't already have your heart set on your T-Day menu, you may want to con­sider this deca­dent dessert.
The Pump­kin Cin­na­mon Swirl Cheesecake.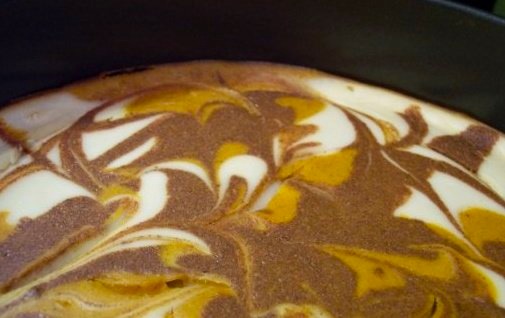 Pump­kin Cin­na­mon Swirl Cheese­cake (from The 100 Best Vegan Bak­ing Recipes)
Prep time: 35 min­utes
Dif­fi­culty level: 4 whisks (rated from 1–5 in terms of dif­fi­culty, but it's not so dif­fi­cult as it is detailed)
I love pump­kin. The only thing I love more than pump­kin is cheese­cake. The com­bi­na­tion: a Thanks­giv­ing mas­ter­piece. This is a moist, dense cheese­cake, mixed with the spiced pump­kin swirls and intense cin­na­mon rib­bons laced through it, you'll want to save room for this one. You don't have to bake this cake in a water bath, but you cer­tainly can for slightly creamier results and with­out the top crack­ing (like the pic­tures, which were from a non-water bathed cake).
Crust:
3/4 cup flour
1 teas. pump­kin pie spice
1/4 cup brown sugar
1/3 cup mar­garine, soft­ened
1 teas. molasses
1 tbsp. milk
Fill­ing:
2 8 oz. con­tain­ers of soy cream cheese
1 asep­tic con­tainer firm tofu– Mori Nu brand is what I use
1 cup of sugar, divided
3 tbsp. corn­starch
2 teas. vanilla
1 cup pump­kin puree (not pump­kin pie mix)
2 teas. pump­kin pie spice
1 teas. milk
1 tbsp. cinnamon
Pre­heat oven to 350. Lightly grease the bot­tom and sides of a 9 inch spring­form pan.
First, make the crust. In a small bowl mix together the flour, 1 tea­spoon of pump­kin pie spice and sugar. Add the mar­garine, molasses and milk and com­bine until crumbly. Press into the bot­tom of the pre­pared spring­form and bake for 12 minutes.
While crust is bak­ing, com­bine cream cheese, tofu, 1/2 cup of the sugar, 2 tbsp of the corn­starch and vanilla in a food proces­sor or blender. Blend well until all is incor­po­rated, scrap­ing down the sides as needed. Pour 1 1/2 cups of mix­ture into a bowl and set aside. Add remain­ing 1/2 cup sugar, 1 table­spoon of corn starch, pump­kin pie puree and pump­kin pie spice. Process until well blended.
From reserved, vanilla cheese­cake mix­ture reserve 3 table­spoons in a small bowl. Add milk and 1 table­spoon cin­na­mon to the reserved 3 table­spoons. Mix well to incorporate.
In the spring­form pan, alter­nate 1/2 cups of the vanilla and pump­kin cheese­cake mix­tures on top of the crust. Driz­zle the cin­na­mon mix­ture on top of the vanilla and pump­kin in thick stripes. Lightly wig­gle the pan to help the con­tents set­tle. Draw a knife though the bat­ter sev­eral times to mar­ble the batter.
Bake for 45–50 min­utes, (in a water bath, if using) until cen­ter is still slightly jig­gily but set. Let cool com­pletely then let set in fridge for at least 2 hours before serv­ing. Best if made the night before so the spices have time to meld. Store left­over cake cov­ered, in fridge.
Yields: 12 slices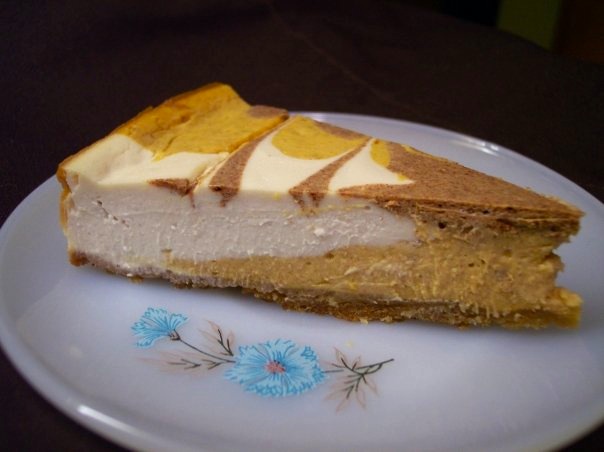 One thing that makes this cake price­less for hol­i­day meal plan­ning is that it actu­ally tastes bet­ter if you make it the night before so the fla­vors can come together, so then it's one less thing to worry about on Thanks­giv­ing Day. And trust me, this cheese­cake is some­thing to be thank­ful for!