Most nights Jim and I won't be past the first half of our din­ner before he looks at me with a sly expres­sion and asks, "What do we have for dessert?"
Most often, I try not to have any­thing. I'm not try­ing to be cruel, but after cre­at­ing two cook­books that focused on bak­ing and the result­ing sweet tooths, I really try to curb the snacks and treats, only bak­ing when it's for an event or meant to be shared. Dessert often amounts to a square of high qual­ity choco­late or a mouth­ful of peanut but­ter and choco­late chips, where Jim will then patiently wait, with a full mouth, for the chips to melt before mash­ing it all on the roof of this mouth with sat­is­fac­tion. Such a silly boy…
But some­times we want a real dessert, not some sug­ary stand-in. Being fully aware of how weak we both are, I know that mak­ing a whole batch of cook­ies is never a good idea. It always ends in the two of us sneak­ing cook­ies well after we should have stopped and a remorse­ful belly ache. Self con­trol in the sweets arena has never been very suc­cess­ful in our house.
Which brings us to this recipe, Cook­ies for Two. This makes 8 reg­u­lar sized choco­late chip cook­ies, 4 for each per­son. I know 2 is a more appro­pri­ate serv­ing size than 4, but hey, we're tak­ing baby steps. If you can muster some restraint, eat 2 after din­ner and save the other two for your lunch the next day.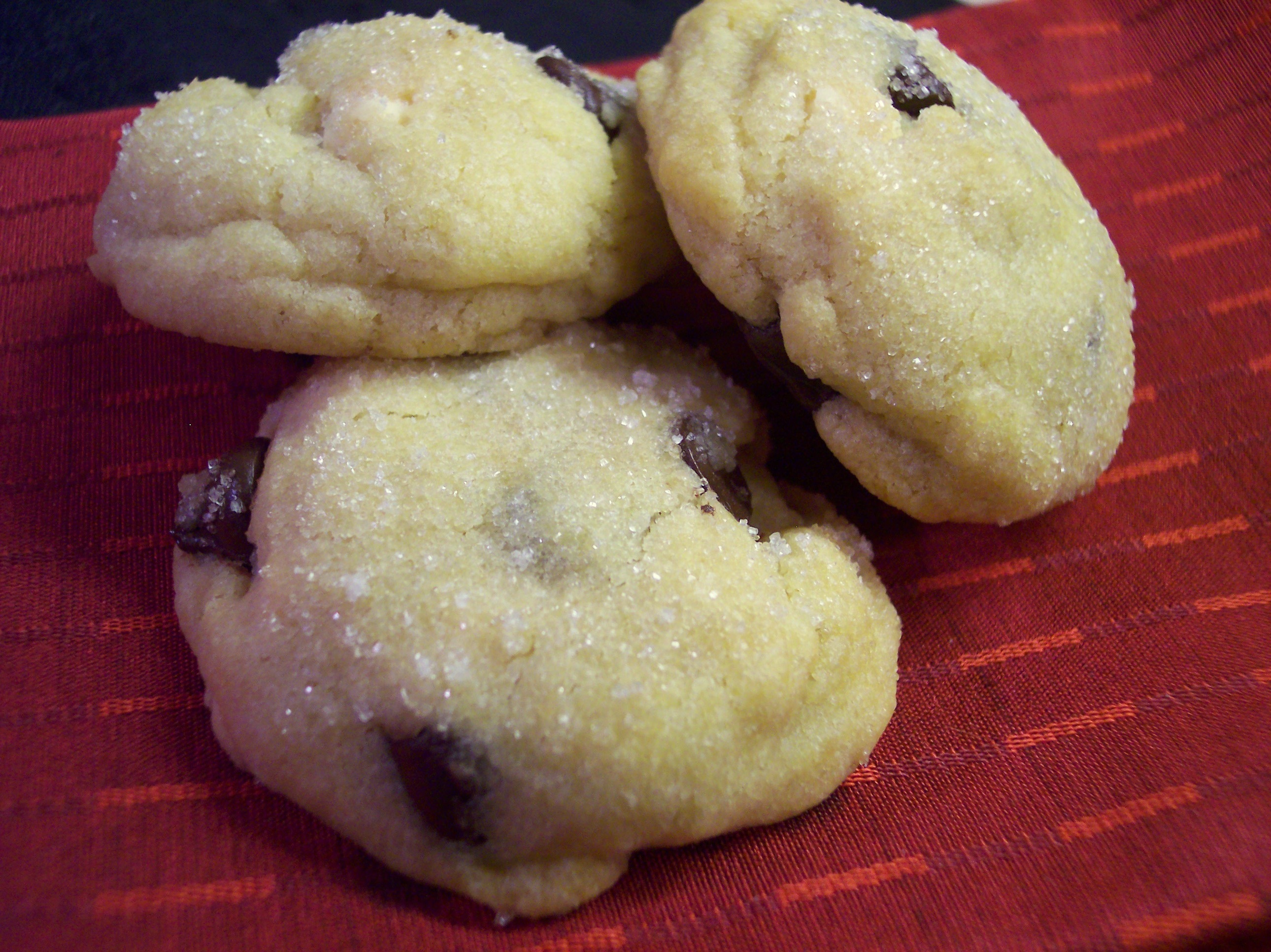 Cook­ies for Two
1/2 cup plus 2 tbsp flour
1/4 teas. bak­ing soda
spin­kle of salt
1/4 cup sugar
1/4 cup mar­garine, soft­ened
splash of vanilla
splash of vegan milk of choice
3 tbsp. to 1/4 cup choco­late chips
Cookie Coat­ing (optional)
1 tbsp sugar
1/4 teas. fleur de sel
Pre­heat oven to 350. Line a cookie sheet with parchment.
In a small bowl com­bine flour, bak­ing soda and salt. In a medium bowl cream together the mar­garine and sugar. Add vanilla and milk. Add dry ingre­di­ents to wet in batches until well com­bined. Add choco­late chips.
Roll table­spoon sized dough balls in the Cookie Coat­ing (if using) and place on cookie sheet. Bake for 10–12 min­utes or until cook­ies have risen, spread and the edges are set. Let cool com­pletely (well, not too com­pletely) before serving.
Makes 8 cookies.