If you've been a long time reader of this blog or my pre­vi­ous one, you know how crazy excited I get about the hol­i­days. I LOVE every­thing about the hol­i­day sea­son, from Thanks­giv­ing stuff­ing to New Year's black eyed peas. I like to plan ahead for hol­i­day gift giv­ing as well. The cusp of Novem­ber isn't really plan­ning that far ahead, but I wanted to share some unique ideas with you as that time of year is approach­ing. You could always can some­thing yummy for your loved ones, make a fun cook­ing zine or bring tins of hol­i­day cook­ies to share, of course, but in the spirit of con­sumerism, here are some very thought­ful gift ideas I've dis­cov­ered recently that you might like, too.
My lovely co-worker, Molly, does more than rock the Mar­ket­ing Depart­ment. She is also an awe­some green craft­ster who cro­chets func­tional and styl­ish items from plas­tic bags. The major­ity of her prod­ucts are bag-related (shop­ping bag, mar­ket bag, purse, mes­sen­ger bag) but she also makes rugs, bowls, coast­ers and a vari­ety of other neat items that are not only cool, but kind to the Earth. All of her items are made from 100% recy­cled con­tent, with her sup­plies com­ing from plas­tic shop­ping bags that would oth­er­wise be thrown out.
I'm buy­ing some of her mar­ket bags to put jars of jam in for the hol­i­days– a fun, func­tional gift that is sure to be used and remem­bered. Because her items are hand­made, plan­ning ahead for the hol­i­days is impor­tant! You can check out her etsy store here.
I have another gift idea that might be a bit emo­tional, but is truly beau­ti­ful. The com­pany Mem­ory Pen­dants hand makes beau­ti­ful, per­son­al­ized pen­dants to remem­ber your loved ones by. 2 1/2 years ago my father passed away and this sum­mer I decided I wanted to get some sort of mem­ory pen­dant to put some of his ashes in. I looked at just about every store online I could find, but noth­ing really seemed to fit both my taste and my dad's mem­ory. Then I came across the Huffman's site.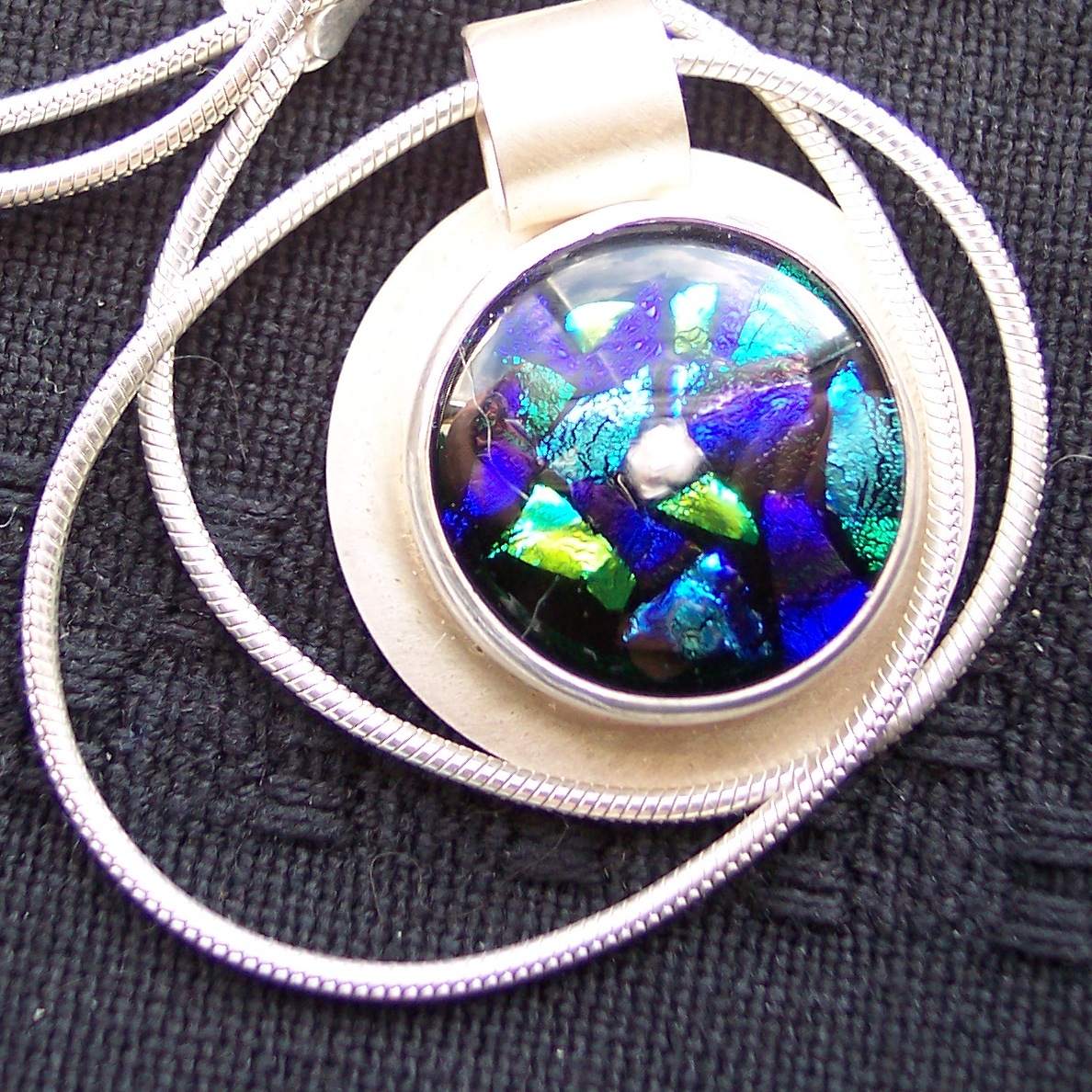 They have a vari­ety of pen­dant options, but the gist of it is that you send a very tiny amount of cre­ma­tion remains and they hand build a pen­dant of your choos­ing around the remains. You can choose the col­ors, shape, etc, whether you want the remains vis­i­ble or not and they made it a very sweet and car­ing process. I chose to have the remains vis­i­ble in the very cen­ter and I selected blues (for my dad) and greens (for me). I absolutely love the pen­dant and wear it almost daily. The smooth glass front of it acts as a worry stone of sorts, as I find myself con­stantly rub­bing my thumb across it.
If you or some­one close to you has lost some­one dear, this is a really nice way to keep them close to you. Mem­ory Pen­dants can include the remains of more than one per­son and also do pet remains, locks of hair and cre­ate sev­eral other prod­ucts as well. Because they are hand made, this is def­i­nitely some­thing to order ahead as well, as it's a lit­tle bit of a process (mail­ing things back and forth), but well worth it.