Some­what recently I was with a friend at Star­bucks. I always like to take a look at their bak­ery case because they are well loved for their sea­sonal treats. I have a knock-off of one of their baked snacks they carry around Christ­mas time in my book (a lemon and cran­berry bar with lemon icing). What caught my eye this time was a pump­kin muf­fin with a cream cheese fill­ing. It looked deca­dent and invit­ing, so I made note of it.
Being that it's pump­kin time and I like to put pump­kin in, oh, every­thing I bake at this time of year, I decided that a vegan ver­sion of this muf­fin was nec­es­sary. Like, now. I have no idea what Star­bucks' muf­fin tastes like, but I can guar­an­tee that these muffins will draw out uncom­fort­ably delighted yummy noises from those who eat them, so beware of the poten­tial for embar­rass­ment if con­sum­ing in public.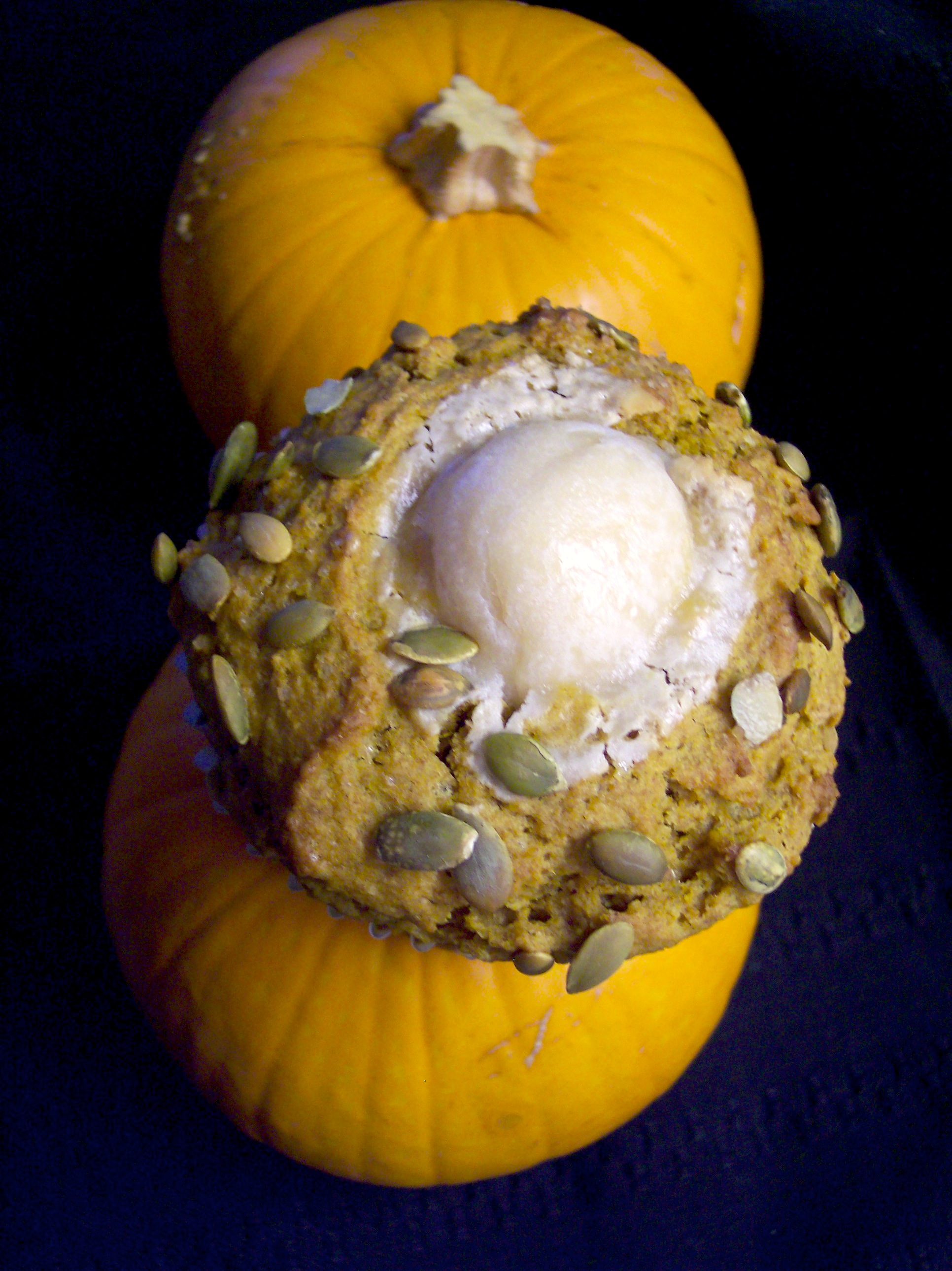 This recipe com­bines the fla­vors of two hol­i­day favorites– pump­kin pie and cheese­cake. The muf­fin itself is a moist, pump­kin fest to be enjoyed all the way down to the cheese­cake dol­lop in the mid­dle. As the spices deepen with a lit­tle time, I rec­om­mend mak­ing them the night before eat­ing. These would be per­fect to serve the morn­ing after Thanks­giv­ing as you power up to take on Black Fri­day or what­ever it is you do with your family.
I des­per­ately wanted to give them an actual name so here's what you get when I try too hard:

Cheese­cake For Your Pump­kin Pie Hole Muffins
Muf­fin:
2 1/4 cups flour (I used 1 1/4 white whole wheat and 1 all-purp)
3/4 cup sugar
1 tbsp. bak­ing pow­der
1/4 teas. salt
2 1/2 teas. pump­kin pie spice
1– 15 oz can pump­kin puree (not pump­kin pie mix)
1 cup milk
1/3 cup oil
1 tbsp. molasses
1/2 teas. vanilla
Fill­ing:
2/3 con­tainer soy cream cheese (8 oz con­tainer, I used Tofutti)
1/4 cup sugar
1 tbsp. plus 2 teas. corn­starch
1/2 teas. vanilla
1 teas. lemon juice
Top­ping:
1/3 cup pump­kin seeds
2 tbsp. coarse sugar
Pre­heat oven to 400. Line a muf­fin tin with lin­ers or grease lightly. Begin by mak­ing the fill­ing. In a small bowl, using the back of a fork, mix the cream cheese until creamy. In a small bowl or mea­sur­ing cup, com­bine the sugar and corn­starch. Add this mix­ture to the cream cheese. Add vanilla and lemon juice and mix to com­bine. Let fill­ing rest in fridge until ready to use.
In a medium sized bowl, com­bine muf­fin ingre­di­ents start­ing with flour through pump­kin pie spice. In a large bowl, whisk together pump­kin, milk, oil, vanilla and molasses until smooth. Add flour ingre­di­ents in batches until incorporated.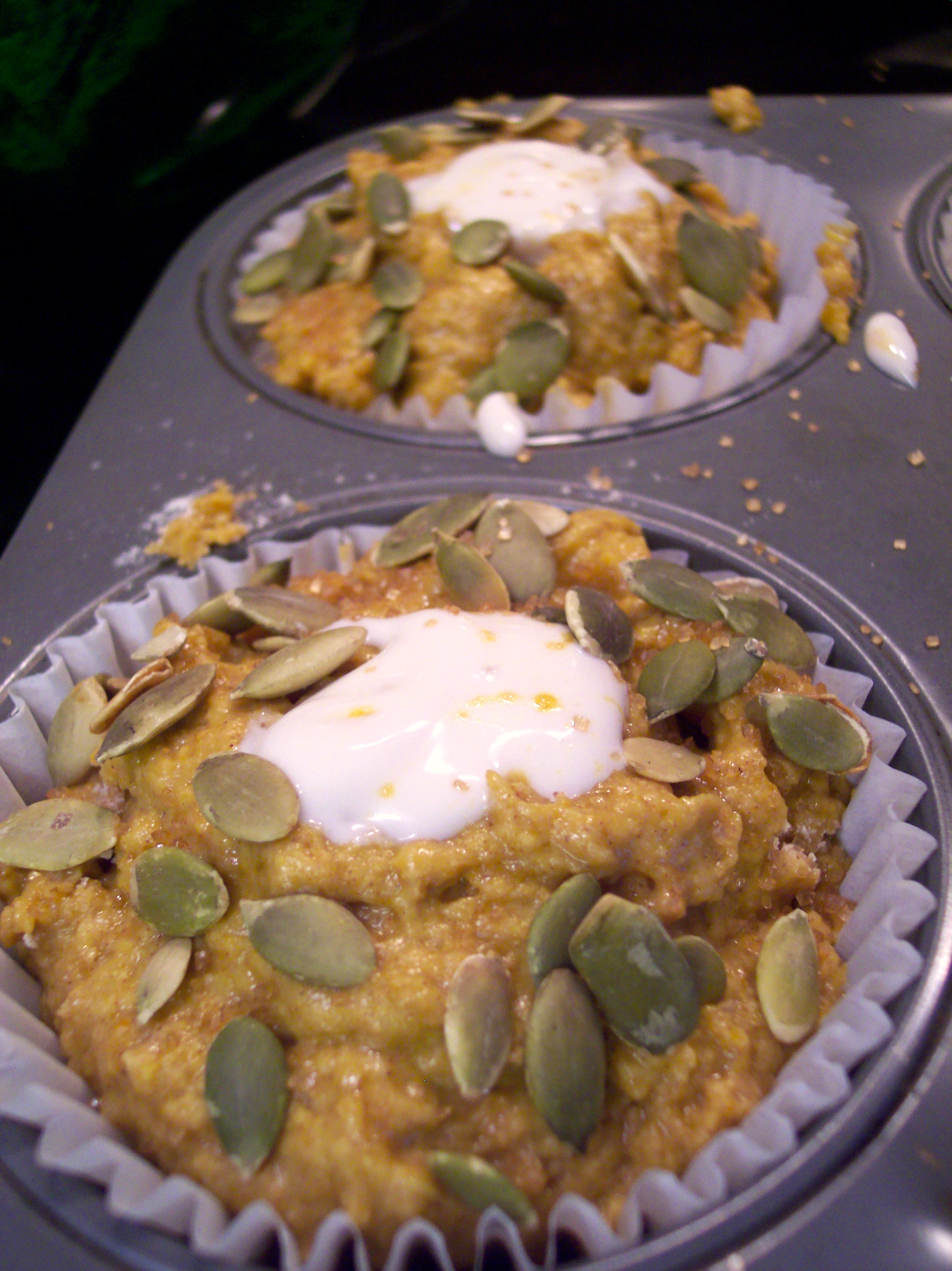 Spoon muf­fin bat­ter into muf­fin tins until just below the rim. Remove fill­ing from fridge and scoop into a pas­try bag with a fat tip. Pipe the fill­ing into the mid­dle of each muf­fin evenly, push­ing tip down into the mid­dle of the muf­fin and lift­ing it up as you pipe. Alter­nately, if you do not have a pas­try bag, you can care­fully spoon the fill­ing into the mid­dle of each muf­fin. Sprin­kle tops of muffins with pump­kin seeds and coarse sugar.
Bake for 19–21 min­utes for reg­u­lar sized muffins or 27–29 for jumbo muffins, until a tooth­pick comes out of the side of the muf­fin clean and cheese­cake part is puffy and golden.
Yields: 12 reg­u­lar sized or 6 jumbo muffins