We all have things in our lives that we do a lit­tle, well, half-baked. We are an inge­nu­itive species, so when things don't work for us we either cre­ate some­thing that does or mod­ify what already exists. And from that spirit, we also find new uses for old or bro­ken things.
I have pur­chased a lot of kitchen gad­getry. It's kind of sick when I think about it, so I won't. But of all of my chopper/slicer/dicer/flipper/stirrer toys, I have one thing that stands above them all.

The Chef Helper is a lit­tle kitchen gad­get I bought at the dol­lar store prob­a­bly a year into our mar­riage. I remem­ber where I got it at (Crys­tal, MN) and I don't even know what I was doing there, but for some rea­son I was com­pelled to buy this. It has metal wires like a whisk, but opens up like a pair of tongs.

Now here is where the sad inge­nu­ity from ear­lier in the post comes in. It's bro­ken. It's been bro­ken for much longer than it ever wasn't. And before it was bro­ken, I hardly ever used it. Then the spring came loose, some lit­tle plas­tic piece busted off and it was left like this: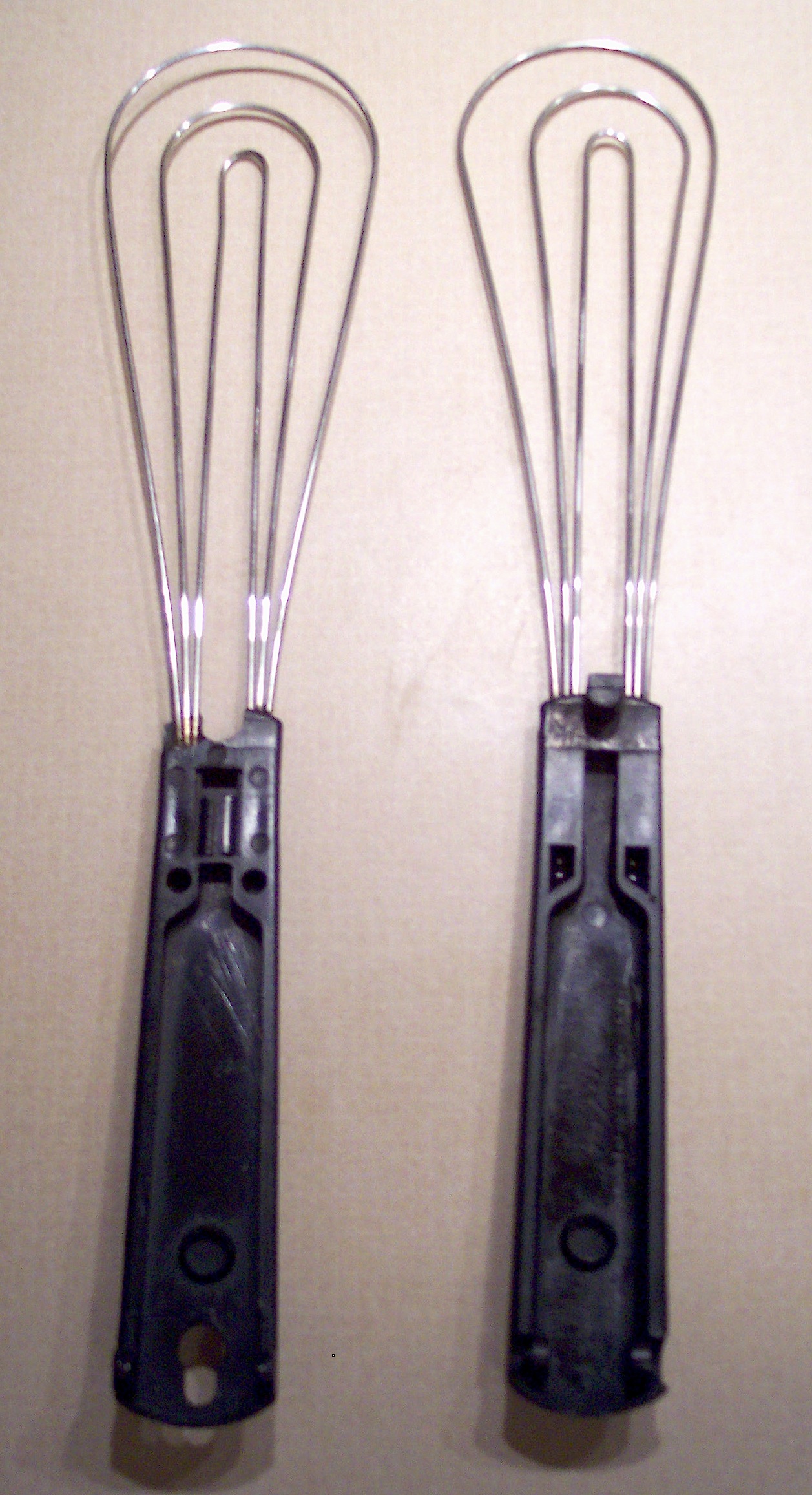 And since it's been bro­ken I use it con­stantly! I just grab one half and whisk away. I love how it func­tions like a whisk, but because of it being flat there is more con­trol and I can use it to scrape the sides of the bowl, like I would with a spat­ula. I have looked at many stores to find some­thing a lit­tle less, er, pathetic look­ing, but noth­ing that I've found mea­sures up to my two $.50 whisk things. I love 'em.
Do you have any­thing of this low a cal­iber in your kitchen that you just can't replace? Any odd, inge­nu­itive kitchen break­throughs or uses for other ran­dom kitchen toys? I have a sil­i­cone trivet that I never use as a trivet, but I do use it open jars with. I've also made waf­fles in the que­sadilla maker that we have no use for (quaf­fadil­las!)… you never know until you try!