No, Alberta is not a per­son (although I work with some­one by that name, so that could be weird). Alberta is a street in NE Port­land and it's quickly becom­ing one of the tasti­est streets in town.
Home­grown Smoker is the vegan BBQ food­cart that opened a cou­ple of months ago. They used to be 4 blocks down the street from their new loca­tion at 27th and Alberta. The new loca­tion seems bet­ter equipped for Port­land weather and even has a heated eat­ing tent. Excellent.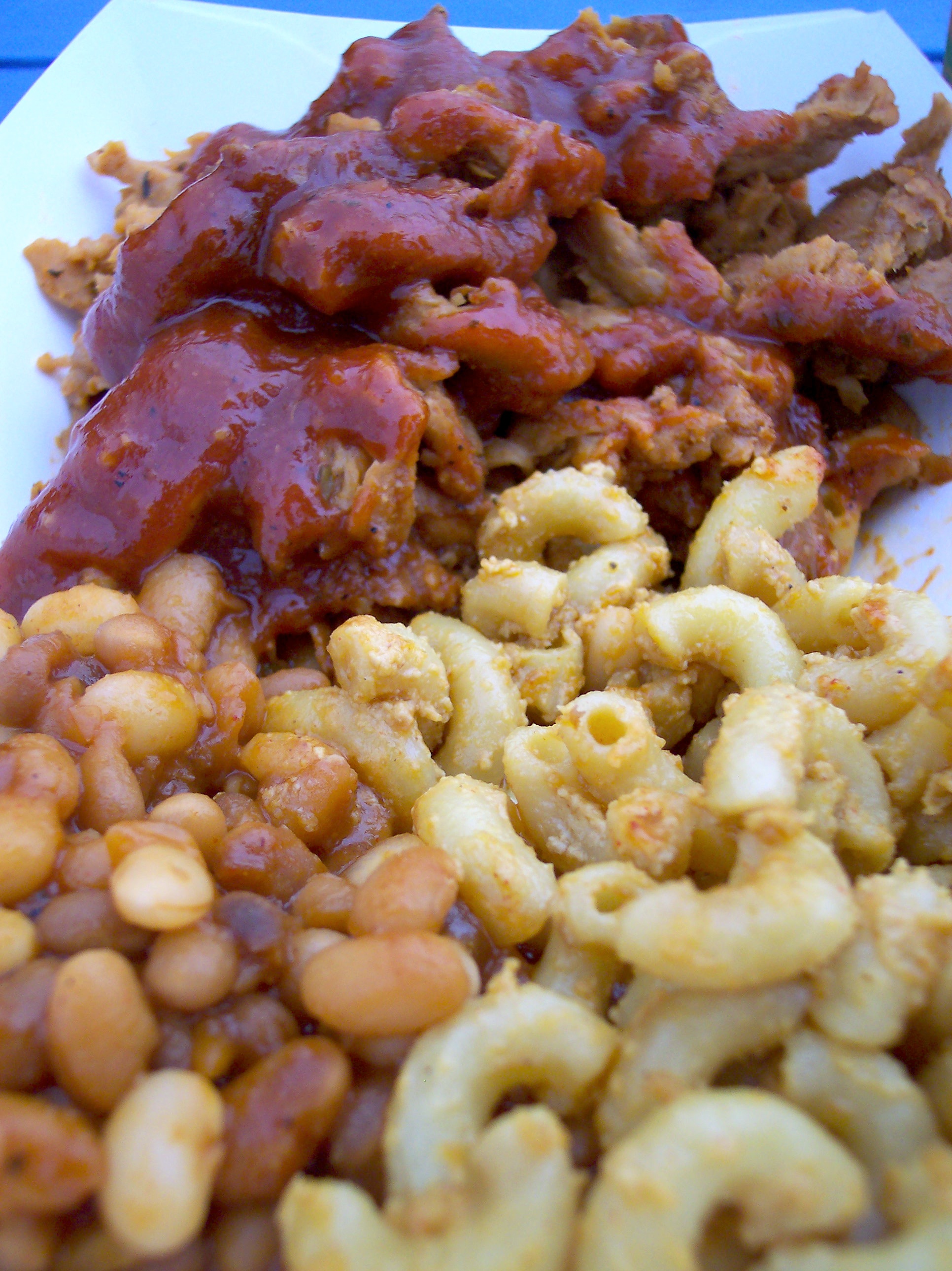 There is food that is good and then there is food laced with addic­tive fla­vors and tex­tures and plain old com­fort­ing good­ness. This falls into the lat­ter cat­e­gory. There are four dif­fer­ent pro­tein choices includ­ing chorizo, tofu steaks, tem­peh ribs and soy curls. In this plat­ter most peo­ple pick two small por­tions of two dif­fer­ent pro­teins, but I went with all soy curls. If we all have a pre­des­tined fate in life, being smoked and slathered with BBQ sauce is the des­tiny of a soy curl. In this form it is truly at it's full poten­tial. Oh momma, these things are amaz­ing! On the side, maple BBQ beans and mac no cheese. The beans are good, reli­ably tasty beans. The mac no cheese isn't like gourmet mac 'n cheese, but there's just some­thing good and noochy about it. Must. Eat. More.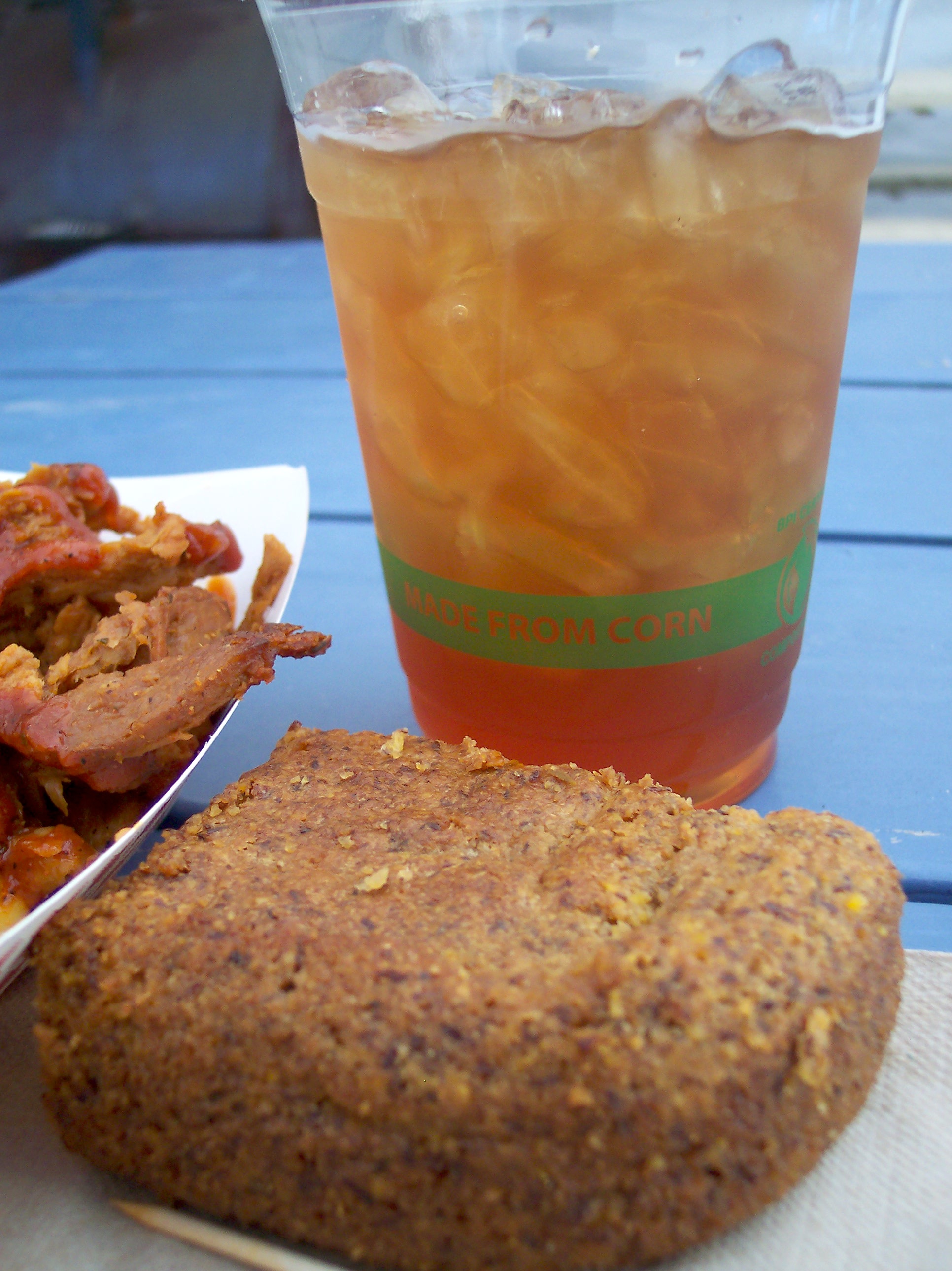 You'd think I haven't been food blog­ging for 4 years. I didn't turn the corn­bread around so you could see the inside of it! Darn, now I'll have to go back. The sac­ri­fices I make for this blog… Seri­ously, though, this is a gluten-free corn­bread that has pretty flecks of flax in it. That's fun to say, flex of flax. Now, I haven't had much South­ern cook­ing in my life and am very much naive to the art of corn­bread, but this corn­bread rocks. The tex­ture, mois­ture, fla­vor, it's all there. I never even thought I cared much about corn­bread, until I started crav­ing theirs. Add the sweet mint tea on the side… seri­ous food heaven.
After you've stuffed your­self with smoked good­ness, a mere four blocks away is Back to Eden, the new vegan bak­ery in town. A four block walk is exer­cise, right? That means it's time for dessert.
Back to Eden is about as pretty a place as it gets. Dec­o­rated in 1930s farm house chic, the col­ors are warm and invit­ing, the decor is sharp with atten­tion to detail and aside from the bak­ery items, they have all sorts of good­ies to buy. Locally made jams, aprons, cards, a sec­tion of vegan cook­books, and fun bak­ing sup­plies, like fancy sprin­kles fill the shelves. Plus they have, you know, the baked goods. They also have soft serve in TWO dif­fer­ent fla­vors, which means… wait for it.… TWIST ice cream!
They carry Temp­ta­tion soft serve, which you can get with a vari­ety of topping/sauce com­bos or as a milk­shake! And there are a vari­ety of baked goods avail­able each day, from break­fasty scones to deca­dent cakes and tarts. They have lots of gluten-free options, too.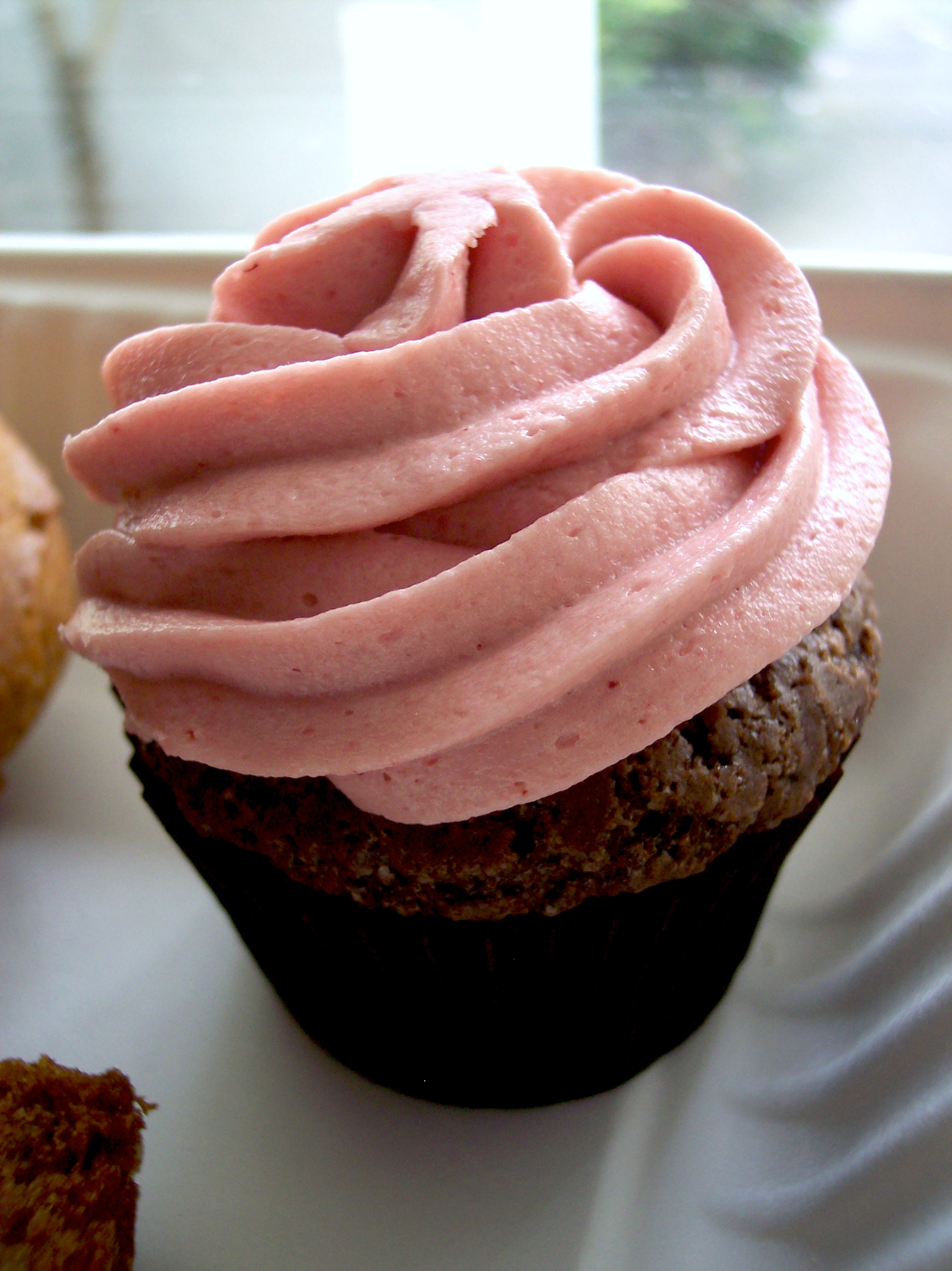 A straw­berry filled choco­late cup­cake. When I read the sign for it, I thought it said "straw­berry fields cup­cake" and I got all sorts of Beatles-excited… I was wrong, but I still needed the cup­cake to calm me down. Even the frost­ing had a pro­nounced straw­berry fla­vor that was amazing.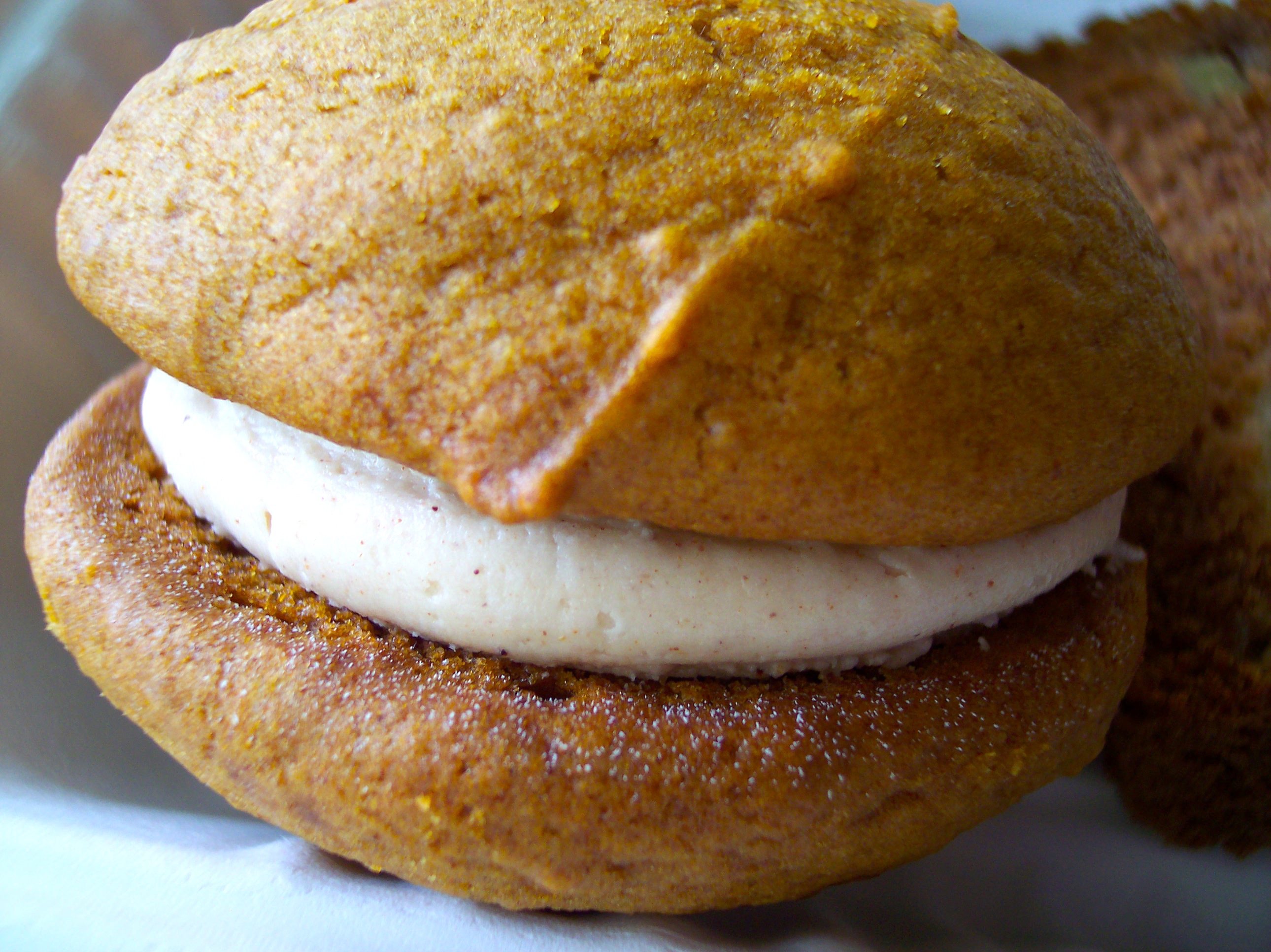 A pump­kin whoopie pie. Soft, moist cookie outer and spiced creamy inner fill­ing… Dev­il­ishly good. So dev­il­ish, in fact, that an evil kit­teh couldn't keep her mouth off of the pump­kin cookie part.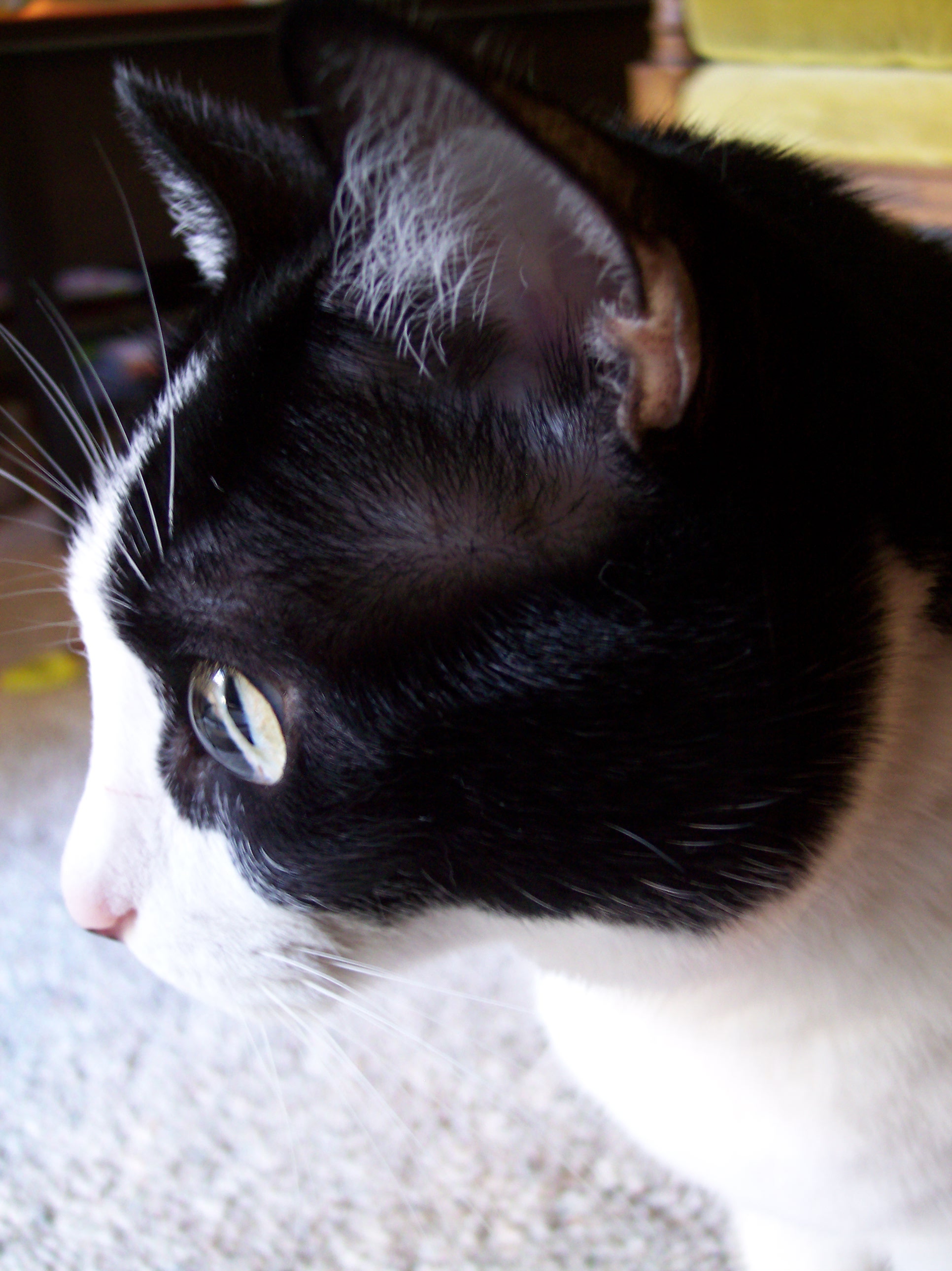 Who knew bad kit­tehs liked pumpkin?
So this is my ode to Alberta Street, with new attrac­tions moti­vat­ing me to leave the SE bub­ble for things other than con­certs.