Okay, so in the last post I men­tioned that I'm not much of a girly-girl. And now here is more evi­dence to the contrary.
Jim was out of town last week­end and it made me think of a scene from an episode Sex and the City (yes, I'm a huge SATC fan) where Car­rie is talk­ing about her fears of liv­ing with Aidan (who was the best boyfriend, IMO, but he deserved bet­ter than Car­rie) and her love of sin­gle behav­ior. She talks about how she likes to eat grape jelly on saltines while stand­ing in her kitchen read­ing fash­ion mag­a­zines and wouldn't feel com­fort­able doing it with him there. And I totally get it. I've been mar­ried for almost seven years and hav­ing the house to your­self is a rare thing. All of those sin­gle things, those self-indulgent things that we would be embar­rassed to have some­one else wit­ness, have either come to the sur­face and been accepted at this point or have died a nat­ural death.
But on the rare occa­sion when you have the house to your­self, you have the option of liv­ing like a bach­e­lor again. Dishes piled up in the sink and I don't care? Check. Unabashedly wear­ing mis­matched sweats with bed­head because I'm not leav­ing the house today? Check. Eat­ing food that doesn't really qual­ify as a meal for din­ner? Check.
In my pre­veg days a bachelor-style week­end would have prob­a­bly meant lots of chicken Cae­sar wraps, fries and pizza. And it could have been vegan pizza this week­end, but I was too lazy to leave the house for the fixin's (hence the sweats and bed­head). My bach­e­lor food is not very scan­dalous and is far more ani­mal and body friendly, but does involve another man: Edgar, the Vita-Mix.
In case you ever ques­tioned it, yes, I am this lame.

But I'm going to share with you one of my favorite new bev­er­ages since com­ing upon the Vita-Mix. It's truly the def­i­n­i­tion of "refreshing".
You start with this: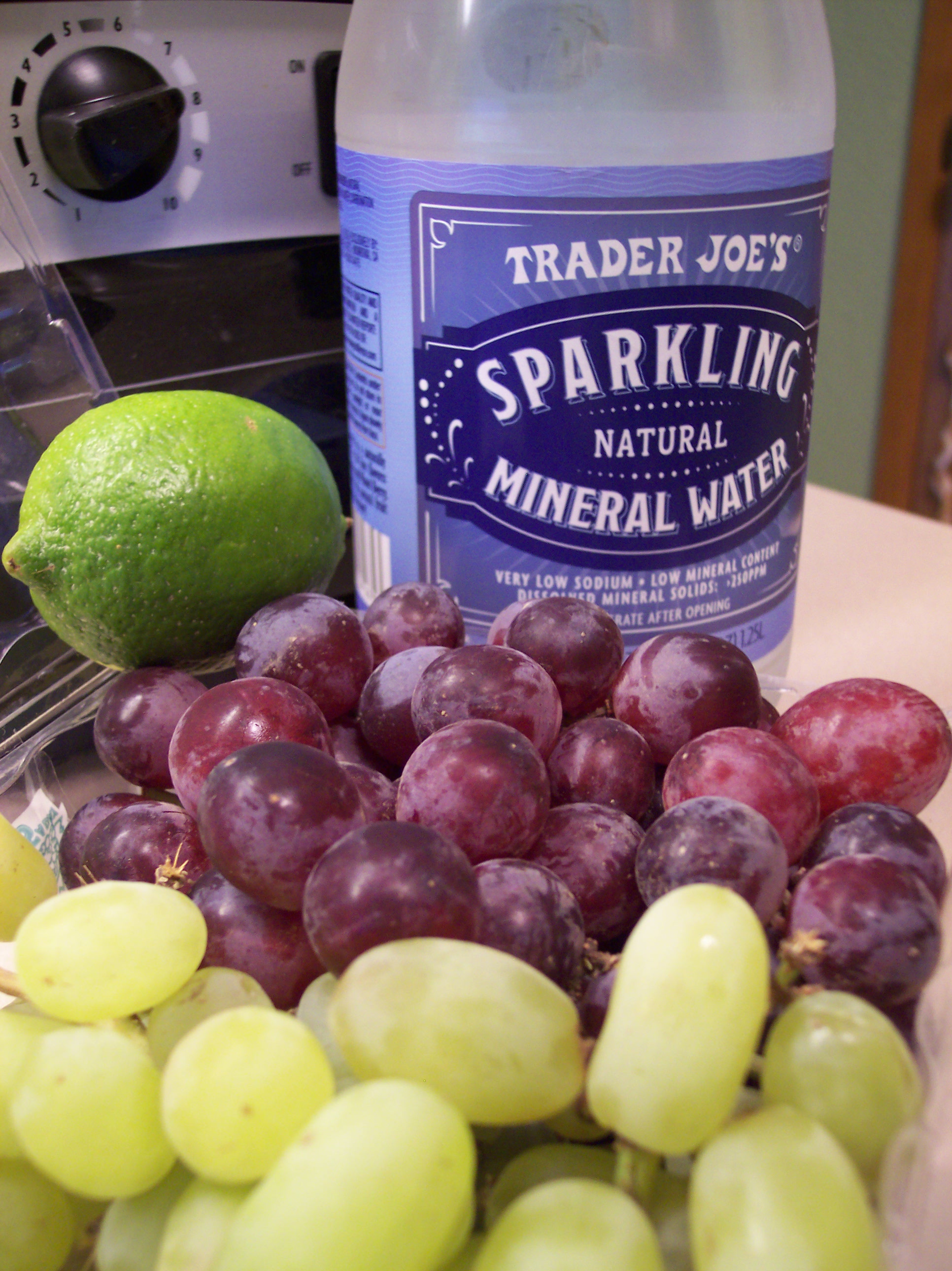 Grape-Lime Slush Spritzer
Rough recipe for 1 serv­ing:
1 cup rinsed grapes
1 very thin slice lime (with rind)
1/2 cup ice
bub­bly liq­uid of choice (spring water, seltzer or cham­pagne for a sLUSHy!)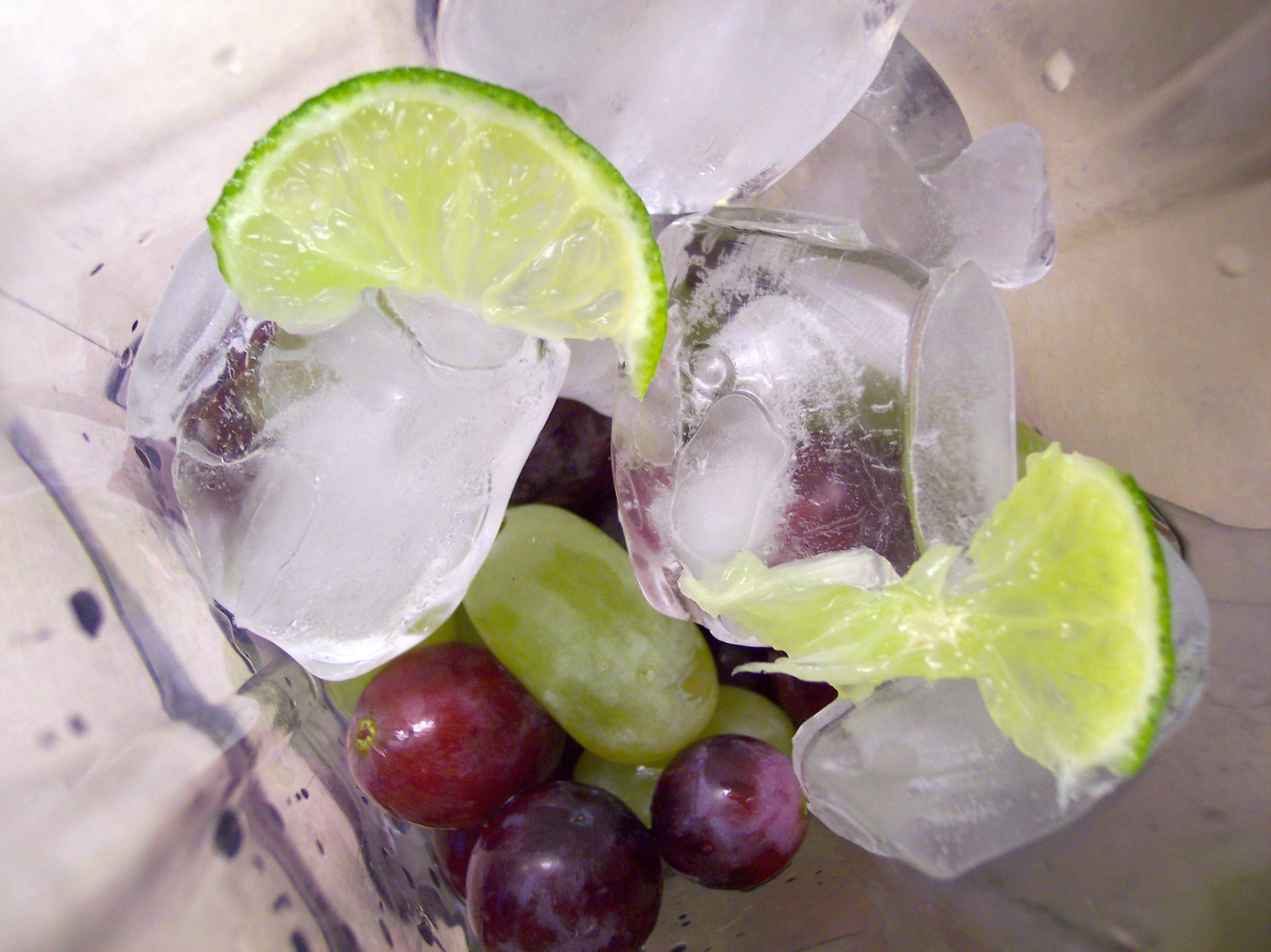 Place every­thing (except bub­bly) in the Vita-Mix. Process for about 20–30 sec­onds on vari­able speed 8 or high.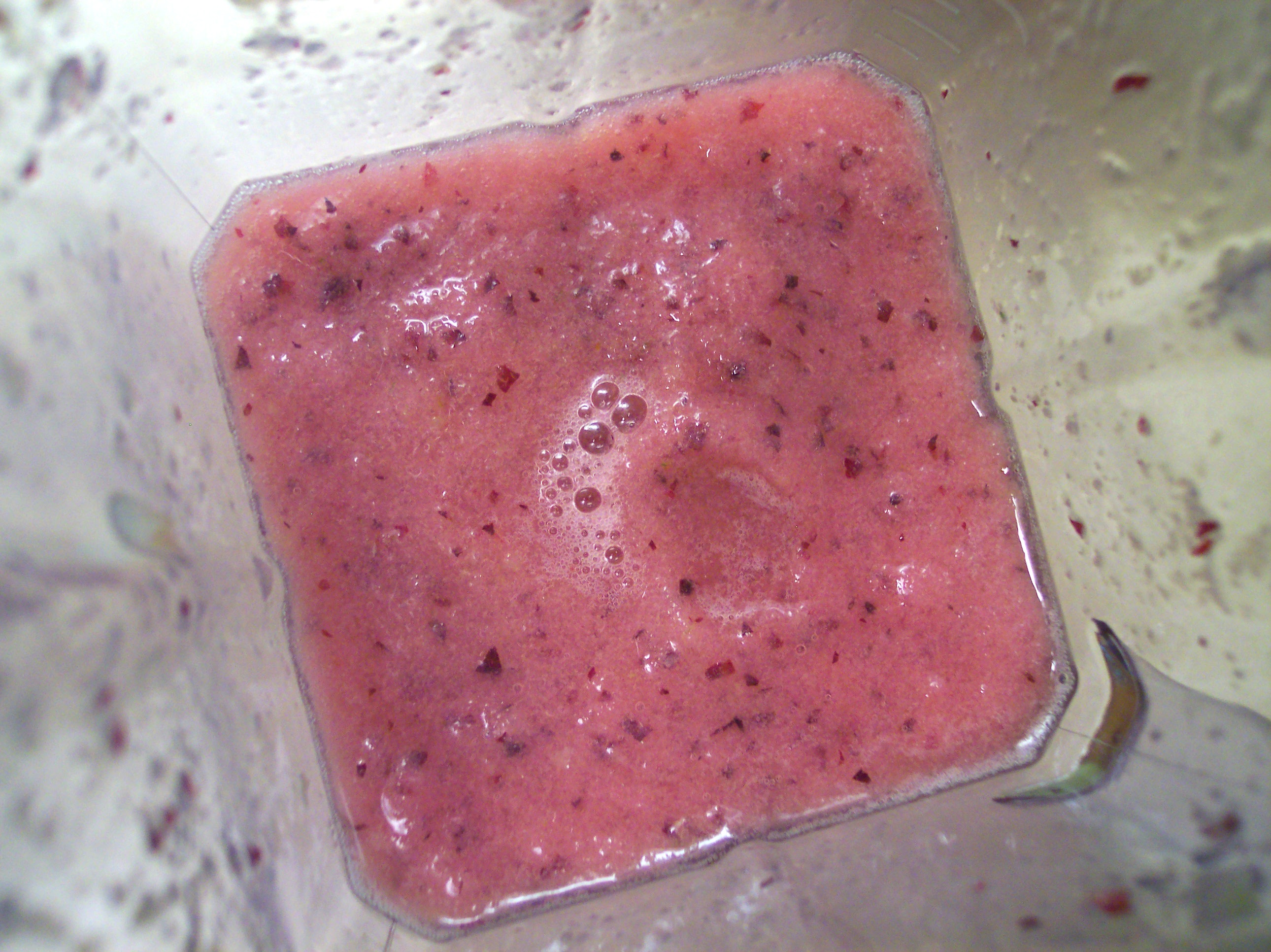 You can either enjoy it as a slushy or add some of the bub­bly to make it a thin­ner spritzer.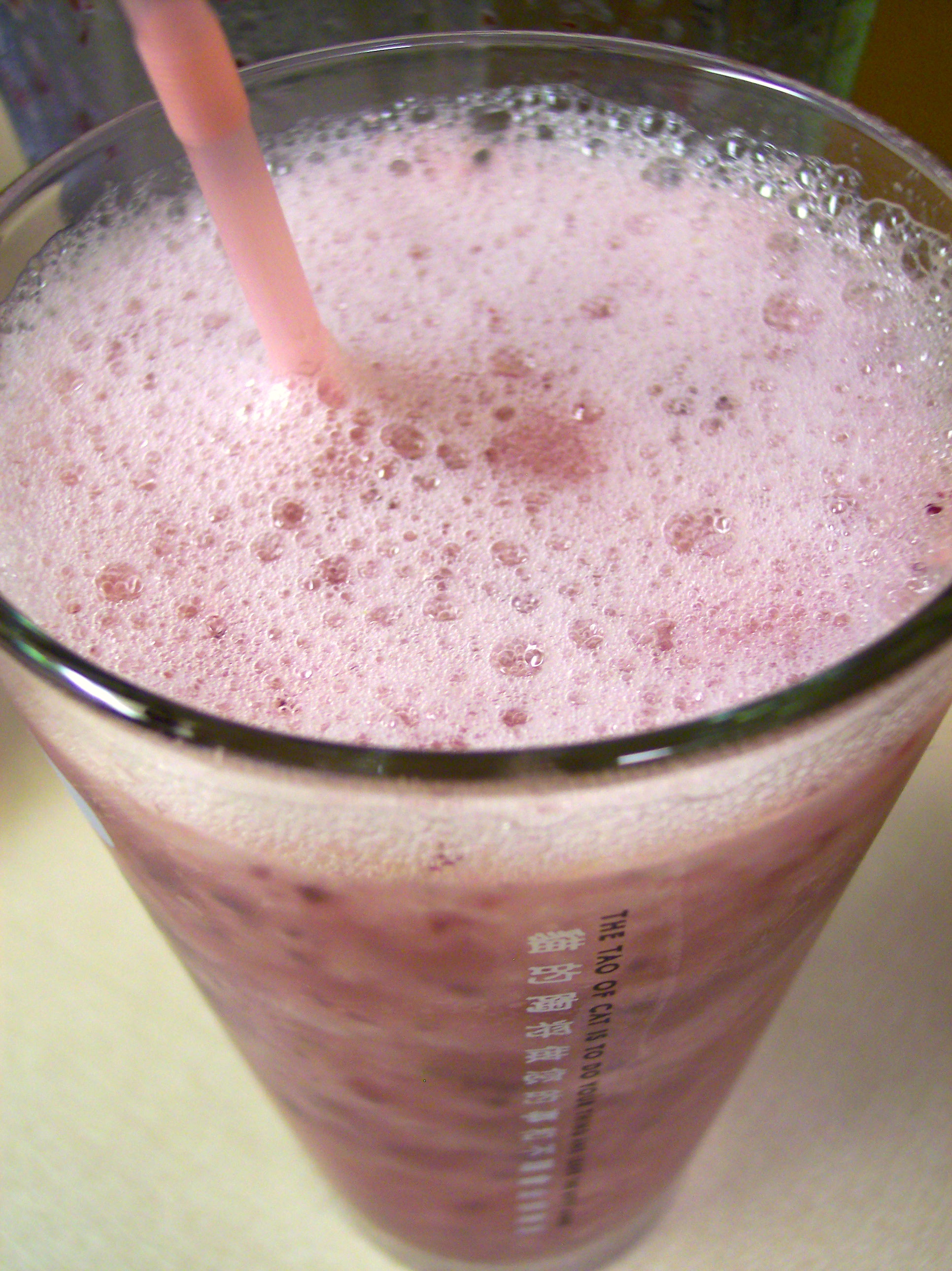 Seri­ously deli­cious and guilt-free.
And now for the shame­ful bach­e­lor din­ner I had with this lovely drink.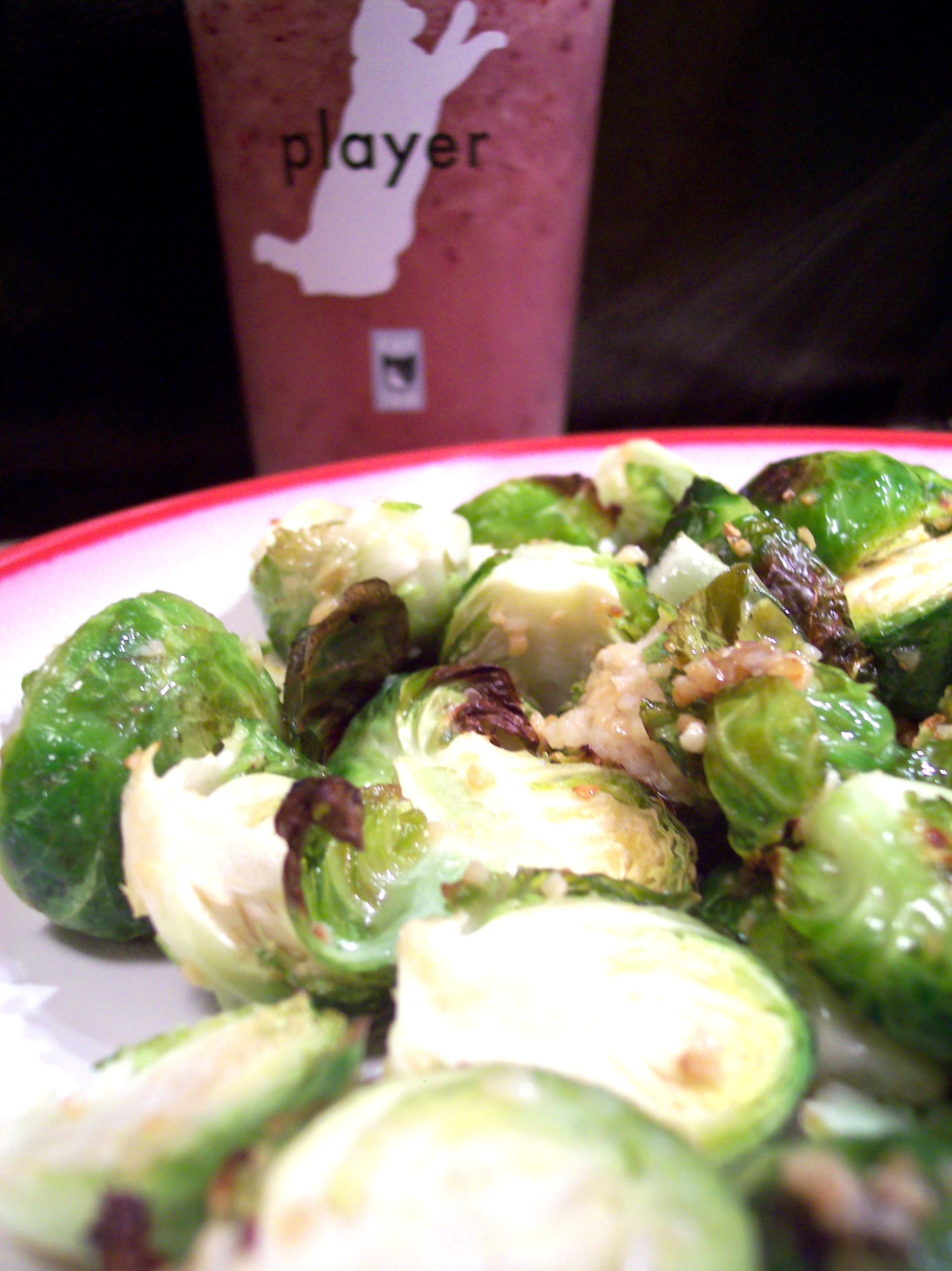 That's it. Just a giant plate of gar­lic roasted brus­sel sprouts. Noth­ing more, noth­ing less. Paired with this drink and enjoyed in front of some Net­flix Watch-it-Now. What can I say, I'm a bor­ing old mar­ried gal at heart, I guess.