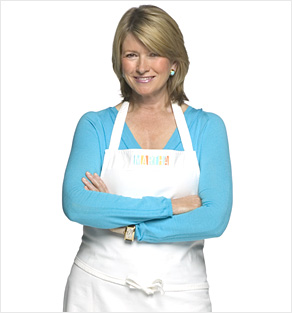 Women do not have to sac­ri­fice per­son­hood if they are moth­ers. They do not have to sac­ri­fice moth­er­hood in order to be per­sons. Lib­er­a­tion was meant to expand women's oppor­tu­ni­ties, not to limit them.
~Elaine Heffner
No, Martha is not vegan. Nor are her cook­books or show ter­ri­bly vegan-inclined (although search­ing "vegan" on her site will turn up quite a few arti­cles and recipes). And I know it's all the rage to hate on her, but I don't care: I still love Martha.
Say what you will about her time in prison, because we all make mis­takes, and the rest of us are lucky enough to not deal with them pub­licly. No one is per­fect, but one mis­take (a mis­take that didn't hurt any­one) shouldn't define a person's legacy.
Now, I'm not a hard­core devo­tee, track­ing and sub­scrib­ing to her whole empire of awe­some­ness. But I do sub­scribe to her Liv­ing mag­a­zine, own a cou­ple of her cook­books, and I have pur­chased some of her cook­ing acces­sories at Macy's (my favorite spat­u­las ever!), but I don't watch her show or keep tabs on much.* But I admire her very much, and here are a cou­ple of rea­sons why:
1. When many women were run­ning from domes­tic­ity, Martha stood in the kitchen with her head held high. I know peo­ple who strongly feel that women who do any­thing "domes­tic" are turn­ing their backs on lib­er­a­tion and woman's rights. Martha not only held close to those domes­tic activ­i­ties, she made them hers. I con­sider myself a fem­i­nist with three different-sized cookie scoops.
2. Martha is a self-made woman. She's never been to culi­nary school. Or design school. She sim­ply had a pas­sion and tal­ent and ran with it and it took off. Because of that, peo­ple have labeled her many things (demand­ing, a bitch, etc.). This is what hap­pens when you shake up the good ol' boys club. Martha is one of the rich­est and most pow­er­ful busi­ness women in the US. You don't get that far and cre­ate such an enor­mous brand with­out being assertive and stick­ing to your guns. Last time I checked with the oppo­site sex, this was called good busi­ness sense, not bitchiness.
3. Martha makes every­one an artist. There are a good amount of peo­ple who think they have no cre­ativ­ity. There are also peo­ple who think that because they aren't Picasso or Bob Dylan that they aren't an artist. Martha has opened up the pub­lic eye to see every­day liv­ing as some­thing cre­ative. Whether your art is mak­ing a whole­some din­ner, hand­mak­ing invites to a party or dec­o­rat­ing your house, there is art to be cel­e­brated every­where. I'm not say­ing she invented this con­cept, but she cer­tainly pop­u­lar­ized it. Every­one needs to have an outlet.
4. I pray that when I'm 68 I'll be that cool. Sure, she has a staff who scouts out trends, but she also has the abil­ity to decide that they should be focus­ing on quilt­ing with ging­ham rather than pur­su­ing hip new crafters or vegan cup­cake dec­o­ra­tions. Sorry ging­ham, you lose.
5. When your name becomes an adjec­tive, you know you've arrived. "You're being so Martha!" Or "Oh I'm feel­ing very Martha today!" Like it or not, the woman has defined a cer­tain sense of do-it-yourself chic.
Any­one who knows me know that I'm far from being a ter­ri­bly con­ven­tional or girly-girlish. Actu­ally, peo­ple who know me also know that I tend to shy away from things that have main­stream pop­u­lar­ity, so my out­pour­ing of love is unchar­ac­ter­is­tic (and no, no one is spon­sor­ing this post.) But I love cook­ing and can­ning and I pre­tend that I love craft­ing (even though I'm too lazy and have no atten­tion span for it). I love how pop­u­lar these things have become again. It delighted me when I went to the store this sum­mer and they were sold out of can­ning jars because it meant the peo­ple were mak­ing their own food. I love going to Crafty Won­der­land and see­ing the awe­some cre­ations that peo­ple are sell­ing. And look at all of us and our food blogs! There are a good many things that have con­tributed to this surge, so to say it's all Martha is unre­al­is­tic, but you can't deny what a trail­blazer she has been. Go Martha!
What do you think of Martha? Leave a com­ment and 3 lucky win­ners will be ran­domly picked for a copy of my cook­book (with nom! but­tons, of course). Win­ners will be drawn on Fri­day the 9th. I'll send them where ever on Earth you are, so get commenting!
*full dis­clo­sure, I do fol­low her on Twit­ter. But I suck at main­tain­ing Twit­ter and god knows she doesn't actu­ally update it, so it doesn't count.