I love muffins.
No, that is an under­state­ment. I LURVE muffins!
Muffins and cook­ies share a com­mon char­ac­ter­is­tic that I hold dear, which is why they are both such pop­u­lar items in our house. They are like a blank can­vas, beg­ging to be tin­kered with. So tasty and so ver­sa­tile, these treats have a flex­i­bil­ity in the kitchen that is irre­sistible. A lit­tle of this, a lit­tle of that. Ooh, I feel like this kind of spice today or this kind of nut/fruit/flavor/fill-in-the-blank. Muffins can make those fla­vor day­dreams a reality.
The other day I was get­ting ready to make muffins when I remem­bered a lone lemon in our fridge. "Oh, that would taste great with oats," I thought. When I went into the pantry to fetch the oats, I found some cran­ber­ries on top of the oats con­tainer. Cran­ber­ries and lemon, that's a win­ning fla­vor combo! For good mea­sure, I decided to throw in some nuts, mostly because I can't stop myself from fill­ing baked good with what Jim lov­ingly calls "debris".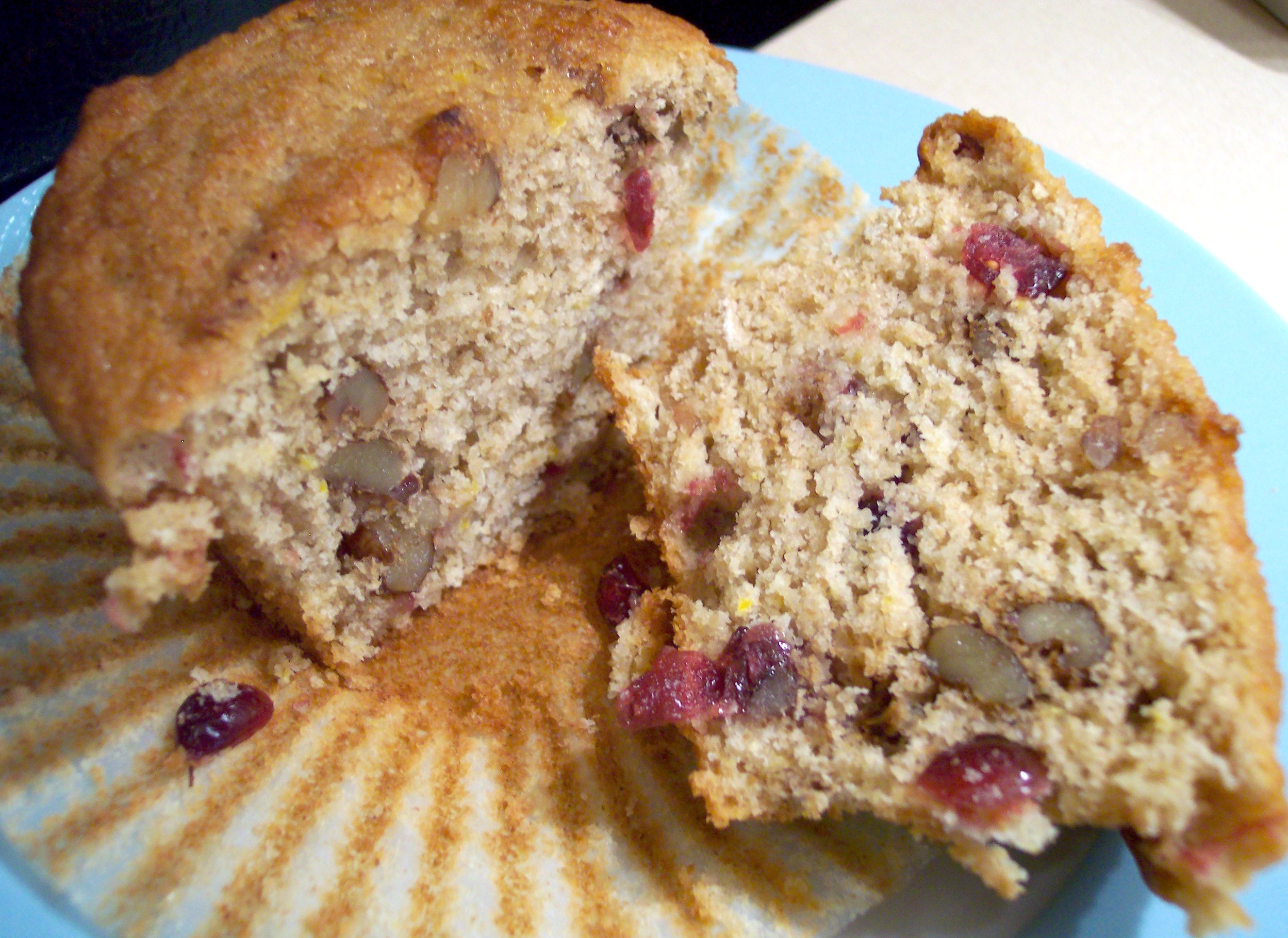 Lemon Oat Muffins with Cran­ber­ries and Walnuts
1 3/4 cups white wheat flour (all-purpose is fine, too)
3/4 cup tra­di­tional oats, coarsely ground
3/4 cup sugar
1 teas. bak­ing pow­der
1 teas. bak­ing soda
1/8 teas. salt
1/2 cup apple­sauce
1/3 cup oil
1 1/4 cups milk (soy, almond, rice, etc)
juice and zest of 1 lemon
1/2 teas. vanilla
1/2 cup dried cran­ber­ries
1/2 cup wal­nuts
coarse sugar (optional)
Pre­heat oven to 400. Line muf­fin tin with lin­ers or grease each cup.
In a large bowl com­bine the flour, oats, sugar, bak­ing pow­der, soda and salt. In a medium bowl, whisk together the apple­sauce and oil. Add the milk, lemon juice and zest and the vanilla and mix well. Let sit for a few min­utes. Add wet ingre­di­ents to dry and mix until just com­bined. Fold in cran­ber­ries and wal­nuts. Spoon evenly into muf­fin cups until cups are just full. Sprin­kle tops with coarse sugar, if using.
Bake regular-sized muffins for 18–22 min­utes and jumbo for 25–28 or until a tooth­pick comes out clean.