Before we get into this post, you need to go watch this video from the Vita-Mix peo­ple. Click on "nut but­ter" under the lit­tle TV screen. Just the first few sec­onds or so, but you have to hear how this chef/actor pro­nounces the words "nut but­ters". I freak­ing love it, it just cracks me up. I can't come close to repli­cat­ing it, but Jim and I cer­tainly try to.
I don't make nut but­ters in my Vita-Mix, or haven't yet at least, because I'm very happy with the nut but­ters we buy at Trader Joe's, so why mess with some­thing good? When talk­ing about nat­ural nut but­ters, the biggest com­plaint I hear is that they are hard to mix and get stiff in the fridge. I've found a sim­ple solu­tion so you're not tempted to buy some­thing icky like Jif.
First off, when buy­ing a nut but­ter, make sure it only has, at most, 3 ingre­di­ents. Nuts, salt (if salted) and pos­si­bly oil if it's a nut that doesn't have a lot of oil in it, but see­ing oil listed should be rare. Before you use it, and then refrig­er­ate it, the nut but­ter needs to get mixed very well because the oil and solid sep­a­rate after the nut but­ter is man­u­fac­tured. If it's not mixed, it will turn into a hard mess when refrig­er­ated. Jim used to curse up a storm when mix­ing nut but­ters because the oil would slosh around, over the lip of the jar and onto his hands and the counter and often times when we'd get to the bot­tom of the jar there would be some hard, stiff but­ter that hadn't got­ten oil incor­po­rated into it. Enter this sim­ple solution: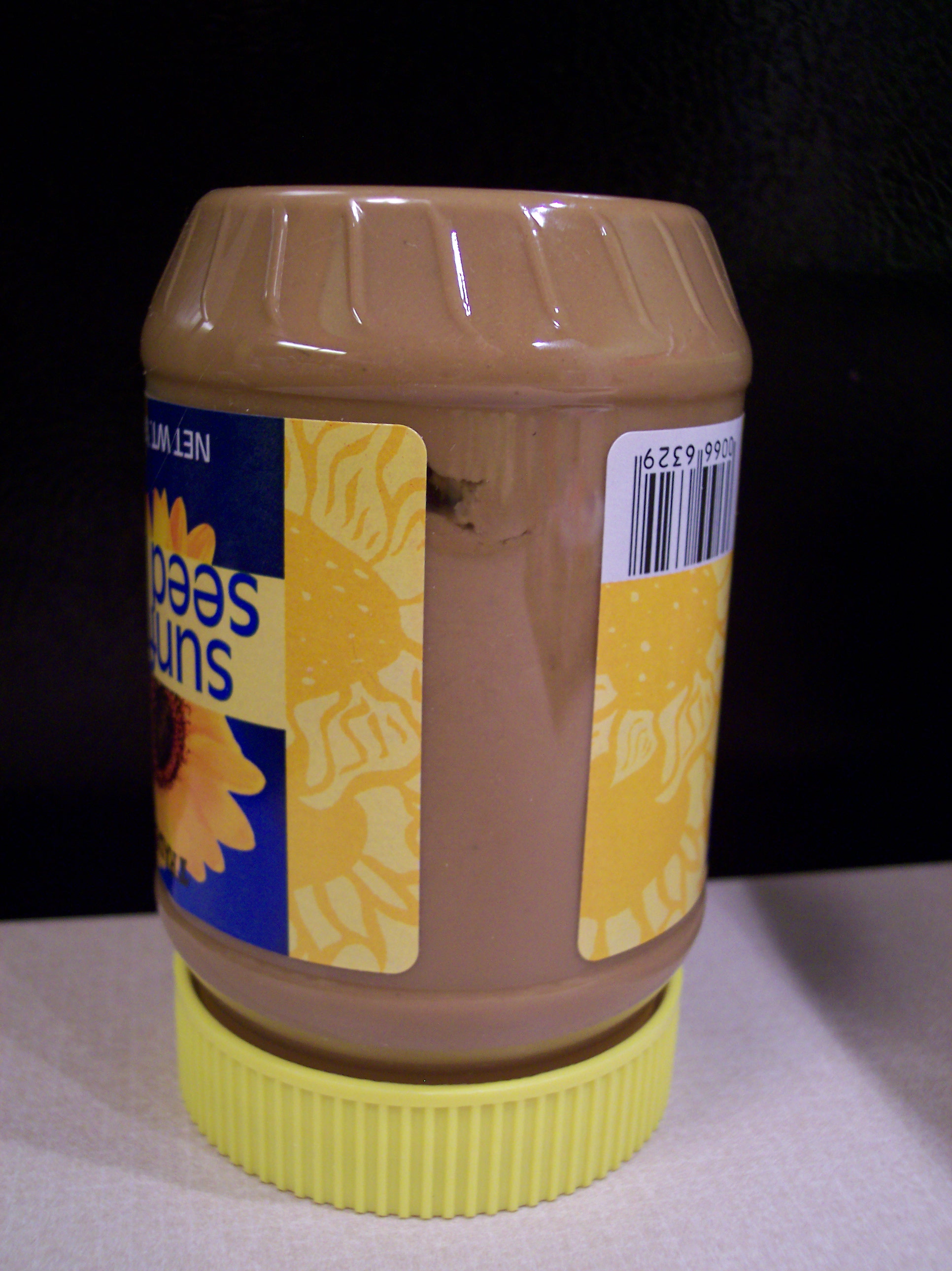 When you get home from the store, flip the jar upside down on your counter for an hour or two. This gives the oil some time to fight it out with grav­ity and it will begin to seep into the nut but­ter mass and incor­po­rate itself. When you later open it to mix it up, you'll be in for smooth stirring.
Look at that, beau­ti­ful, creamy and smooth! Now no one has any excuse for eat­ing chem­i­cal spreads aka "reg­u­lar" nut but­ters. Nature knows better!
*to be fair, the nut but­ter pic­tured is sun­flower seed but­ter and it has another ingre­di­ent I didn't list above– sugar. This is because sun­flower seeds are bit­ter, so a small bit of sweet­ener is added, but that is unusual.