Hey there! First up, Dar­ing Baker's Sep­tem­ber challenge:
The Sep­tem­ber 2009 Dar­ing Bak­ers' chal­lenge was hosted by Steph of A Whisk and a Spoon. She chose the French treat, Vols-au-Vent based on the Puff Pas­try recipe by Michel Richard from the cook­book Bak­ing With Julia by Dorie Greenspan.
I love work­ing with a lam­i­nated dough. Thin, puffy lay­ers of but­tery pas­try– bring it on. Filled, topped, glazed, you name it, I'll eat it. I made a lot of puff/danish/croissant dough while work­ing on the book and the one thing I learned about mak­ing this stuff vegan is that vegan mar­garine is salty. Be warned and read your labels for sodium content.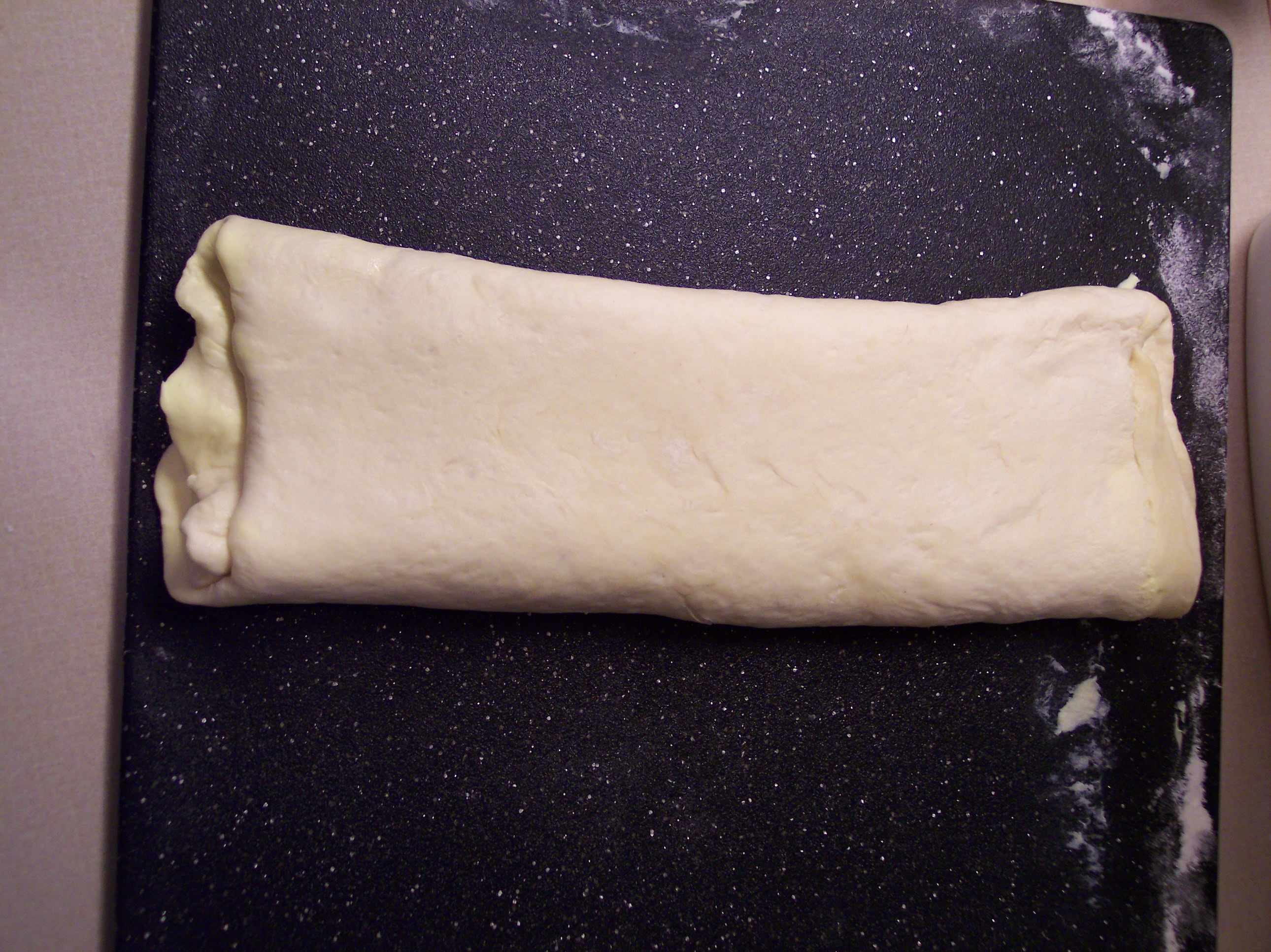 Here's my dough after a cou­ple of turns. When mak­ing any sort of lam­i­nated dough the key is to keep it cold. The way it works is that, when intro­duced to a hot oven, the cold mar­garine melts, the liq­uid evap­o­rates and flaky lay­ers emerge.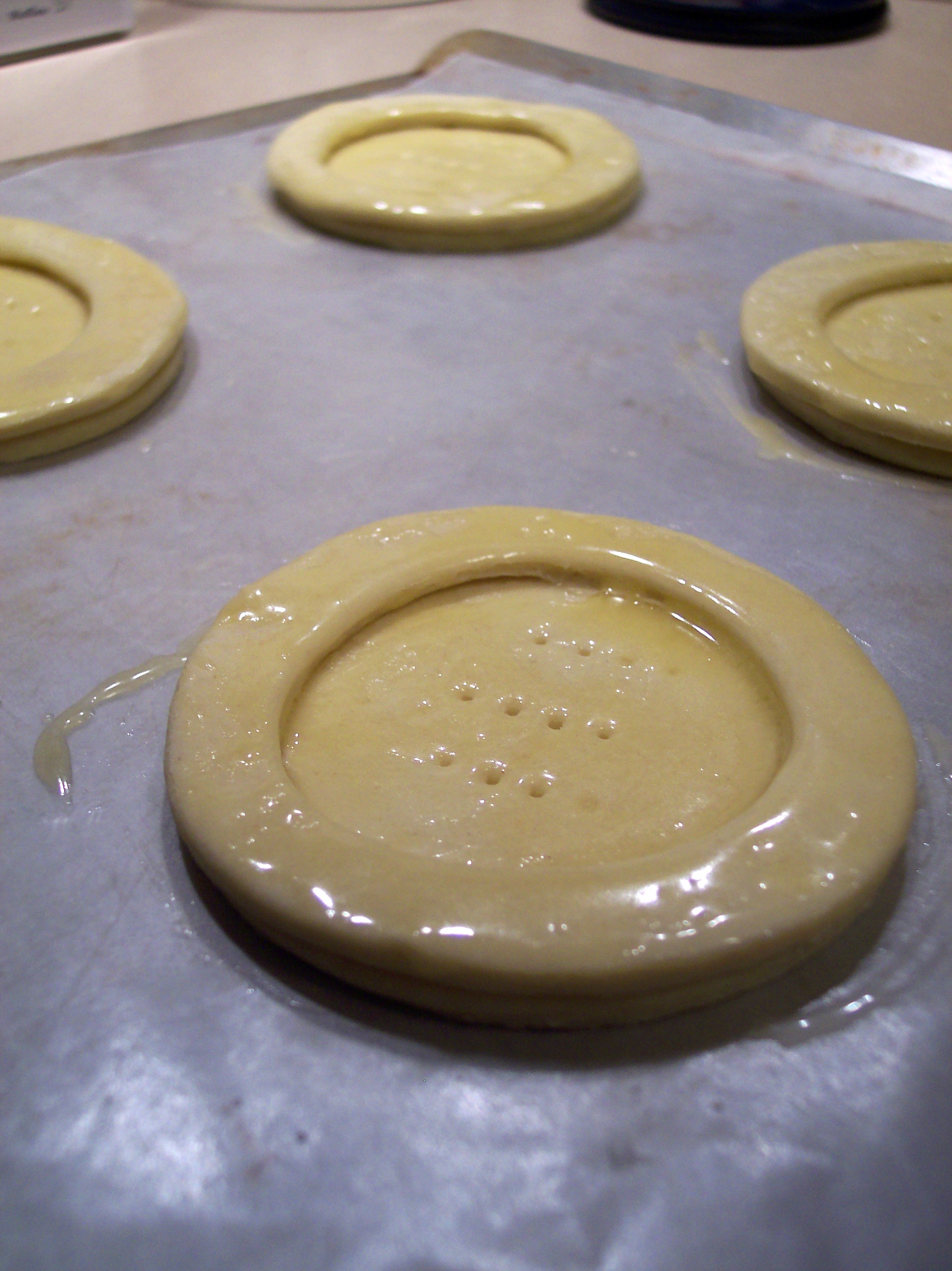 Brushed with a lit­tle olive oil and ready to go into the oven. They looked like lit­tle, unfilled linzer cookies…
We were given the option to pick sweet or savory for this and I opted for sweet. Our temps have dropped and autumn is in the air, so this recipe called for a sim­ple clas­sic– cin­na­mon apples.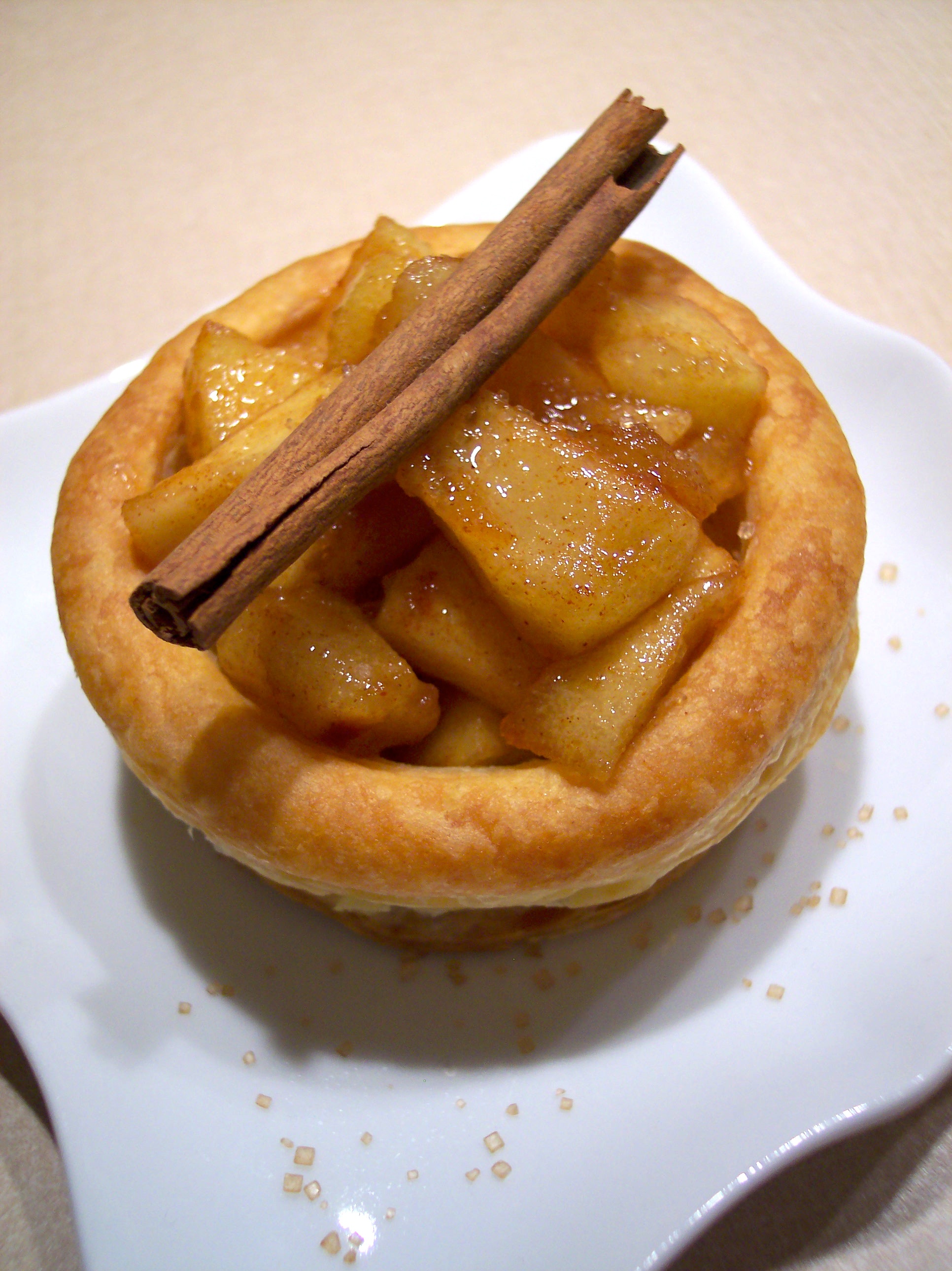 I made a sim­ple mix­ture of peeled, chopped apple, water, sugar and cin­na­mon and let it sim­mer stove­top until the apples soft­ened, released their pectin and started to slightly gel. I used Granny Smith so that it would retain a lit­tle tart­ness after cook­ing. Yum! I think this was Jim's favorite DB chal­lenge so far.

In other news, Vegan Mofo starts this week! For the unini­ti­ated, Vegan Mofo is the vegan month of food, where vegan blog­gers try to blog every day (5 days a week) for the entire month. The goal is to actively pro­mote vegan food and to get every­one active on their blogs. After a very low key sum­mer with­out much blog­ging (and a break from the cook­ing show), I fig­ured this would be a great way to get back in the swing of things, so look for­ward to posts on all sorts of food related good­ness… and some chances to win copies of my cookbook!
Be sure to check out all of the Vegan Mofo par­tic­i­pants on Kittee's blogroll. I'm excited to blog/blabber/bake for the whole month and to see what amaz­ing cre­ations come out of everyone's kitchen. Plus, isn't it fun say­ing "mofo"?