Last week I was cho­sen to par­tic­i­pate in Foodie Fights once again. Being that my first round was less than vic­to­ri­ous, I approached this one with a real sense of deter­mi­na­tion. Thank­fully, the food gods smiled upon me and I was given ingre­di­ents I felt com­pletely com­fort­able with: semolina flour and pome­gran­ates. Not that I nor­mally cook with both, but I knew what I wanted to do.
When you think of semolina flour (pro­vided you have even heard of it before) you nor­mally think of pasta. Semolina is finely processed durum wheat. It is also the main ingre­di­ent in cous cous. Given that I pur­chased a pasta machine ear­lier this sum­mer with great expec­ta­tions (and it's still in the box!), pasta would have been the nat­ural way to go. But I had other things in mind…
Some years ago, in my pre-veg days, I had cake at some restau­rant I can't recall. Any­way, it was lov­ingly made-to-order and semolina flour was a main com­po­nent of it. The crumb was del­i­cate and light and the cake was phe­nom­e­nal. Given that I still reflect fondly on that one small cake, it made a big impres­sion on me.
Pome­gran­ates hold a spe­cial place in my heart because my father loved them. I remem­ber stand­ing at the counter in the kitchen with him as a lit­tle girl, peel­ing apart chunks of the fruit to unearth the seeds. I was always delighted, when I thought I'd exca­vated each and every one, to break off another piece of the inner flesh and find more. My father and I did not share an appre­ci­a­tion for food, so these mem­o­ries of pome­gran­ates are espe­cially dear to me. With the tangi­ness of the seeds (and the dis­trac­tion that the large seeds within them can be for con­sumers) I wanted to bal­ance out the fla­vor and make the expe­ri­ence a lit­tle more pleas­ing to the palate.
I present to you: Choco­late Semolina Cake with Pome­gran­ate Vanilla Bean Sauce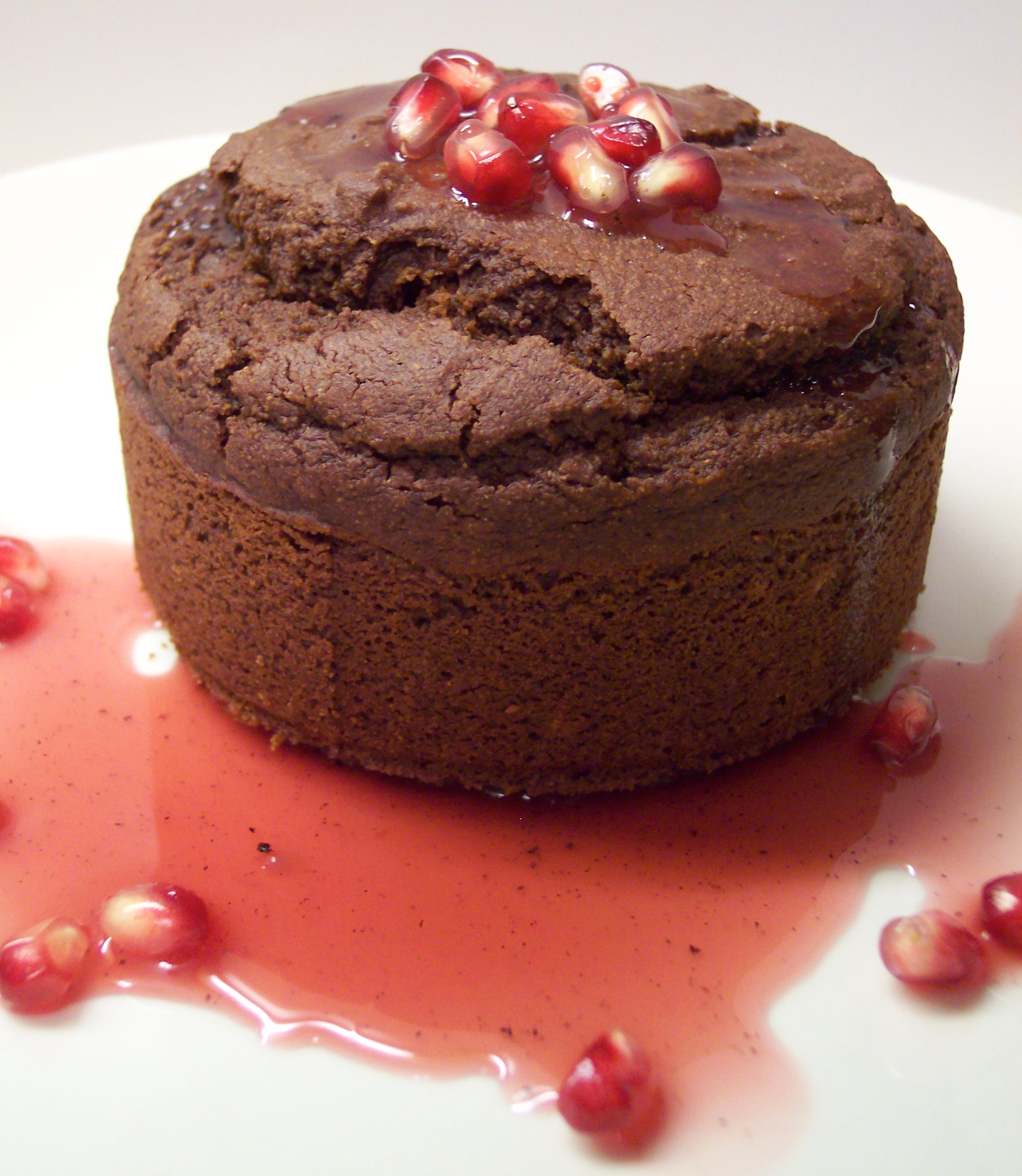 I made two 4 inch cakes, but this could eas­ily be adapted to an 8 or 9 inch round.
Cake:
1 cup semolina flour
1/3 cup all-purpose flour
1/4 cup bak­ing cocoa
3/4 cup sugar
2 teas. bak­ing pow­der
1/4 teas. salt
1/3 cup agave
1/4 cup oil
1/4 cup choco­late chips, melted
2/3 cup milk (I used the new multi­grain milk from Trader Joe's)
Sauce:
2 cups pome­gran­ate seeds
2 tbsp. agave
2 tbsp. water
1/4 teas. corn­starch
1/8 teas. sugar
1 small vanilla bean or 1/4 teas. high qual­ity extract
Pre­heat oven to 350. Grease and/or line your bak­ing pan(s).
In a large bowl, sift together semolina flour, all-purpose flour, and bak­ing cocoa. Add sugar, bak­ing pow­der and salt and com­bine. In a medium bowl, whisk together oil, melted choco­late and agave until well com­bined. Add milk and whisk. Cre­ate a well in the cen­ter of the dry ingre­di­ents and add the wet, mix­ing until well com­bined and there are no large clumps. Spread bat­ter in pan and bake for 22–26 min­utes (for small cakes).
While cakes are bak­ing, com­bine pome­gran­ate seeds, agave and water in a small pot. Cook on medium heat, stir­ring often, until the seeds become soft, about 7 min­utes. Mash with a potato masher as best you can. Strain mix­ture into a bowl with a fine mesh strainer, press­ing on the seeds with the back of a large spoon to extract as much juice as pos­si­ble. In a small bowl, com­bine the corn­starch and sugar. Return pome­gran­ate mix­ture to pot along with corn­starch mix­ture and vanilla. Whisk and cook on medium/high heat to a boil. Let boil for 2 min­utes than remove from heat and let cool for about 20 minutes.
Serve cake warm with warm sauce on top and addi­tional pome­gran­ate seeds to garnish.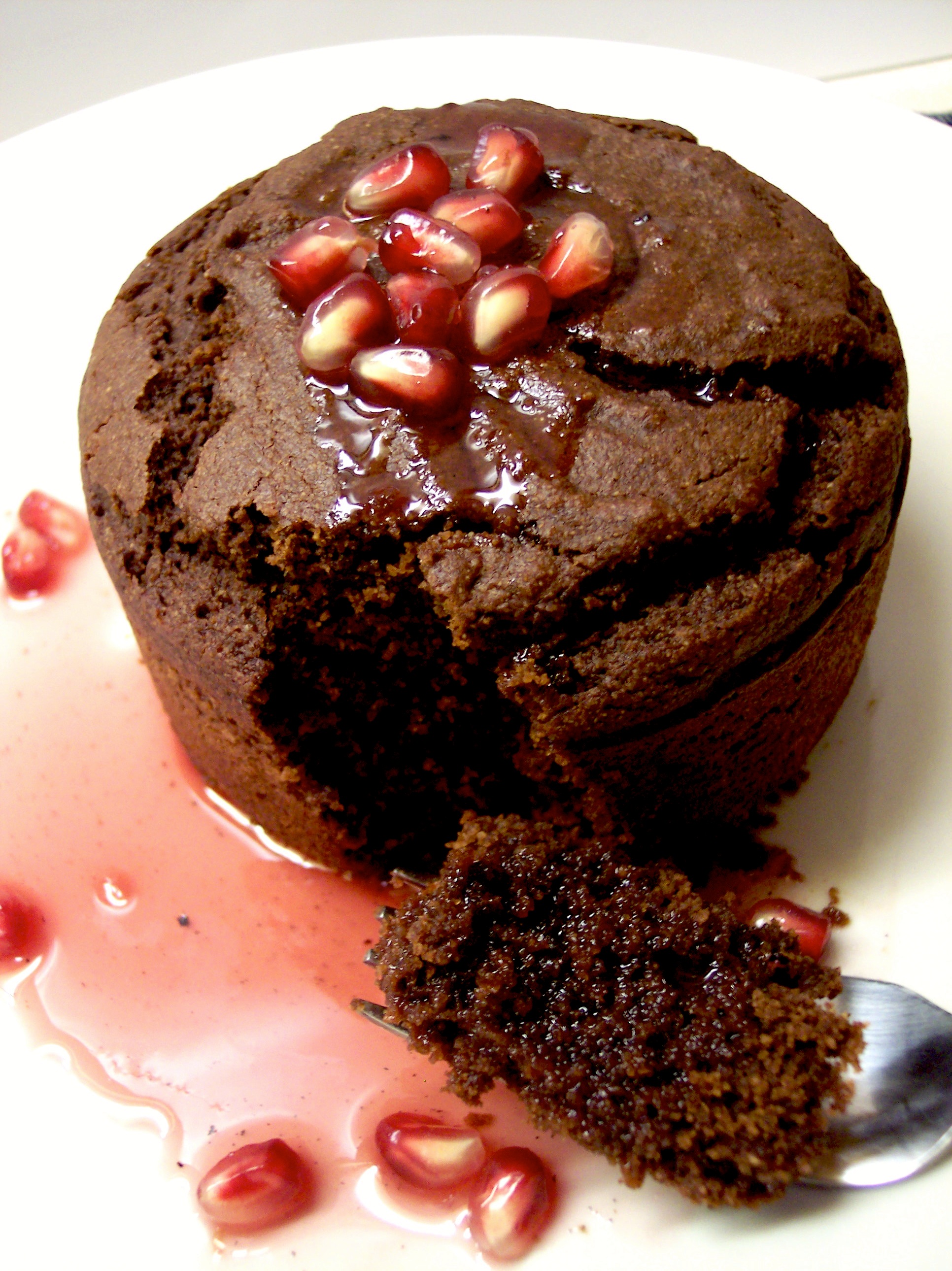 The cake was moist with a del­i­cate crumb. The choco­late fla­vor was a sub­tle com­bi­na­tion of cocoa and choco­late, with a gen­tle sweet­ness added by the agave. The top of the cake had a light crust to it that added a pleas­ant mouth-feel. The pome­gran­ate sauce was sweet and slightly tart ini­tially and the the fla­vor mel­lowed on the tongue when the vanilla hit. The sauce had a nice enough con­sis­tency to absorb into the cake with­out mak­ing it too soft. Jim is a huge lover of cake and he is a self-proclaimed "anti-foodie", pre­fer­ring his food to be basic, espe­cially cake. But even he was a sucker for the choco­late and pome­gran­ate combo. I think this cake would make a fan­tas­tic hol­i­day cake, as pome­gran­ates really hit their peak season.
Be sure to check out Foodie Fights site tomor­row to see all the entries and to vote on your favorite!