*side note: I've been selected again to par­tic­i­pate in Foodie Fights! The ingre­di­ents are excel­lent, so be sure to check back on Mon­day to see what I've made and to vote!
When you make a cheese­cake in a pie tin you can­not call it a cheese­cake. It must be called a cheesepie. I'm not mak­ing up the rules here, peo­ple, I'm just say­ing what I learned on the almighty interwebs.
I wasn't that excited to name a recipe in my cook­book a cheesepie. It's just doesn't sound that appe­tiz­ing, to me, at least. But alas, I didn't want to incite the wrath of the foodie cyber gods. What­ever you call it, this is some good cheese%#*$.
The direc­tions for this pie (as well as a cou­ple of oth­ers in my book) call for a water bath. A water bath is when you have your bak­ing recep­ti­cal (pie tin, spring­form, etc) in a larger pan with sides, filled half way with warm water. If you've ever had a cheese­cake that was harder around the exte­rior and cracked in the mid­dle, well, this reme­dies that. The water helps the pie cook more evenly, keeps it softer around the edges and keeps the mid­dle from cracking.
For any­one who hasn't done a water bath in the past this can sound for­eign and off-putting. It's SO easy and SO worth it. Take a look at this crazy gadgetry: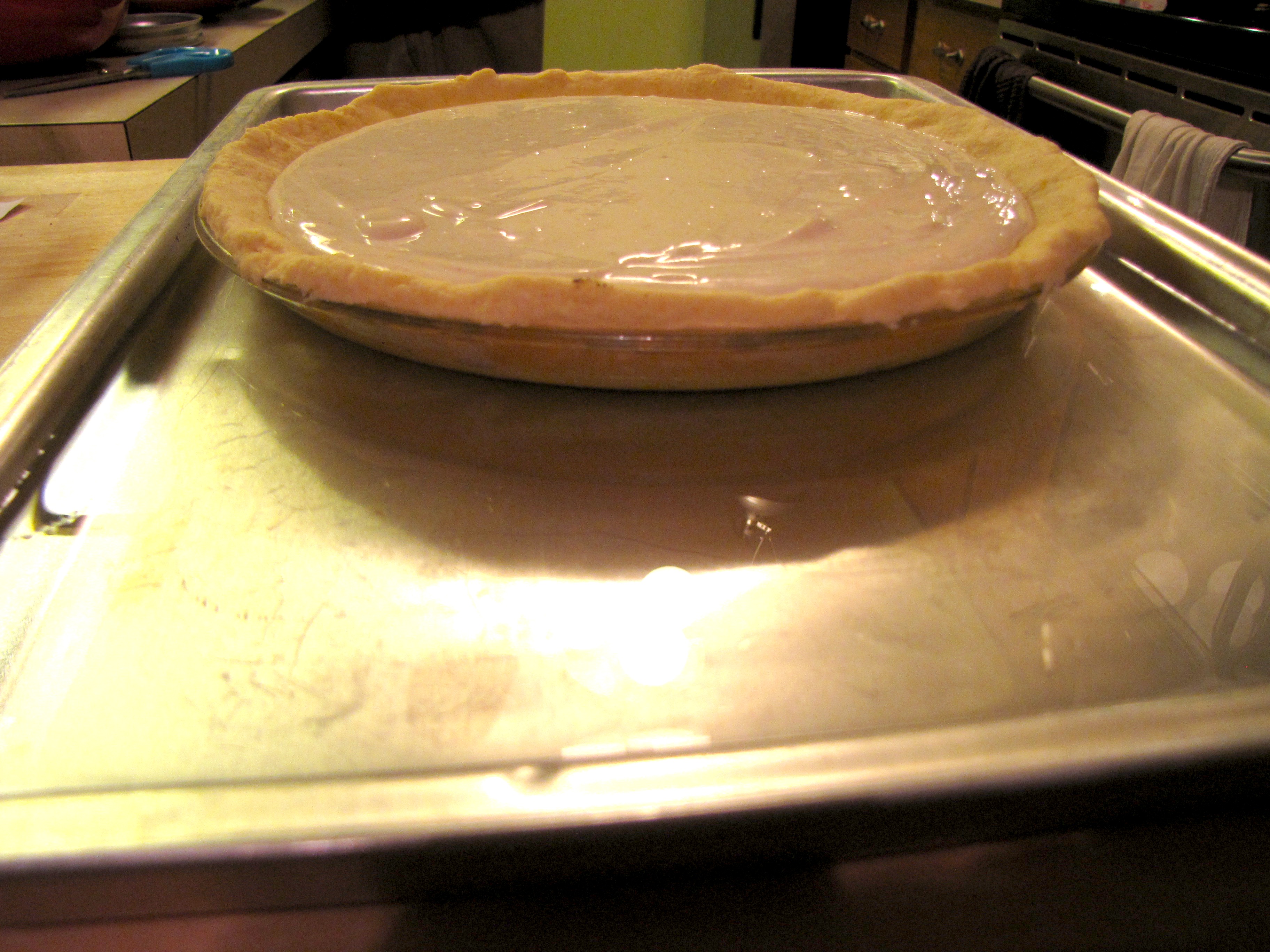 See, it's not scary at all. It can be a pain to get into the oven, depend­ing on how tall the sides of your pan are, but oth­er­wise it's a cinch. A word of advice, how­ever– if you're using a spring­form pan, wrap the bot­tom and sides with a cou­ple of pieces of tin foil. This keeps any water leak­ing dis­as­ters from hap­pen­ing to your goods.
Here is the recipe for this beauty. It's not really hard, but it does have a hand­ful of steps that require wait time between each step. And it has a long cool time. I would sug­gest mak­ing this pie the day before you need it so it has time to set up and you don't feel rushed.
Straw­berry Lemon­ade Cheesepie (from 100 Best Vegan Bak­ing Recipes)
Prep time before bak­ing: 45 min­utes
Skill level: 4 whisks
½ Basic Pie Crust recipe (recipe can be found here)
1– 8 oz. con­tainer vegan cream cheese
½ cup plus 2 tbsp. yogurt (equiv­a­lent to 1– 6 oz. con­tainer)
1 asep­tic con­tainer firm silken tofu (Mori-Nu)
1 cup sugar
1 teas. vanilla
2 tbsp lemon juice
1 teas. lemon zest (*note, if you like a very strong lemony fla­vor, dou­ble the amount of juice and zest)
Straw­berry Top­ping:
¼ cup sugar
1 tbsp. corn­starch
1 1/4 cups straw­ber­ries, fresh or frozen, chopped
¼ cup water
Pre­heat oven to 350. Roll out pie crust and fit to a 9 inch pie dish. Trim edges and crimp. Use pie weights or dried beans on top of parch­ment to weigh down the crust and bake crust for 10 min­utes. Remove from oven and let cool.
Com­bine cream cheese, yogurt, tofu and sugar in a food proces­sor or blender until smooth, scrap­ing down sides as needed. Add vanilla, lemon juice and zest until incor­po­rated. Pour mix­ture into pie crust.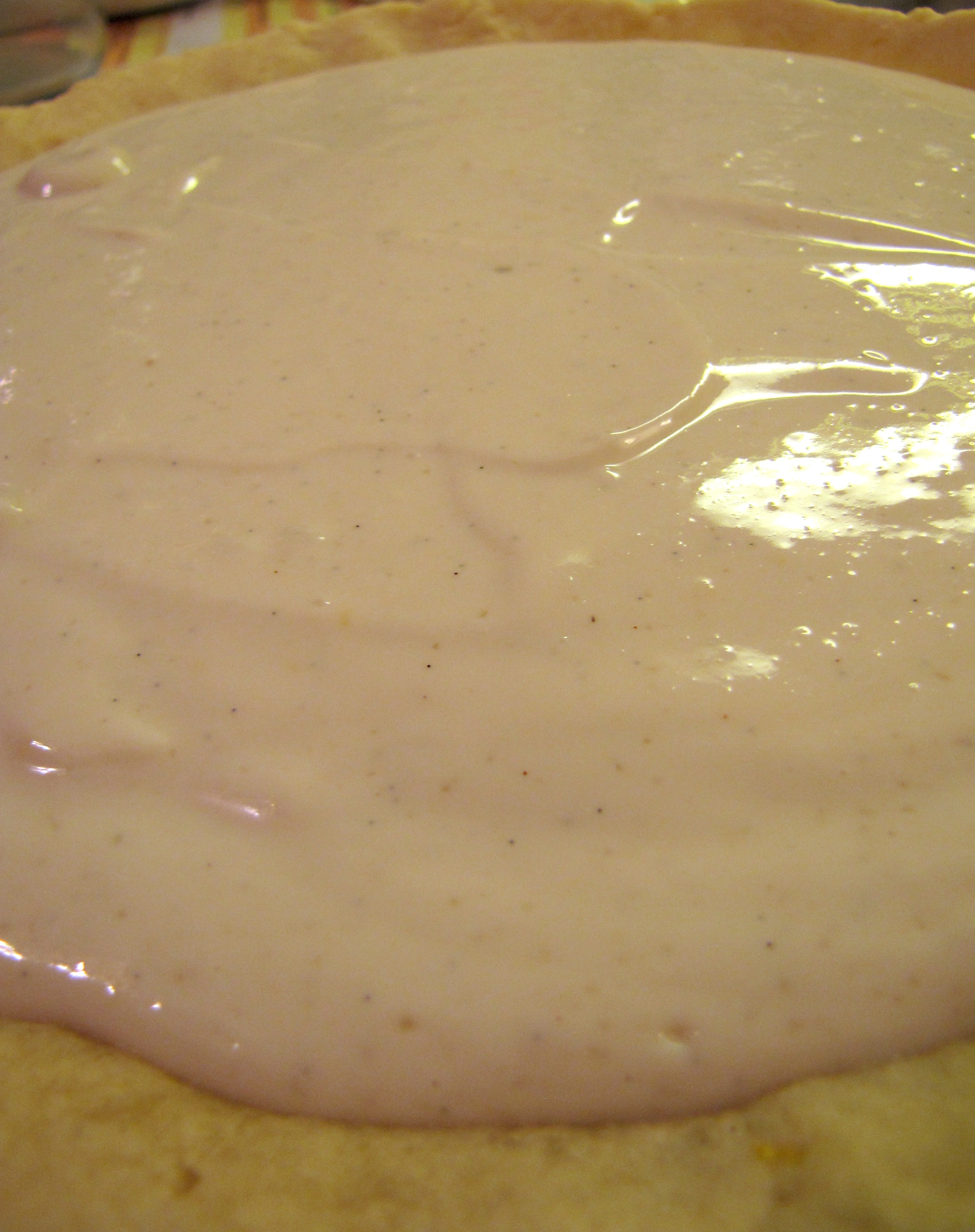 Place pie dish in a larger cookie sheet with high sides. Add enough warm water to the cookie come up to the mid­dle of the out­side of the pie dish. This is called a water bath and will keep your pie from crack­ing, as well as keep it creamy with­out it get­ting a skin. If water evap­o­rates while bak­ing, add more water as needed, but only hot water so you do not shock your bake ware and risk it cracking.
Bake pie for 1 hour. Cen­ter may not look com­pletely set, but will firm up while cool­ing. Remove from oven and remove from water bath to cool on cool­ing rack.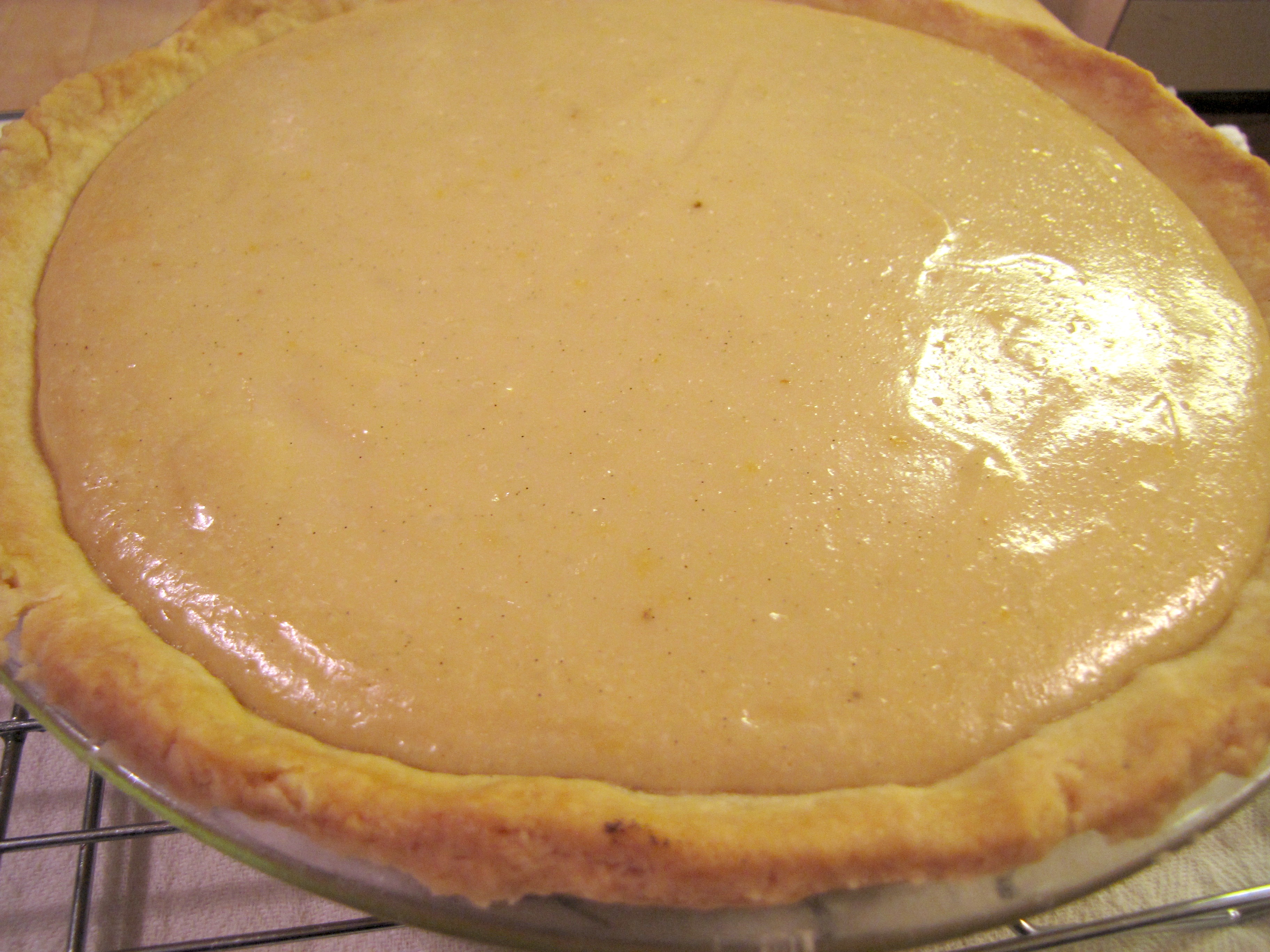 While pie is bak­ing, pre­pare straw­berry top­ping. In a saucepan, com­bine sugar and corn­starch. Add straw­ber­ries and water and mix to com­bine. Over medium-high heat bring to a boil, con­tin­u­ously stir­ring. Once it reaches boil­ing, lower to medium. Cook until straw­ber­ries get soft and mix­ture thick­ens, about 5–10 min­utes. Remove from heat. Let top­ping cool com­pletely, occa­sion­ally stir­ring to keep a skin from forming.
Spread cooled straw­berry top­ping on to cooled cheesepie. Let set in fridge for at least 2 hours before serv­ing. Store left­over pie cov­ered, in fridge.
Yields: 12 slices