The August 2009 Dar­ing Bak­ers' chal­lenge was hosted by Angela of A Spoon­ful of Sugar and Lor­raine of Not Quite Nigella. They chose the spec­tac­u­lar Dobos Torte based on a recipe from Rick Rodgers' cook­book Kaf­fee­haus: Exquis­ite Desserts from the Clas­sic Caf­fés of Vienna, Budapest, and Prague.
This chal­lenge was a fail for me, with no fault to the hosts. I was a bit hes­i­tant about this chal­lenge, because it was going to be dif­fi­cult to veg­a­nize. The cake layer calls for 6 eggs and I haven't had much luck with vegan sponge cake. The tof­fee top­ping was another chal­lenge alto­gether. I am the cham­pion ruiner (an actual title in our home) of sev­eral things, and any­thing related to mak­ing stove top candy falls into that category.
Here goes…
I wanted to make a lit­tle cake, so rather than bak­ing 6 indi­vid­ual lay­ers, I made a large, thin sheet cake and cut out 6 5 inch circles.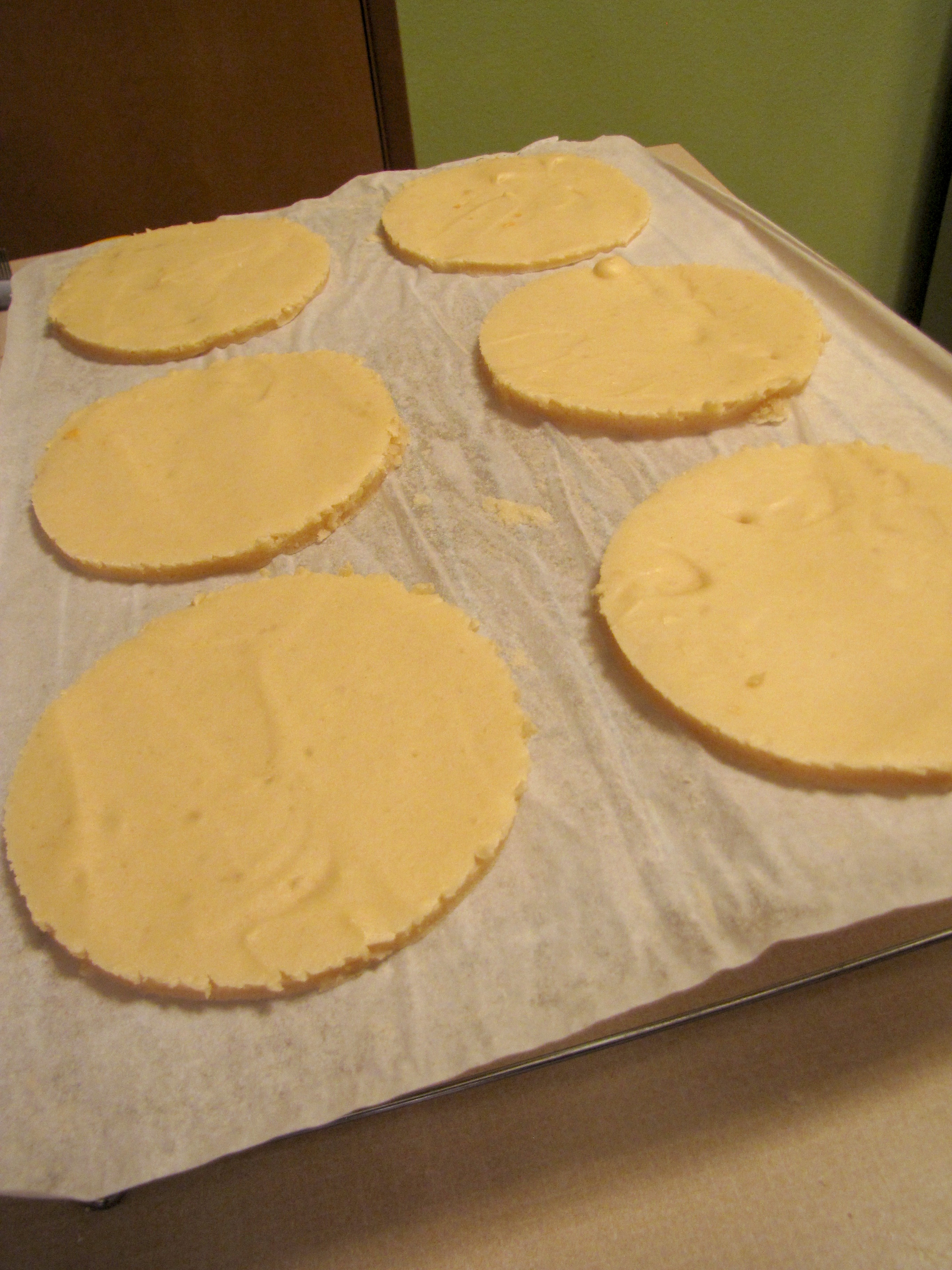 My sponge­cake came out very not sponge­wor­thy (haha!). Rather, it was dense and rub­bery. Silken tofu was not my friend this round. Oops.
I made my own choco­late but­ter­cream, as the one called for used eggs. The top wedges were sup­posed to be dipped in a beau­ti­ful amber col­ored tof­fee that would rapidly harden. I was all pre­pared with my oiled off­set spat­ula and parch­ment… and it failed. Light col­ored, wouldn't harden. And this isn't the first time I've run into this. Here is my ques­tion: could it be organic sugar? Back before we were veg (which also coin­cides with before we cared about what we put in our bod­ies), I never had prob­lems carameliz­ing reg­u­lar crap sugar. What could it be?
For what it's worth, here are the pictures.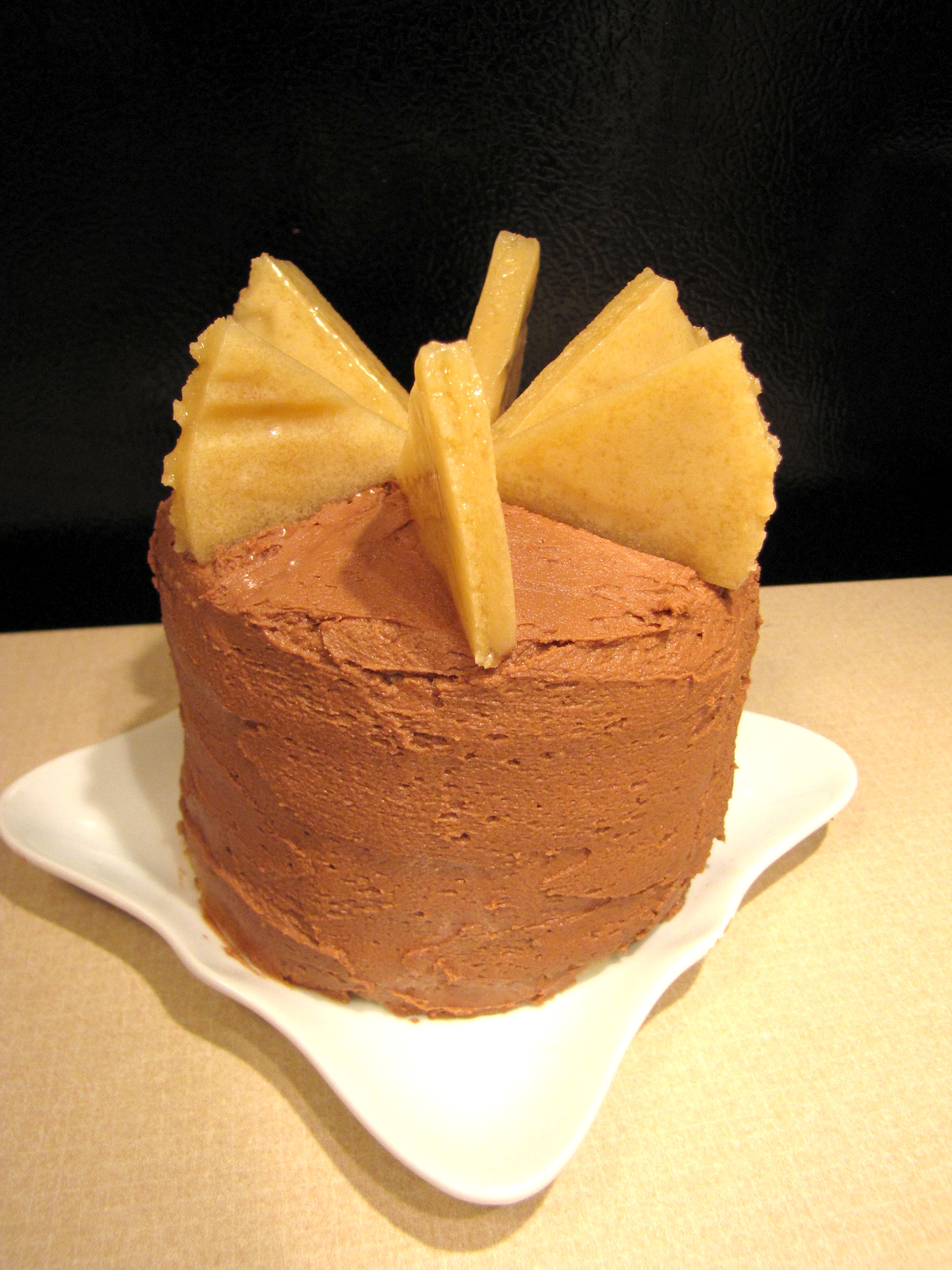 The whole mini­cake, topped with not-amber not-hardening sticky wedges.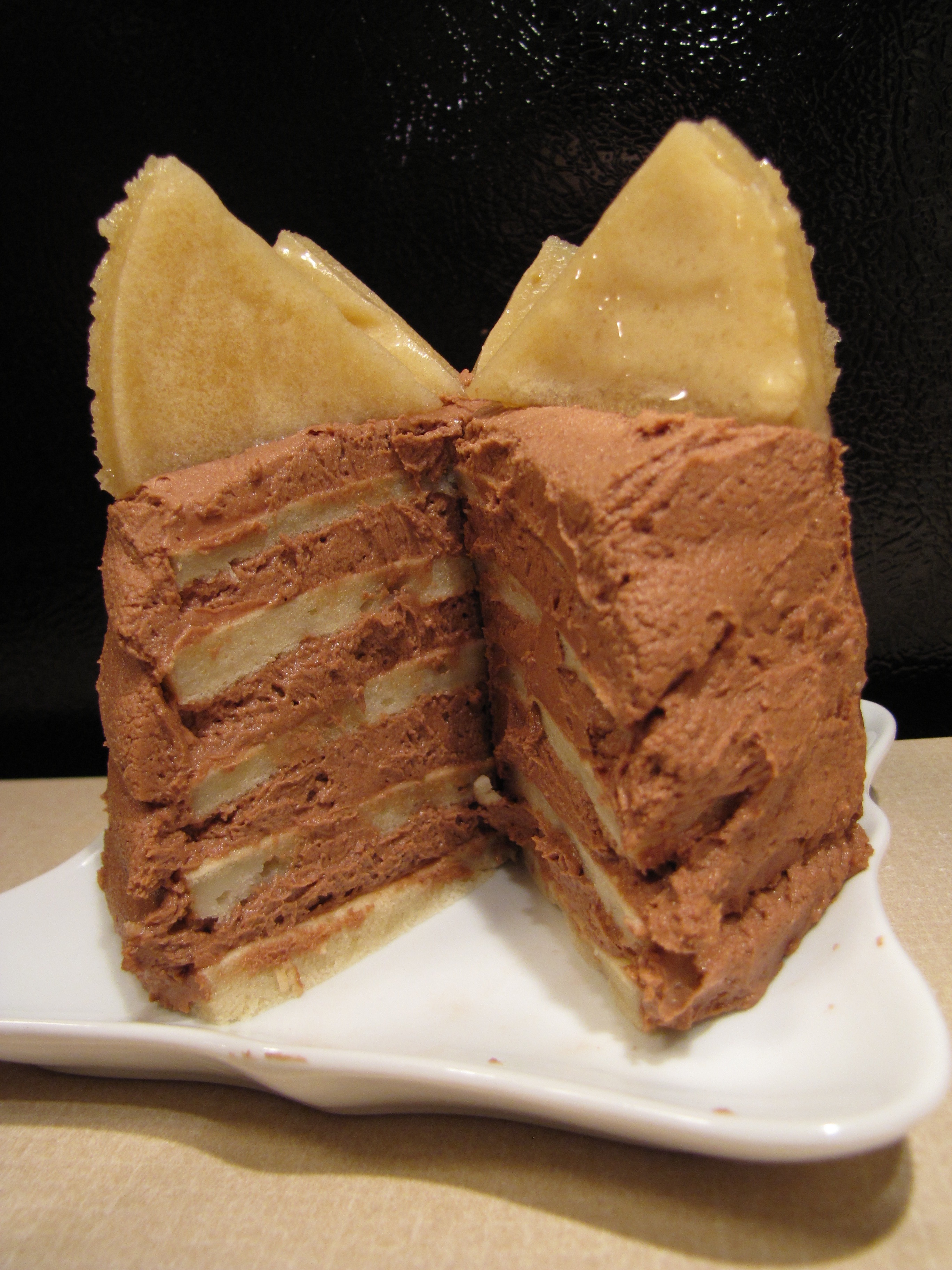 And inside shot of all of the lay­ers. Well, it kind of looks like it's sup­posed to… kind of. Bet­ter luck next month!