Remem­ber those awful Pizza Rolls com­mer­cials? They may still have them now, I don't know, but I remem­ber watch­ing them when I was a teen. The young boy, bound­ing home from school with his friends in tow, pon­der­ing what they would have for an after school snack. After perus­ing the kitchen and turn­ing up noth­ing they open the freezer to find the holy grail– Pizza Rolls! Three cheers and the mom is a hero for keep­ing her kitchen stocked with such a stel­lar snack.
Yuck.
While I sym­pa­thize with the plight of work­ing moth­ers (and fathers), there is just no excuse for that junk, veg­an­ism or oth­er­wise. Crap, crap, crap. The only thing nat­ural about Pizza Rolls is the card­board they are pack­aged in. But, there is some­thing to be said about the allure of pizza-filled dumplings. While these don't whip us as fast as Pizza Rolls, you could eas­ily make a big batch ahead of time, bake and reheat later in a toaster oven.
These are a lit­tle dif­fer­ent in that pizza sauce is not baked in them. They are stuffed with a fill­ing and then you dip them in sauce. But dip­ping just makes them more fun to eat, in my opinion.
Vegan Pizza Rolls
1/2 cup warm water
1/2 teas. sugar
1 pack­age rapid-rise yeast (1/4 oz or 2 1/4 teas.)
1/4 cup mar­garine, melted
1 1/2 cups flour
1/4. teas. salt
1/2 cup vegan pep­per­oni, chopped
1 cup vegan moz­zarella, shred­ded (I used Teese)
3 tbsp. dried oregano
mari­nara or pizza sauce for dipping
In a large bowl, com­bine water and sugar and stir. Add yeast and let sit until foamy, about 3 min­utes. In another bowl, com­bine flour and salt. Add the mar­garine to the water mix­ture and then add flour, 1/2 cup at a time until a sticky dough forms. Turn out onto a clean, floured sur­face and knead until smooth and elas­tic, about 5 min­utes, adding flour as needed. Place in an oiled bowl and turn to coat. Cover and let rise until dou­bled, about 1 hour.
Pre­heat oven to 450. I rec­om­mend using a pizza stone if you have one. Pre­pare pep­per­oni, moz­zarella and oregano. Roll out dough into a 18 x 24 inch square and cut into strips about 1 1/4 inch by 3 inches.
On one side of each strip, place a pinch of each fill­ing com­po­nent. You need to be able to fold and seal them, so keep that in mind when fill­ing them.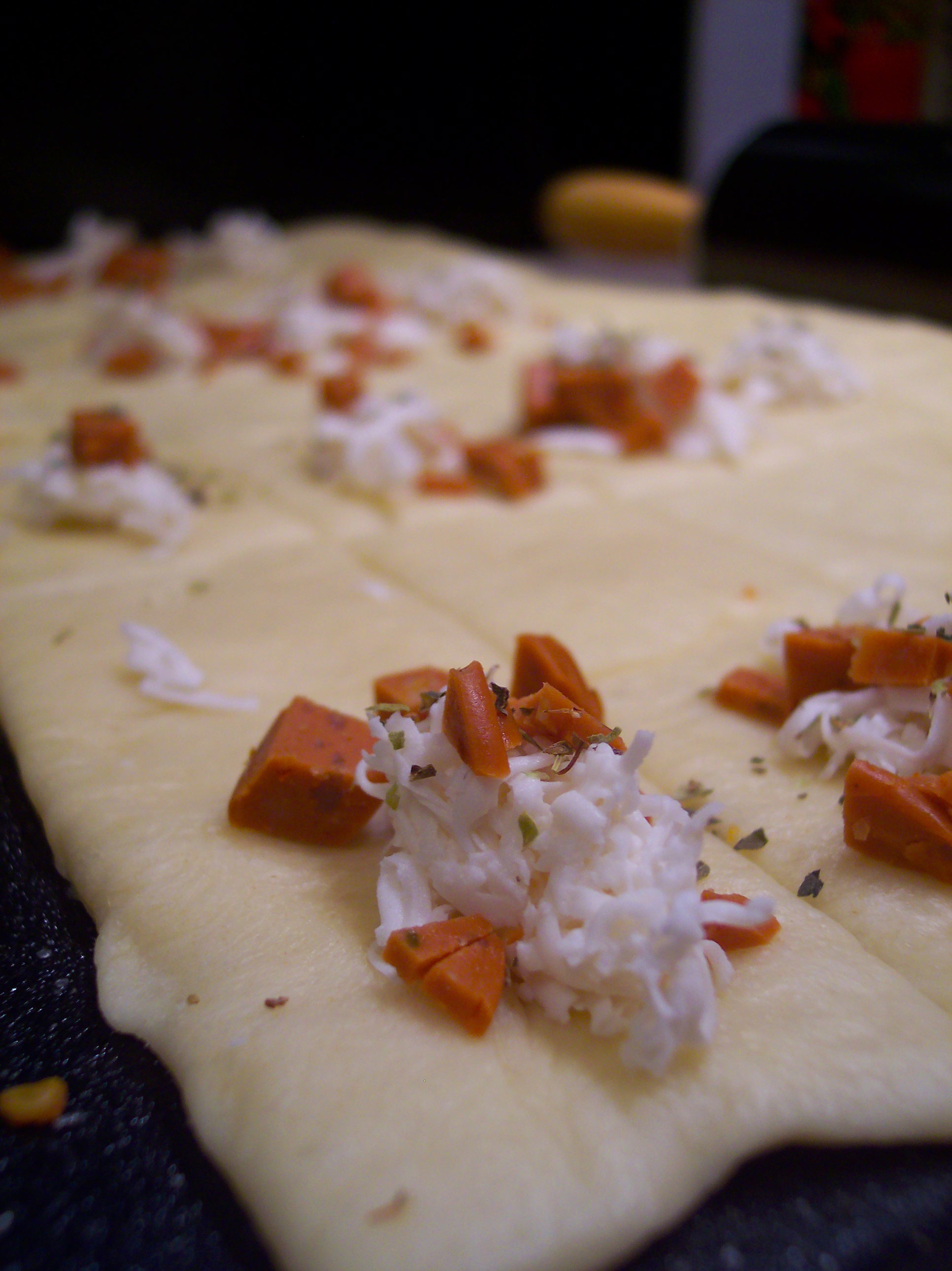 Roll over the naked side of the strip to cover the fill­ing and pinch to seal. You may need to brush with a lit­tle water to get the dough to seal. If they don't look beau­ti­ful now, don't worry. They will get nice and puffy when they bake.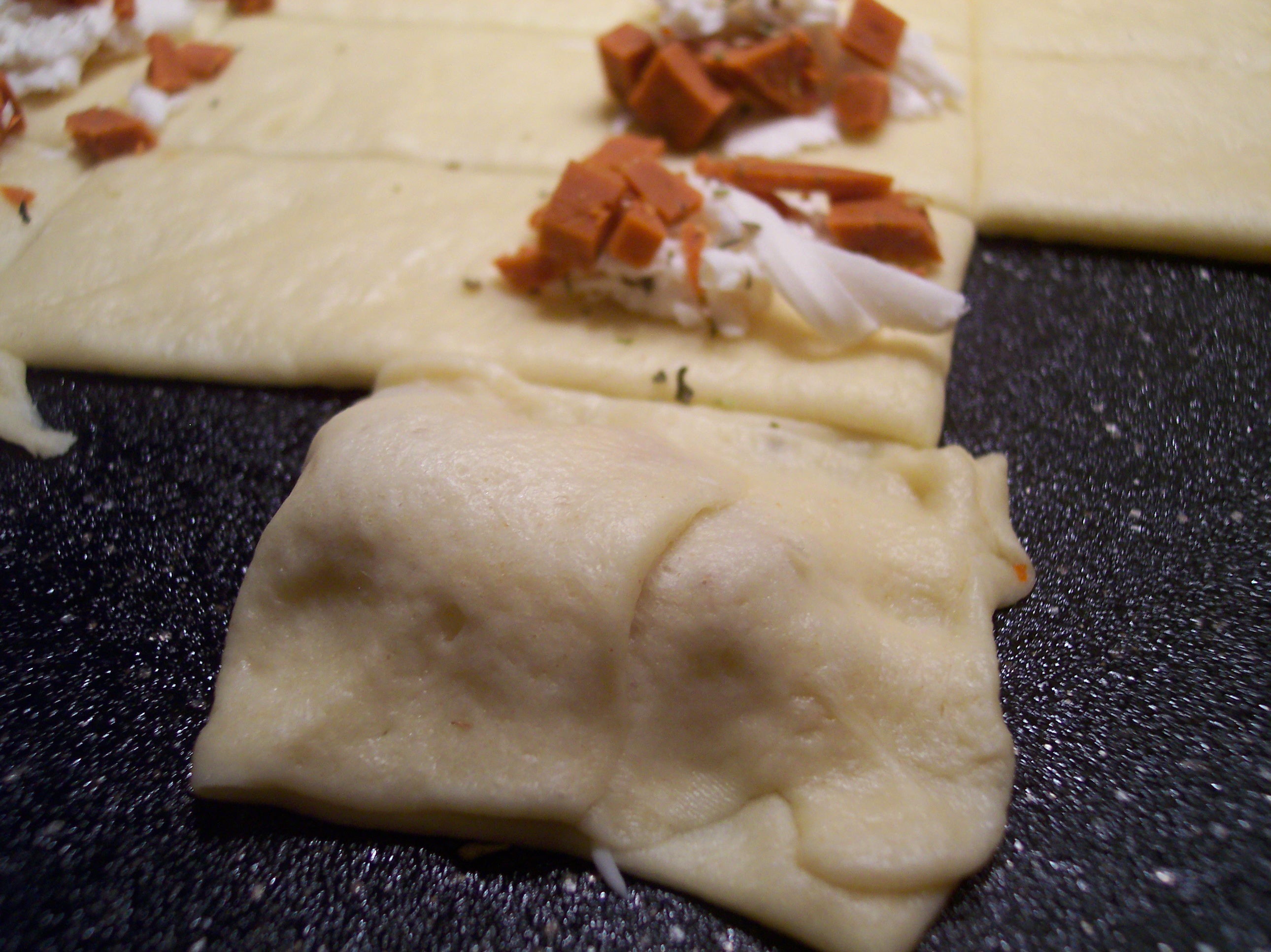 Brush or spray with a light coat­ing of olive oil. Bake for 10–12 min­utes in the oven, until lightly browned. You can also bake them for about 9 min­utes in a toaster oven at 400 degrees. They will turn out fine, but the bot­toms won't be as crispy. Serve warm with mari­nara sauce. They reheat beau­ti­fully in a toaster oven.
Makes, approx­i­mately 30 rolls.
Now that's what I call an after school snack!