Hey there!
Sum­mer has us in a full-on whirl­wind of hus­tle and bus­tle. I can't believe it's August! I remem­ber ago­niz­ing over child­hood and ado­les­cence, just will­ing it to hurry up. Now I'm drag­ging my heels to make the wheels turn a lit­tle more slowly.
Any­way, I wanted to give you a lit­tle update on the cook­book. If you pre-ordered from Ama­zon you may have received an email that there is a delay. Our hope (mean­ing the pub­lisher and myself) was the to have the book out in the month of August, so August 1 was more of an arbi­trary date. There are so many vari­ables in pub­lish­ing that can throw off when a book is actu­ally ready that pin­point­ing an exact release date can be a bit dan­ger­ous. I have a fel­low author whose book came out 3 months after expected!
I'm happy to say that the book is fin­ish­ing up at the print­ers right this very moment and will be (hope­fully!) going to the dis­tri­b­u­tion ware­house at the end of the week. So the book should be out and in the world this month! Very exciting.
As a pre­ven­ta­tive mea­sure, since it will take a lit­tle longer for me to get my own boxes of whole­sale books, I am plan­ning on hold­ing an awe­some book release party in Sep­tem­ber. The nitty-gritty is get­ting worked out as we speak, but let's just say it involves the cook­book, yummy sam­ples and free vegan tat­toos (for reals!). Details to come.
For those who are inter­ested, I am work­ing on a detailed tuto­r­ial on how to make jam. I swear, no more jam after that.

In the mean­time, here is one of my favorite cookie recipes from the book. Oh, I can eat an obscene amount of these things and they are a per­fect cookie any time of year. Light and cit­rusy for hot sum­mer days and a bright spot in the drea­ri­ness of winter.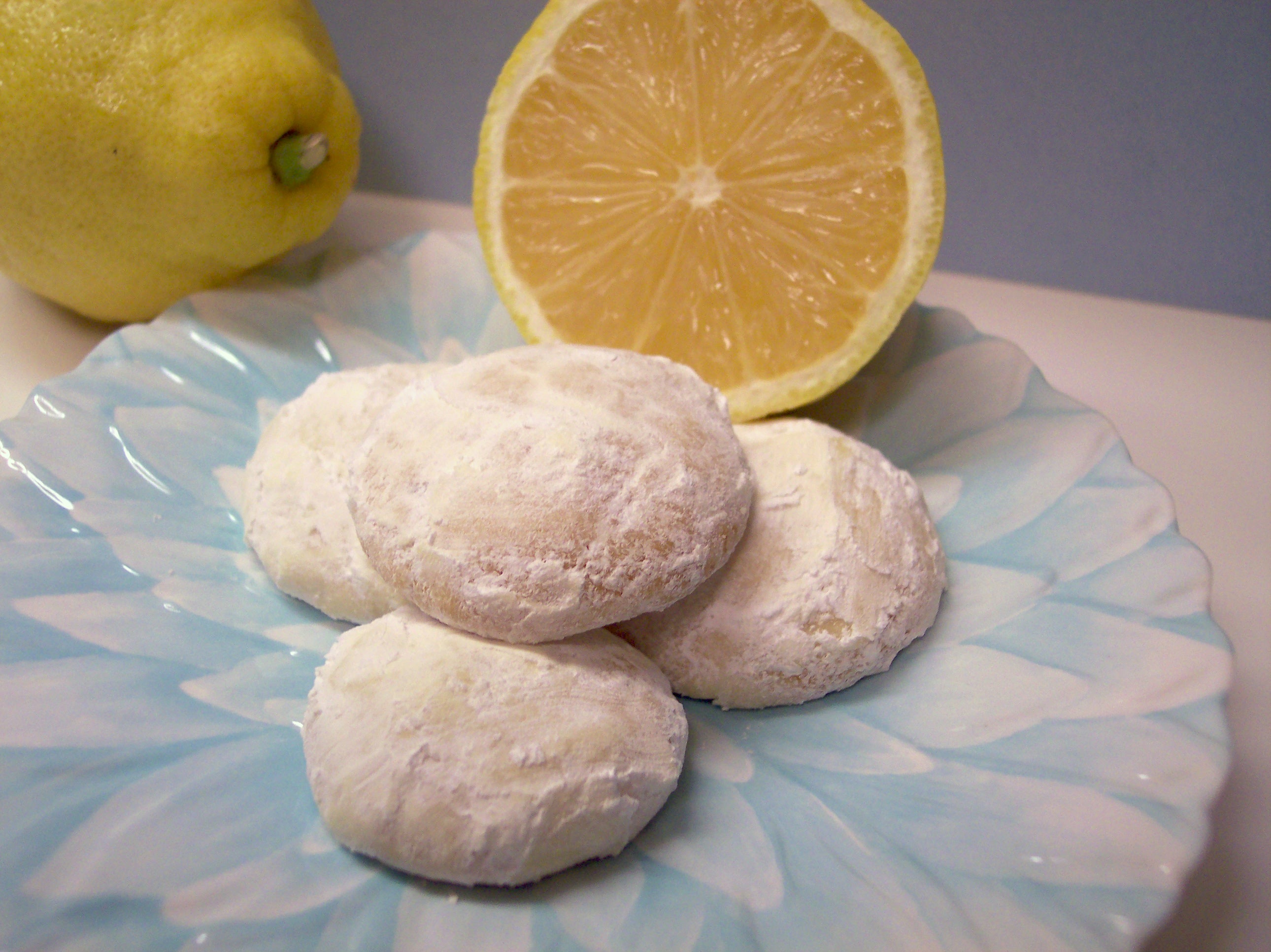 Lemon Drop Cook­ies
Prep time: 15 minutes
When I first went to col­lege, I basi­cally lived off of pow­der sugar-coated lemon wafer cook­ies that were made by a major cookie man­u­fac­turer. Nat­u­rally, because I liked them, they stopped mak­ing them about a year after I got hooked and I spent nearly a decade feel­ing sorry for myself before real­iz­ing that I didn't care about their silly cook­ies– I could make my own! These lit­tle cook­ies are crisp and tart, with the pow­dered sugar tak­ing the edge off and adding a sweet cool­ness to each bite.
1/2 cup mar­garine, soft­ened
1/2 cup short­en­ing, room temp
3/4 cup sugar
juice from 1 lemon
2 teas. lemon zest
2 cups flour
1 1/2 cups pow­dered sugar for coating
Pre­heat oven to 375. Pre­pare a cookie sheet with a sheet of parch­ment paper.
In a large bowl, cream together the mar­garine and short­en­ing until smooth. Mix sugar to com­bine, then incor­po­rate lemon juice and zest. Add flour in small batches until well incorporated.
Spoon tea­spoon sized balls of dough onto cookie sheet, about 1 inch apart. Bake for 8– 10 min­utes until edges are set and are slightly browned. If bak­ing both sheets at the same time, switch shelves halfway through. Remove from oven and let cool com­pletely before coat­ing each cookie in pow­dered sugar. To coat, us a fork to sup­port each cookie and roll cookie on each side to coat in sugar. Store cooled cook­ies in an air-tight con­tainer at room temperature.
Makes 2 1/2 dozen cookies
*For best results, zest the lemon before juic­ing. You can use the small holes on a grater for a fine zest.